Cheap Eats: Mussels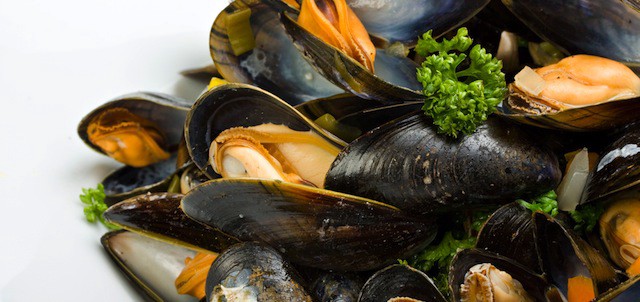 Here at The Billfold, we love cheap and easy recipes. Here's a cheap and easy recipe for mussels by reader Ryan Menefee.
Without further ado, a cheap and easy date night recipe (or any night recipe) that you can make at home, for right around $12.
You'll need:
• 1.5 lb. of mussels (at Whole Foods, cost $3.99/lb this past weekend in D.C.)
• 1 16 oz. tub of salsa OR 1 16. oz tub of pre-made bruschetta topping (depending on Mexican / Italian flavor preference)
• Olive oil
• Cilantro or parsley from the produce section (optional; match to your salsa / bruschetta preference)
• Tequila / red wine / whatever you're drinking with dinner (optional)
• Day-old bread (like a french baguette) for sopping up tasty juice
About mussels:
• You can keep them in the fridge for a couple of days; put them in an empty bowl (do not add water) and cover with damp paper towels
• They should be closed before they're cooked; open after they're cooked — discard any that don't follow this rule
Instructions:
• Preheat oven to 450
• Rinse the mussels in water, drain, and put into a baking dish (lid optional)
• Add the full tub of salsa / bruschetta
• Add splash of tequila / red wine / whatever you're drinking (optional)
• Add as much cilantro / parsley on top as you desire (optional)
• Put in oven for ~15 minutes; mussels are done when they're opened
• Serve with baguette
Got a cheap and easy recipe to share? Let us know. Photo: Bernd Juergens/Shutterstock
---
Support The Billfold
The Billfold continues to exist thanks to support from our readers. Help us continue to do our work by making a monthly pledge on Patreon or a one-time-only contribution through PayPal.