The Economics of Adopting a Puppy
by Caila Ball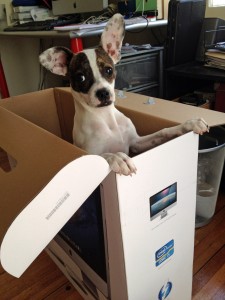 It is common knowledge that children are financial drains (should I sound more enthusiastic about the prospect of child rearing now that I'm knocking on 30's door?). For those of us who have only just graduated from "plant killing" to "at least a dog barks to remind you it needs water" level of responsibility, it's worth an examination of the real costs of owning a puppy.
There are a lot of bare minimum costs listed on the web when you Google (as I did), "yearly cost of dog ownership," but having just been through the first three months, let me tell you that these costs are grossly underestimated.
Websites have the costs ranging between $500 and $1,000 for the first year. We have spent $1,756 in the first three months.
Here is a real play-by-play of the starter and maintenance costs of your brand new best friend.
The One Off Costs:
First Month Vet Bills/Shots:
The first stop after getting a dog out of a dumpster is taking your lovable little flea bag directly to the vet. Our first round of shots/deworming and six-month supply of flea medicine cost $209.19 with a follow up round of booster shots three weeks later: $94.
Total essential medical costs: $303.19
Your first trip to the Pet Supplies Store:
I am a fairly frugal individual, and have the blessing of a PetSmart on my corner that has deals galore on the dog essentials, but that first trip to the pet store certainly adds up. Please note that I could have spent more, and probably would have if my boyfriend would admit dog galoshes are adorable. Purchases: crate, travel crate, bed, collar, harness, leash, dog tag/engraving, bowls, baby gates (2), Natures Miracle spray, dog wipes, poop bags, poop bag holder, back yard fencing, a bag of treats and a couple toys.
Total: $285.27, plus $124.47 the next day in items we, as first time dog parents, apparently forgot: $409.74.
Training class:
For first time dog parents, at least, this was necessary. Sitting, staying, and not peeing on the floor do not come free.
Total: $109
The Snip Snip and Microchip:
If you are lucky, your rescue puppy comes pre-spayed/neutered and pre-micro chipped. If you literally took the little sucker out of a dumpster, add this (and the cone of shame) to your list of expenses.
Total: $259.36
(Note: It was not until after the $113.75 pre-neutering/microchipping appointment that we opted to invest in the monthly puppy insurance, which would have covered this cost. I'm still keeping this cost in, as most first-time dog-parents will, at some point, overlap unnecessary costs).
The "Non-Essential" shots and medications:
With further surveying, I'm sure I could create a graph that shows the direct relationship between people who rescue puppies, and people who say "yes" to anything a vet recommends to keep said rescue puppy happy, healthy and comfortable. This includes the "non-essential" shots.
While I never get a flu shot — or anything similarly smart and preventative — the dog got all the heart worm and tick preventative shots. Even with the recently purchased pet insurance, we still added in some costs here. When you add in the "non-essential" anti-inflammatory shot that is intended to prevent the adverse reactions from the other "non-essential" shots, it adds up.
Total: $147.12.
Total "Starter" Costs: $1,228.41

Our Recurring Monthly Costs:
Puppy Insurance (yes, I'm serious):
There is a very good chance that this is like that Travelocity trip insurance that no one ever gets, but the vet sold us. Once the puppy turns into a dog, the dog insurance costs the same (with just a slightly less cute name).
Cost: $39.95/month.
The Food:
When my doctor recommends to me that I start eating organic produce and taking a daily vitamin, I nod, file that information away, and hit up a fast food joint on my way home from my check up. When my vet recommends one of the more expensive varieties of dog food, I don't ask questions (and when I do some research after grumbling about my doggy expenses later, I actually tend to agree with him).
Cost: $30/month.
The treats:
While not bare necessities, you really do need these to train your dog to do anything (unless you are Cesar Millan).
Cost: $20/month.
The toys:
Again, not bare necessities, but spending money on chew toys does a bundle to save money on ripped up couches, clothing and shoes. These are not one-off costs because the lifespan of most toys that come into our house is about a month.
Cost: $20/month.
The grooming:
While we give our puppy a weekly scrub, there is a harsh reality that no one tells you because it's too gross: expressing anal glands. I don't even have to describe it for you to gather that it involves an (inexplicably disgusting) substance coming out dogs' glands/butts. Apparently, this is the main difference between splish-splashing around in the bathtub with Fluffy, and having the groomer go hardcore clean on his hiney — which needs expressing approximately once each month. I waited too long between professional groomings once and the result had me dry heaving over a sink.
Cost: $20/month plus approximately $5/month for at home grooming supplies.
Total Monthly Costs: $134.95

The remaining $122.77 has been spent on some doggy day care and overnight stays when we have traveled. Note that if you work full-time, you should calculate the cost of frequent doggy day care into these totals (approximately $25 for a full day, and $40 for an overnight).
While we love our little bundle of joy/poop, cost of pet maintenance is the fourth most common reason why pet-owners relinquish their dogs to shelters. Even with my coupon cutting addiction, our costs have been significant. Take a look at the real costs, and keep working on that plant responsibility until pet ownership fits into your budget.
Previously: Regrets of a Cat Owner
Caila Ball is a Los Angeles based writer. She often gives advice in areas where she has no expertise here and here. Her puppy is pictured above.
---
Support The Billfold
The Billfold continues to exist thanks to support from our readers. Help us continue to do our work by making a monthly pledge on Patreon or a one-time-only contribution through PayPal.