I Really Stretch My Clothing Dollar (And Probably Need New Clothes)
by Sari Botton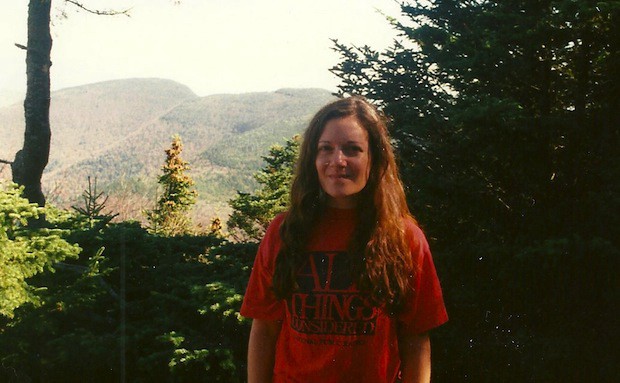 Back in 1998, I interviewed for a job ghostwriting a palm reader's memoir. At the end of the interview she insisted on taking a look at my hand. When she was done, she pointed to a particular crease and said, "I'm sorry, but it says right here that you hold on to things for too long. So I won't be able to work with you."
At the time I assumed she meant emotional baggage, but last week, when I was going through some old photos, it occurred to me she might have actually been picking up on my habit of holding on to clothes and shoes for freakishly long periods of time.
Like a lot of writers and other editorial types, I've never been a big earner. Because of that, I don't buy very many new things, and I tend to keep the things I have for a really (REALLY) long time, getting the most out of my wardrobe dollar. I also have a fondness for — and develop serious attachments to — things I've worn in over time.
The photo above is me in 2000, at almost 35 years old. In it, I am mid-hike on Slide Mountain in the Catskills, wearing an "All Things Considered" T-shirt that I still wear all the time today, twelve years later. Here I am wearing the shirt last week, at 46-and-a-half, in my house.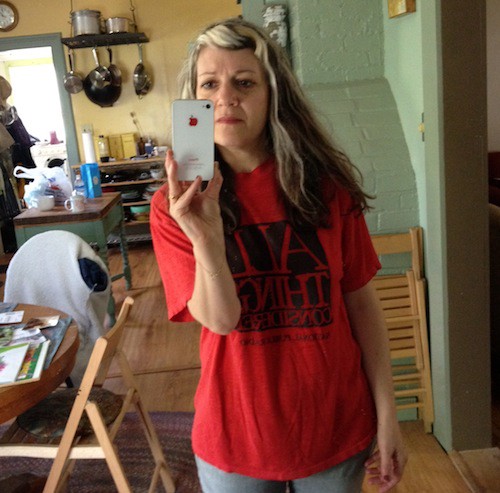 If you think keeping a T-shirt in heavy hiking rotation for 12 years is remarkable, consider this: I've actually had the shirt since 1990, when I was 25. My first husband got it for free at the American Bookseller's Association trade show. (He was a salesman for book "accessories," like brass bookmarks and "Codependent No More" toilet paper.) Which is to say I HAVE BEEN WEARING THIS T-SHIRT REGULARLY FOR 22 YEARS. Whoa. That is a long life for any garment! Way to go, NPR, for choosing such a high quality brand! (The label has fallen out, so I can't tell you which high quality brand they went with.)
Finding that photo got me thinking about some of the other pieces of attire I've held onto for freakishly long periods — and made me realize it might be time to get rid of the more threadbare, seedier looking ones. The oldest would have to be this wool jersey cowl neck that was made by my maternal grandfather's sportswear company, "Sequel 1," in the 1960s. Let's call it "vintage," okay?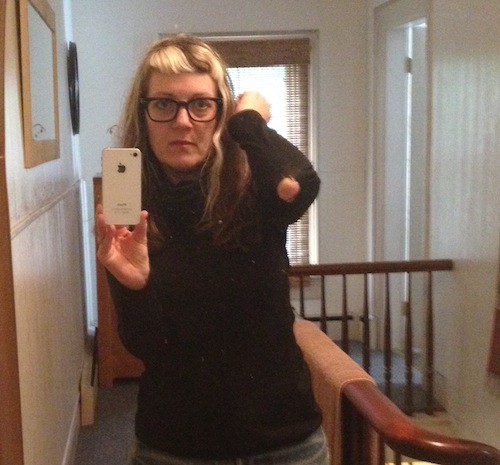 Growing up, when I played in my mother's closet, this was one of my favorite things to try on. At some point in high school, I swiped it, and it remains one of my favorite items. It's very simple. I just like the way it falls on me. But, speaking of falling, the hem has fallen three-fourths of the way around, and I don't know how to sew, so I can't fix it. Also, the moths have had their way with it; I have to wear a black bra underneath to camouflage some holes in the boob area. Not to mention these huge holes on the elbows. I keep threatening to either get iron-on patches to cover them, or to pay someone to sew some on. My husband, Brian, politely asked me to change out of this shirt when I went to his family's Thanksgiving for the first time.
In that photo, I'm also wearing my favorite jeans. I've had these Levi's 501s since 1998. I probably paid $32 or so for them, pre-washed, at Wings on Broadway in Noho. So, basically they've cost me $2.28/year. What you can't tell from this angle, though, is that they are pretty much crotchless at this point, so I don't wear them in public. Another thing I'll have to pay someone to patch: Here's me wearing the same jeans, pre-crotch-holes, in a 1999 Polaroid from a photo shoot for an embarrassing Marie Claire personal essay, which I am so, so happy is un-Google-able.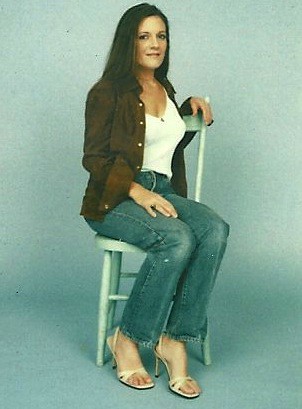 I bought these Varda grey suede Mary Jane flats during New York City's first No Tax Week, instituted by then Mayor Rudy Giuliani, in January of 1997, when I would have been 31-and-a-half.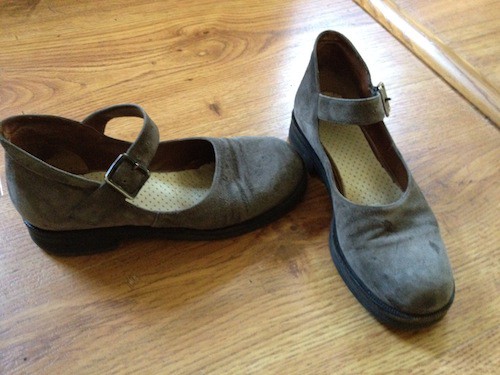 They cost $300, and are the most expensive shoes I own. That is A LOT of money to me. Like, it's unusual for me to spend more than a third of that on a pair of shoes. Because I'd spent the entire week agonizing over whether the tax savings justified such a steep purchase — and waited until the last day of No Tax Week to finally plunk down the money — I wound up getting stuck with a pair a half-size too big.
Two layers of Dr. Scholl's inserts later, they fit. I don't know what the Scholl's inserts cost because they don't make the simple, cheap foam ones anymore. Now they're all fancy, with gel and stuff. But let's guess-timate that I spent $10 there. Then, in 2002, I paid a shoemaker another $10 to replace the elastic pieces that hold the buckles. So, let's see: A $320 investment that has lasted me (so far!) 15 years. Those shoes have cost me only $21.33 a year! In hindsight, I feel pretty good about that purchase. They have some oil stains on them. Oh, well. I still wear them pretty often.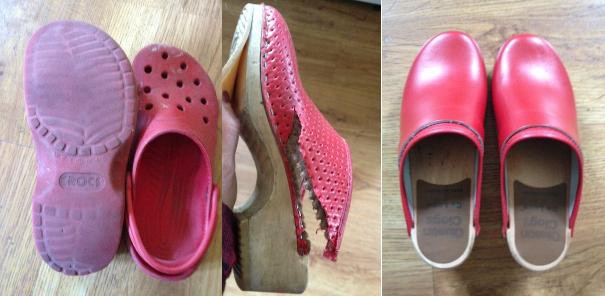 Crocs are probably the one thing you shouldn't admit to having gotten before they were popular. But alas, that's the case here. I felt stupid paying something like $39 for foam rubber clogs in the summer of 2004, at David's shoes on Broadway and 12th Street in Manhattan. But I'd never seen them before and thought they were some kind of ugly-cute. As you can see, I've worn them so much, they have no treads left. But I still wear them, mostly for things like house painting and bringing our garbage to the town dump where I live, upstate. So far, they have cost me $4.87/year.
This other pair of red clogs I bought used for $10 in 2005, when I moved upstate. I got them at The Big Cheese, a cheese/second hand store plus Middle Eastern cafe in Rosendale, just down the block from where I live. They were already pretty beat up when I got them. But this year, the rubber soles started coming off, and despite my efforts with Shoe Goo, I couldn't get them to stay on. Then the small tear in the leather just kept getting bigger and bigger. I was in such deep denial about the death of these shoes that it took tripping in them and twisting my ankle to make me realize I needed to get rid of them.
But look at that — I just bought myself a shiny new pair! They weren't very expensive either. (Free shipping!)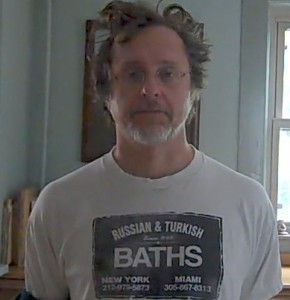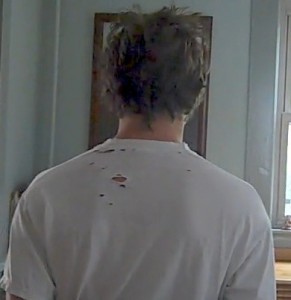 Despite our disagreement over appropriate Thanksgiving attire, my husband and I have a very similar aesthetic, at least concerning the things we wear just around the house. This is Brian in his T-shirt from the Russian & Turkish baths, aka "the schvitz," on East 10th Street. He probably spent $20 on it in 1998. I assume it was that year because that's when the large, Russian lady who was expertly kneading his muscles there offered to finish with a "Clinton massage" for an extra $50. (Brian won't tell what happened, except to say, "The story has a happy ending.")
These aren't very good photos. They're from last summer, and I wanted to take new ones, but WE CAN'T FIND THE SHIRT! (I swear, I didn't throw it out. Come on, me?) The next time I'm in the city, I'm going to be a sport and spring for a new one. (Actually, I just ordered him one online. Shh. Don't tell him.)
Sari Botton is a writer who is considering going back to school for her certificate in wantology so she can finally make the big bucks. She tweets and tumbls, even though she's kind of old for that.
---
Support The Billfold
The Billfold continues to exist thanks to support from our readers. Help us continue to do our work by making a monthly pledge on Patreon or a one-time-only contribution through PayPal.