Pay-What-You-Want? So How Much Should I Pay?
The other day, I was excited to find a PDF for sale of an indie comic I love — but I found myself hesitating at the checkout page. The PDF was being offered on a sliding scale, which meant that it was pay-what-you-want (including free) yet I couldn't quite get myself to type in the zero and finish the transaction.
It's hard to pay $0 for something you're used to getting for free.
On an intellectual level, I know sliding-scale pricing addresses systemic inequities of income and class. Events that specify "no one turned away for lack of funds" are explicitly telling their audiences that we'd rather have you here with us, no matter what you can afford to pay for tickets. Those who can't swing it pay a little less this time, and those who can afford more chip in extra to cover the others. I really respect organizations who put that agency and that decision into the hands of their clients and customers. As a consumer, however, that decision is often stressful because it requires a clarity about my finances that I do not always possess.
The season of my life when I felt the most fraught about these money decisions was during my last year in the Bay Area. I had quit my well-paying design consultancy job to focus on my art and writing full-time. The little money I had coming in was from a mix of part-time teaching, paltry book sales, and sporadic design gigs. I was mostly living off my savings and trying to spend very little beyond necessities.
When faced with an Eventbrite page asking me to choose a pricing tier for myself, I was instead confronted with an existential question of how I viewed my current financial situation.
On the one hand, I wasn't truly needy. I had the luxury of my savings account. Paying for this event wouldn't mean not eating for the rest of the month.
On the other hand, I wasn't making a tech salary, and I was definitely still paying exorbitant rent. Paying for this event would mean making trade-offs elsewhere.
Mostly, I didn't fit the reliable, steady income model that most financial education and budgeting resources (and capitalism) assume of us.
On the artist side of things, sliding-scale pricing models can be equally anxiety-producing. I want to offer my work in a way that increases access regardless of a person's income level. However, when I notice that only seven people out of a couple hundred subscribers have downloaded the PDF of my latest collection of short comics, I can't help feeling disheartened.
I'm trying to offer something for free with the hopes that it'll lower the barriers for someone to read my comics, but I wonder if I'm actually increasing the friction to downloading. Maybe people are feeling the same anxiety that I've faced so many times at typing in that $0, confronting the fogginess of their own personal finances, or not knowing how to decide.
Faced with these uncertainties, we can end up abandoning ship, closing the tab, and not engaging with the art… even when it's free. This ends up serving no one, so I made this flowchart! It's called "How Much Do I Pay for this Sliding-Scale Comic?" and it applies to all kinds of pay-what-you-want art scenarios.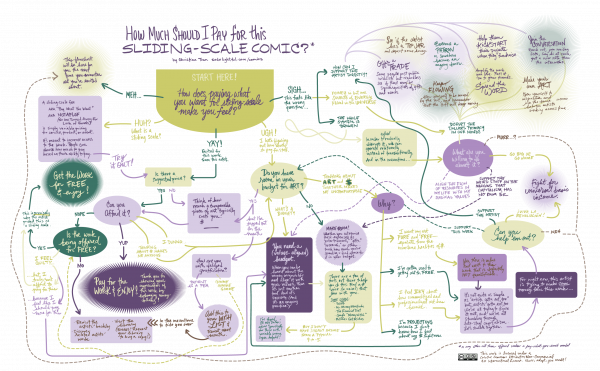 The flowchart — which you can view full-sized here — also helps us think through how we can be more honest with ourselves about our finances with the end goal of being able to align our spending with our values. Doing the work gives us the freedom to perform radical acts, like supporting artists in an economy that generally doesn't place value on the arts.
Christina Tran is a writer and artist living in Oregon. She makes autobio comics at sodelightful.com/comics and writes letters to the future at sodelightful.com/dearbeloved. She can also be found on twitter at @s0delightful.
---
Support The Billfold
The Billfold continues to exist thanks to support from our readers. Help us continue to do our work by making a monthly pledge on Patreon or a one-time-only contribution through PayPal.