After a Year of Uncertainty, I Finally Feel Optimistic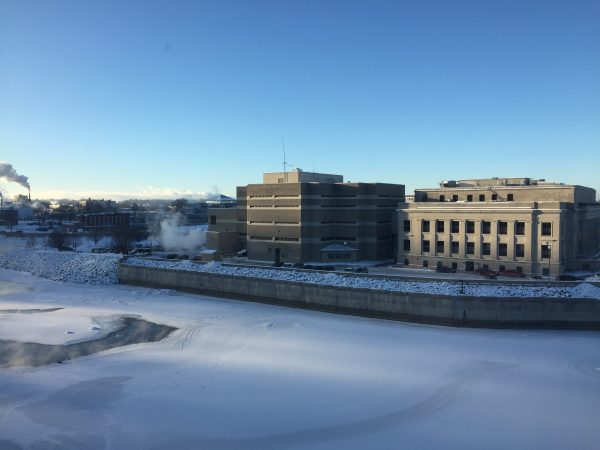 2017 was the first year in which I earned less money, as a freelancer, than I did the previous year.
Prior to 2017 I had increased my freelance income by a consistent $20K per year; during 2017, my income dropped back down to 2015 levels.
This is not necessarily something I should be complaining about; I still have a very successful freelance career that I've been able to sustain into what is now its sixth year, and earning $66K (pretax) nets me enough to maintain a small apartment, travel to visit friends and family, buy books and clothes, and save at least a little for both retirement and the future.
But I lost several clients this year. They either shut down or stopped hiring freelancers. Pronoun, the indie publishing site through which I published my debut novel, also shut down.
And then I left Seattle.
I didn't know any of that would happen when the year began; I was aware that the media industry was cutting back and I knew that there was a little less money going out to freelancers, but I wasn't expecting so many publications to shut down.
I also wasn't expecting to move, at least not at the very beginning of the year. I knew Seattle was getting more expensive, I knew I was getting more and more frustrated with the traffic and the anonymity of being in a large city and the difficulty of putting down roots, but I was doing my best. I was teaching at Hugo House and tutoring at the Bureau of Fearless Ideas and performing at the Jewelbox.
But the whole thing felt — you know where this is going — uncertain.
This uncertainty was of course amplified by our national uncertainty about healthcare and nuclear war and human rights and whether it was too late to do anything about climate change, and while I had my share of anxiety about all of that I am also the type of person who asks herself whether a situation is within or outside of her control.
So I focused on the uncertainties that were within my control.

It's going to feel a little — privileged? inappropriate? — to sit on my cozy, comfortable couch next to my happily humming dishwasher in my Cedar Rapids studio and tell you that I feel like my life is better now, because I think a lot of people feel like their life got worse, last year. Maybe that isn't true. People have said on Twitter that they feel uncomfortable sharing their good news, these days, when there's so much bad news to share.
But I really like where I am, at the start of 2018. Part of that is because I took a good look at what I wanted out of the next few years of my life and then figured out how to shove myself towards all of it. I'm in this great apartment, with a great landlord. (When the heating system couldn't handle the -14 degree weather, he immediately offered to reimburse me for a space heater.) I'm near my parents. I'm going to be in a production of Ragtime this winter. I'm within walking distance of the symphony and the library and a community center that offers free movies and yoga classes.
I also shoved myself towards what I wanted out of my career. In addition to my writing and editing work at The Billfold, I'm also doing a lot of writing for Lifehacker. I started a podcast called Writing & Money. I'm offering career and manuscript consulting services through Hugo House. (Yes, Hugo House wanted to keep me around even though I no longer live in Seattle.) I taught myself how to distribute my novel without Pronoun and I'm going to be publishing my second novel this summer.
And I'm pushing my money towards new places. I'm opening a HSA and a pretax IRA (traditional or SEP; gotta talk to my CPA) and a personal investment account. In 2016 I got out of debt, in 2017 I built up my savings, and now I am going to go after those low-cost index fund returns.

I spent a lot of the past year wondering what would happen to me, and wondering what would happen to our country, and wondering what would happen to the world. 2017 was the year we all learned to never put conditioner in our hair after a nuclear attack. It was the summer I shared donation roundups every week, to support people affected by the latest hurricane or earthquake. It was every day we spent calling our representatives, trying to convince them to support the Affordable Care Act and Net Neutrality.
I am rational enough to imagine, if not predict, all of the ways that 2018 might go badly. On both the global and the individual level. But I spent so much of 2017 in a state of uncertainty — I was the person who chose "Our Uncertain Year" as this series' theme, after all — that I've kind of worn that feeling out. I feel optimistic, instead.
I know that nothing's changed; that everything that was bad in 2017 is pretty much still bad, and this upcoming year will have its own threats and tragedies. I know that I am going to need to find a balance between the personal and the political, as it were. I know that I'm going to have to hustle to maintain my current freelance income and figure out how to grow my career while huge chunks of the media industry contract. I know that the first year in a new city is hard, and making friends as an adult is even harder. But I'm here in this apartment, and I'm here with you on The Billfold, and I'm taking steps to become part of the Cedar Rapids community. I'm happy, and I want to keep that feeling for as long as I can, until it's time to be uncertain again.
This piece is part of The Billfold's Our Uncertain Year series.
---
Support The Billfold
The Billfold continues to exist thanks to support from our readers. Help us continue to do our work by making a monthly pledge on Patreon or a one-time-only contribution through PayPal.