In Which I Test Bumble Bizz, the New Networking App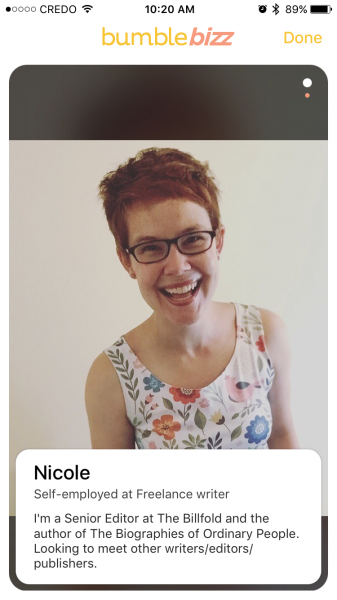 Bumble, the dating app that requires women to make the first move, just launched a new networking offshoot called Bumble Bizz:
Bumble Bizz has arrived! Switching to Bizz mode gives you the ability to change your professional life from the palm of your hand. Every swipe is an opportunity to expand your network and make empowering career moves.
This is actually Bumble's second non-dating feature; they launched Bumble BFF, to help you find your new best friend, last year. The Billfold community is already pretty good at making friends, so I'm only going to test the Bizz part.
The app requires me to connect my Facebook account so that Bumble will know my relationships and likes. (This only serves to remind me that I really need to cull my Facebook relationships and likes. Ugh.)
Next, Bumble wants to know my location, which is fine—and wants to send me alerts, sounds, and icon badges, which is not. (I disable nearly all push notifications because I don't want my phone to tell me what to think about.)
Then Bumble tries to get me to sign up for Bumble Boost, aka "the one that costs money," and it's like Bumble, I don't even know you yet.
After that, I'm dumped right into the original Bumble, aka "the dating one," and after tapping and swiping all over the place I eventually figure out what I need to do to switch to Bumble Bizz. (You have to tap the word "Bumble." Obviously.)
Bumble Bizz takes me through a quick tutorial—swipe left, swipe right, got it—and then gives me a strange instruction: "Make sure to swipe right on official Bizz partners." Seems like Bumble Bizz wants their official partners to have plenty of matches, though I'm already disinclined to swipe because Bumble can't tell me what to do!
Finally, I get to create my Bumble Bizz profile. After uploading my most recent "professional selfie," creating a little blurb about who I am and what I'm looking for, and skipping the part where I add a mini-resume, Bumble asks me to verify myself by taking a selfie in which I make a specific hand gesture. Which, um… couldn't anybody make that hand gesture and say they were me? But anyway.
With my profile verified, it's time to start making EMPOWERING CAREER MOVES.
The thing about Bumble Bizz is they don't let you select a specific industry, so my first several profiles all come from people who don't really fit with what I do. (Think "wedding planner.")
The profile blurbs also suggest these people are trying to sell their services—there is more than one consultant offering to help me grow my business—which isn't exactly what I was hoping for in terms of networking. For reference, here's what I put in my blurb:
I'm a Senior Editor at The Billfold and the author of The Biographies of Ordinary People. Looking to meet other writers/editors/publishers.
It isn't the best blurb in the world because I don't specify why I want to meet writers/editors/publishers, but it's different enough from everyone else's that I feel like I'm doing Bumble Bizz wrong. I swipe through a few more people wanting to be hired and a few more startups wanting to hire—plus more than one person who left the dating blurb in their profile by mistake—and then Bumble tells me I have no more matches.
So that's my review of Bumble Bizz. If you'd like to empower yourself, now you know what to expect.
---
Support The Billfold
The Billfold continues to exist thanks to support from our readers. Help us continue to do our work by making a monthly pledge on Patreon or a one-time-only contribution through PayPal.