You Need to Watch Maria Bamford's Commencement Speech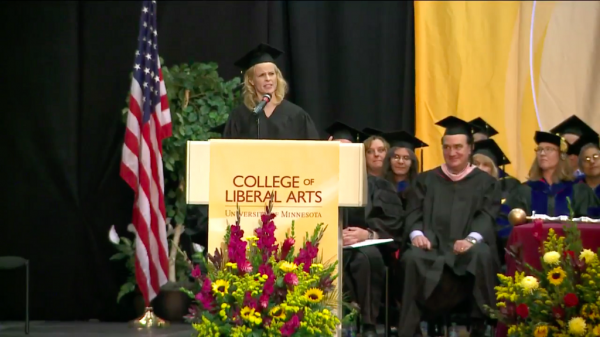 I don't know what you are doing for the next eleven minutes, but if you don't have anything planned, I suggest you watch Maria Bamford's University of Minnesota commencement speech.
Bamford spends the first half of her speech explaining exactly how she negotiated a $10,000 speaking fee with the university — after receiving an email inviting her to speak for free.
The second half is standard "advice to the graduates" stuff, but watch to the end, because… well, I don't want to spoil what happens, but let's just say that Bamford ends up speaking for free after all.
I haven't seen a transcript go live yet, but I'm sure one will eventually. Until it does, I'll leave you with two of my favorite quotes:
Was the University of Minnesota College of Liberal Arts suggesting that I couldn't get paid for the exact job that I paid them to teach me how to get paid to do?
Also this:
[Quoting the email:] "As you can imagine, being a state-funded institution, we have to be careful regarding the use of our resources." Well, I thought to myself. But I am a self-funded institution who needs to be careful regarding the use of my resources!
I am going to write that last sentence on a Post-It and stick it to my wall.
---
Support The Billfold
The Billfold continues to exist thanks to support from our readers. Help us continue to do our work by making a monthly pledge on Patreon or a one-time-only contribution through PayPal.