Never Buy Shoes Online
You will only and always play yourself.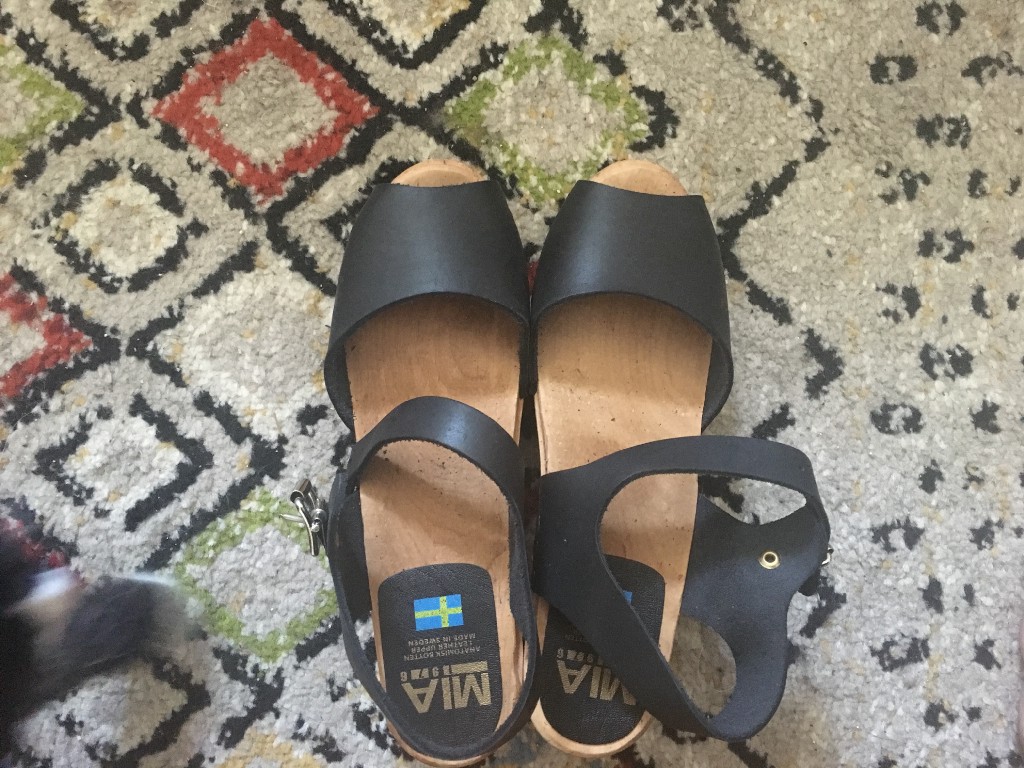 In honor of our Financial Fails series and inspired in part by my insatiable and frankly disturbing desire to shop for just about everything right now, I'm prepared to share my story about buying shoes online.
I Failed at Buying Shoes That Fit
Unlike Nicole, my failure is the result of my own hubris and some sort of strange dysmorphic thinking about my feet in which I am convinced they are narrower than they actually are. My feet are flat, wide pontoon boats, really only comfortable in the confines of a Birkenstock or anything else that accounts for spread. Yet, every year, I am determined to buy a pair of clogs, with a wooden sole and a big heel — something kicky and fun and non-orthopedic. Emboldened one morning after staring at the shoes for at least two days, I bought them — peep toe clogs with a platform and a lug sole for traction. They cost $100 and absolutely do not fit my feet.
I was dead-set on this pair because I liked the way they looked. The heel is real wood, and the outer part is that rough and tumble leather that will break in with age, maybe? The peep toe means I don't have to get a pedicure really unless I want to, and something about the sturdy cloppy-ness of them lead me to believe they'll be comfortable. Also, I bought them because they were $20 cheaper than another pair I saw in a store over the weekend — a pair that fit me with none of the gymnastics and foot-cramming involved when I try on shoes other than flip flops.
Why didn't I buy the shoes that fit me at the time, given the relatively negligible $20 price difference? Who knows, really. Maybe I was in a mood or maybe I was dead-set on The Shoes and the very specific vision I had in my head of what the shoes would do once they entered my life. Maybe the Shoppies had subsumed the part of my mind that deals with reason and logic. That is a mystery that I will never unravel and I'll have to be content with that.
I considered "breaking them in" by wearing them around my apartment or soaking the leather in equal parts rubbing alcohol and water, and then stuffing my socked feet into the shoes in an attempt to stretch the leather — a method that has sort of worked in the past. I briefly added, then removed a shoe stretcher from my Amazon cart. I've had success with the former method of breaking in shoes that fit lengthwise but are otherwise too wide; I've enjoyed much more success by just buying the shoes in person after wearing them on my feet.
Amazon's return policy is simple: mail the shoes back (ugh) and get your money, or exchange them for an item that you've already saved in your cart. The shoes I ordered and do not fit were sold by Amazon. The shoes I wanted that I should've bought in the first place are now $20 less on Amazon than they were before. They're the same price. They're not sold by Amazon. Therefore, I cannot exchange them seamlessly; I would have to return the bad shoes, order the good and just sit here and wait for the money to make its way from Amazon's clutches back to my bank account.
I told myself that I would make them work. I will stretch them myself. "Once the leather stretches and your shoes fit, you're going to love them," my sister told me. "So just climb the hill."
I stuffed my feet into socks, then stuffed my feet into the shoes and walked around my apartment for ten minutes before losing sensation in my right toe. They will go back to the loving embrace of Amazon.
I failed myself only because I broke my golden rule: Never buy shoes online. Always try shoes on. Saving $20 on shoes that don't fit and have to be returned — by mail, no less — is not worth it. Get shoes that fit the first time you put them on. It is worth it. It's always worth it.
---
Support The Billfold
The Billfold continues to exist thanks to support from our readers. Help us continue to do our work by making a monthly pledge on Patreon or a one-time-only contribution through PayPal.