The Cost of Hiking the Overland Track
Camping is cheap, right?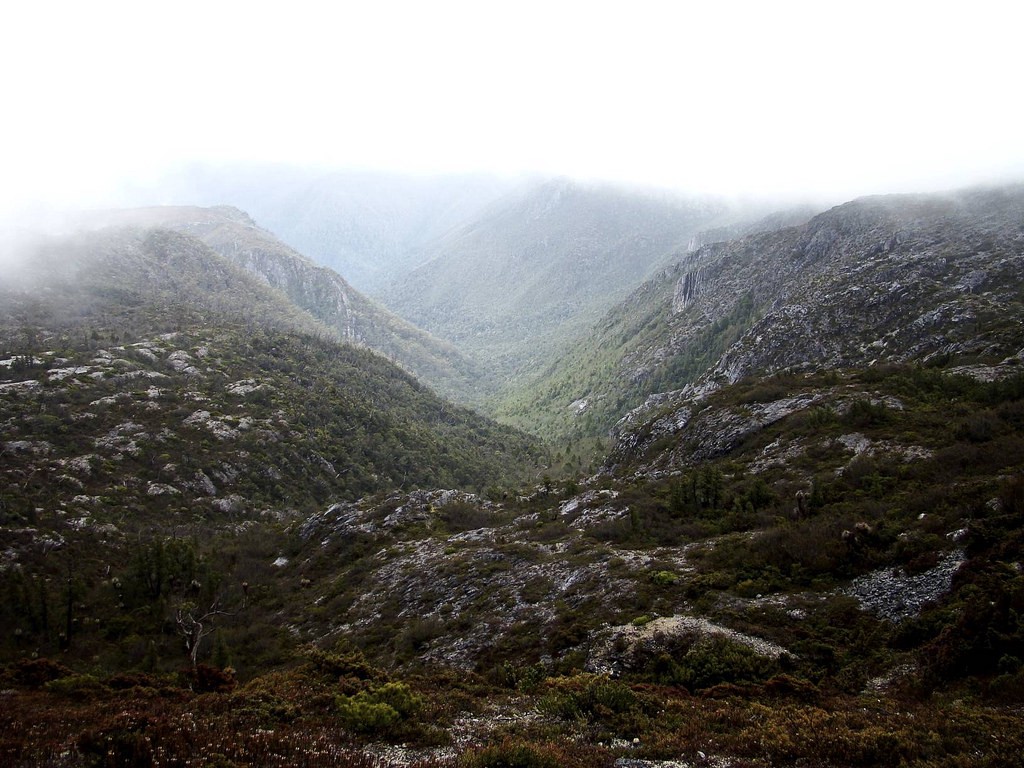 This past December, I set off with my boyfriend and two friends to hike the Overland Track. The Overland Track, for the uninitiated, is one of Australia's most famous hikes: 65 km (40 miles) through the Tasmanian Wilderness World Heritage Area, taking between five and seven days. It's strictly carry-in, carry-out; there are huts with gas heaters but no electricity or showers, there is no cell reception. It's everything they say it is: glorious, challenging, incredibly varied, beautiful at every single point along the way.
We'd been planning the trip for several months, and it came at an interesting time for me: the contract at my job finished on November 18, and we set off on December 5. So I did the bulk of the planning (and buying) for the trip while unemployed and unsure about when I'd next get paid. A hiking trip sounds like a good summer holiday for someone obliged by circumstance to be frugal, but the expenses were both higher and more varied than I'd expected. I had to make decisions about when to spend my limited cash, and when to hold back. Here's a snapshot of how my spending played out.
Tent
Free. My boyfriend sourced an ultralight, compact hiking tent from a family friend. We were very pleased with this acquisition until our first morning on the track, when we awoke after a night of wind and rain to find the tent slowly collapsing and the bottom half of our sleeping bags soaked. The tent. Was. Not. Waterproof. (Nor, apparently, was it structurally sound.) The thirty or so minutes we spent frantically trying to pack up a wet tent, in the driving rain, at seven in the morning after a broken night's sleep, was a definite low point of the trip.
"Is this a cheap brand of tent?" I asked my friend, who is a certified Outdoorsy Person and knows about things like tent brands.
"It's not… the most expensive brand," he replied diplomatically. Thereafter, we slept in the huts.
This turned out mostly fine, except for a) the BO that hit you like a wall when you opened the door to the hut, and b) that one night when it snowed and all the bunks were taken and we had to sleep under a bench and could not roll over on our sides because the bench was lower than our hips. Our friends had a Fancy Outdoorsy Tent (it cost them about $550 AUD, or $400 USD) which pitched properly, stayed up, and let neither rain nor snow permeate its fancy outdoorsy fly. We were jealous.
Cost: $0.00, deeply regretted.
Lesson: Don't skimp on the tent. Just don't.
Backpack and boots
Free. Eternal thanks to friend M., who lent me her Osprey backpack and hiking boots for nothing. I baked her a lemon sour cream cake in return, a gesture which fell far short of the gratitude I felt for getting two of the biggest-ticket items on my list for free.
Cost: $0.00
Lesson: Have outdoorsy friends who can lend you gear.
Gaiters
Free. Thanks to friend L., who was about to move to Paris and so gave me a pair of gaiters. These proved extremely useful, especially when walking through rainforests, where the track was basically one large puddle-verging-on-creek. They also said "Jungle King" on the front and made me feel like a genuine hiker, rather than an inexperienced fraud who wore them backwards for the whole first day.
Cost: $0.00
Lesson: Have outdoorsy friends who can lend you gear, who are about to move to Paris and need to get rid of their things anyway. If you don't have those, buy a pair of gaiters.
Hiking clothes
This was a tough one. This being my first long hike, I really wasn't sure whether hiking clothes fit into the category of "absolutely necessary, spend all the money," or "not really necessary, indulge tightwad instincts." When in doubt, I tend toward the latter, but I did make a couple of purchases.
First: hiking pants from eBay. I spent $23.80 on a second-hand pair of the ugliest pants I have ever owned (camel-colored, shapeless, cotton/nylon blend). "I can pass these off as normcore, right?" I asked my boyfriend, anxiously modeling them in front of him.
"… Yeah," he responded, clearly unconvinced.
The pants were not normcore. The pants were ugly. However, after a day or so on the track, this no longer mattered. What did matter was that they were comfortable, dried freakishly quickly, zipped off at the knee to make shorts when the weather got hot (it became mandatory to sing the Transformers theme song at this point) and stayed remarkably clean given that I wore them for six days in a row. They were one of my best purchases. A limited nose around the internet indicates that hiking pants are quite often for sale on eBay, Gumtree, etc., so if you're willing to sacrifice aesthetics (and I mean really sacrifice them, these pants hurt my eyes), there's no need to drop half your paycheck in a camping store.
My other clothes were a mixture of borrowed stuff (boyfriend's winter running jacket; dad's gloves; father-out-law's Kathmandu socks left over from the winter I lived in Chicago) and clothes I already owned that could sort of be repurposed into hiking gear (cotton t-shirts, thin merino sweater, thick merino sweater, thermal leggings also left over from that Chicago winter). Fearing an untimely death due to underpreparedness, I made one last panic-purchase in a camping store the day before we started the track: a $30 polypro long-sleeved top, which served me well and got far less smelly than I thought it would (such things being strictly relative on multi-day hikes).
My clothing strategy mostly worked out, although it did mean that my pack was extremely bulky compared to those of my companions, all of whom had proper hiking clothes that rolled down into practically thin air. I only regretted not spending more on clothes a couple of times: once when it rained and everyone else busted out their waterproof over-trousers ($130 that I had declined to spend), and a few times towards the end of the trip, when all my socks seemed to be in a perpetual state of dampness and I wished I'd brought a few more pairs.
Cost: $53.80 AUD
Lesson: Cough up for the essentials (hiking pants, thermals, decent socks, a waterproof jacket) and you can sort of fudge the rest. (Very large disclaimer: we went in summer; do not try to fudge anything in winter.)
Food
Or, the subject of a good 60 percent of our thoughts and conversations while on the track. Since there were four of us, we catered our own breakfasts and then divided up responsibility for the other meals between us. I ended up providing two lunches, one dinner, and three snacks for the group.
I do not know what I spent on food. I just don't. I must have done "the final Overland Track food shop" half a dozen times — there were always just a couple more things I needed to pick up. A look through my online bank statements for the week before we left indicates that perhaps I spent somewhere in the region of… $150? (Some of that was for my boyfriend, who was working frantically in the leadup to the trip and didn't have time to shoulder shopping responsibilities.) There are a lot of cryptic and frankly confusing entries on my statement for that period — I was trying to buy Overland Track supplies at the same time as Christmas presents at the same time as everything else, and at some point I gave up trying to keep track. I may never know what that charge of $7.80 from EUN SEOK KIM BRISBANE CITYAU refers to. I've made my peace with that.
One final note on food: my boyfriend and I bought those dehydrated camping meals-in-a-bag for our dinners. Our friends borrowed a dehydrator and dehydrated their own home-cooked meals. Theirs were cheaper, far superior, and the envy of just about everyone else in the huts. If you have access to a dehydrator and a fair chunk of time (it took them all weekend, they say), do that. You won't regret it.
Cost: $150 AUD
Lesson: Beg, borrow, or steal a dehydrator; keep track of your expenses.
Miscellaneous
Ah, the little things. They have such a knack of adding up, not to mention multiplying exponentially in the last two days before a trip. I spent $7 on a light plastic camping bowl; $2.99 on sunscreen; $6.99 on insect repellant that I worried wouldn't be enough for the trip but was in fact not needed once; $7.50 on toothpaste and a new toothbrush (can't bring an electric one on the track!); and $13.50 on hay fever meds when I went for a walk in Launceston the day before we left and kept sneezing. (Irritatingly, I didn't need these either. Better safe than sorry, though.)
Cost: $38 AUD
Lesson: Get those last-minute things you think you might need, if only for peace of mind.
Passes and tickets
The least fun, most necessary, and most expensive part of the trip. Here's what we spent on getting the right pieces of paper.
Flight from Brisbane to Launceston, which is the closest Tasmanian city to the start of the track: $160
Accommodation in Launceston: Free! We couchsurfed with some wonderful friends of friends.
Overland Track fee: $200 (This only applies during high season from October to May, so you can avoid it if you're willing to walk the track in less than ideal weather.)
National Parks Pass: $30
Bus from Launceston to Cradle Mountain, where the track begins: $61.50
Ferry across Lake St Clair, from the final hut to the visitor centre where the track officially ends: $40. (You CAN avoid this cost by walking six hours around the lake instead. You can do that. If you want.)
Bus from Lake St Clair to Hobart, the closest city to where the track ends: $100. Private shuttle because the Tasmanian bus service mysteriously doesn't run this route on a Monday.
One night's Airbnb accommodation in Hobart: $68, or $34 when split with my boyfriend. Plus an extra $40 ($20 each) to our host for breakfast and a ride to the airport.
Flight from Hobart to Brisbane: $205
Cost: $850.50 AUD
Lesson: Wow.
Total
Total cost: $1,092 AUD, or $795 USD
Lesson: The conventional wisdom that camping=cheap only applies in certain circumstances. I'd been feeling smug about not booking an overseas holiday this summer, because a) my employment circumstances don't really warrant it, and b) since returning from living abroad, I've had a lot of vaguely guilty thoughts about how little I've travelled within Australia. The Overland Track certainly addressed the latter concern, but it wasn't a cheap trip by any measure.
That said, I've written before about how some things are worth the extra expense, and walking the Overland Track definitely fits into this category. Besides which, the biggest expenses by far were the passes and domestic travel. Now that I've got a bit of hiking experience under my belt, and some of the sunk costs (clothes, supplies) are taken care of, I can put my newfound knowledge to good use on cheaper trips closer to home. I'll just make sure to shell out for a decent tent first.
Joanna Horton is a writer and radio producer living in Brisbane, Australia. Her work has appeared on The Millions, The Toast, 4ZZZ, and is forthcoming at The Fem. You can read her blog here, listen to her radio show here, and follow her on Twitter: @joanna_horton
---
Support The Billfold
The Billfold continues to exist thanks to support from our readers. Help us continue to do our work by making a monthly pledge on Patreon or a one-time-only contribution through PayPal.