Committing to the Cost of Yoga
It's worth it.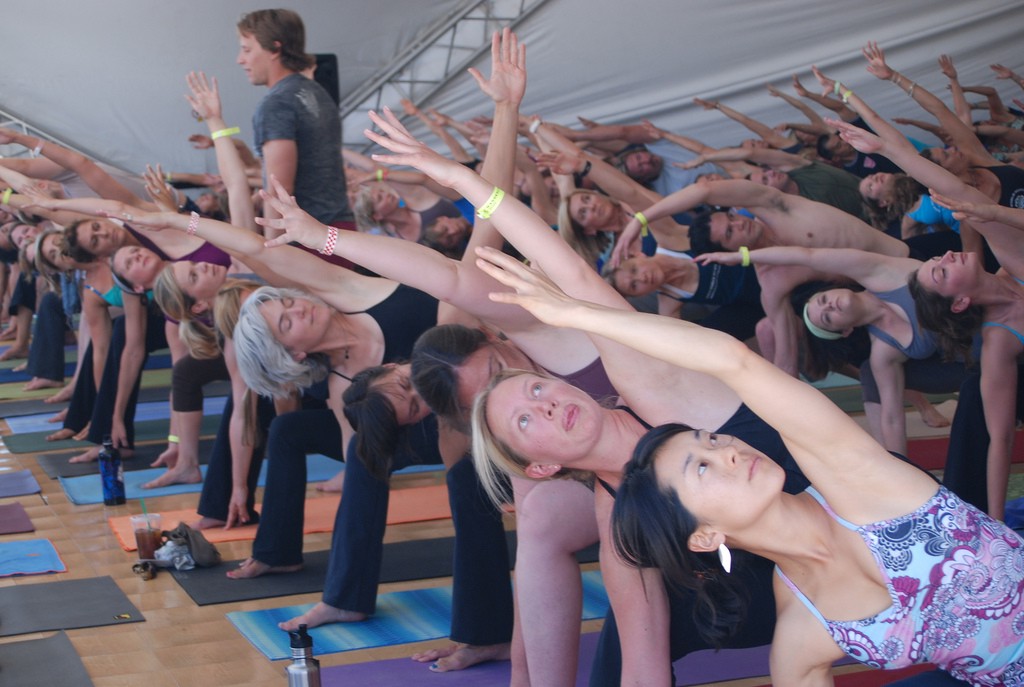 On January 1, I signed up for a one-year unlimited pass to the yoga studio I'd started taking classes at a month earlier. Buying fitness club memberships is the kind of foolishly optimistic thing that we do on New Year's Day, convinced that this is the year we will follow through on our perennial vows to get in shape and lose weight. Those resolutions often don't last; before February 1, "I have too much work" and "I'll go tomorrow" become daily excuses and the gym clothes start to languish in our dresser drawers. This time, however, feels different (yes, yes, foolish optimism, but hear me out): buying this pass isn't just making a commitment to myself and my health, but also to settling into a new home and community where I'm just beginning to feel comfortable.
I've had an on-again-off-again relationship with yoga for over a decade now. Most of the time, it's been "off" because of the money involved: during my many years as a graduate student, I was barely scraping by, and even after I finished my PhD and started working at a non-profit in New York, I could just about make ends meet. From time to time the yoga bug would hit me and I would look into studios, studying their price lists and trying to figure out if a monthly or multi-class pass could fit into my budget. The amount of money involved — a hundred dollars a month, minimum, and usually much more — always scared me off.
I would try to practice at home for free, using YouTube videos, but I never found them nearly as helpful or satisfying as actually going to a class; I wasn't sure I was doing the poses correctly, and normal sounds of life around my apartment building would always intrude and distract me. I told myself I wanted to keep up with yoga, and even left my mat unrolled on the living-room floor to inspire me, but weeks would go by and I'd walk around or over it, not practice on it.
Over the summer, I moved to Ann Arbor, Michigan, a small city with a much lower cost of living than New York, for a job with a fixed 9-to-5 workday. I'm not suddenly rolling in dough, but in the past few months I've worked out a budget that made it possible for me to imagine bringing regular yoga classes back into my life.
Still, throughout the fall I hesitated to make that commitment. I want to build up an emergency fund; I want to pay off my student loans and other debts; I want to buy furniture for my house; I know that someday my 17-year-old Subaru will need replacing. Yoga — even at Michigan prices — seemed an unnecessary luxury, an impediment to my other financial goals.
I tried to get exercise by going on 2-mile walks around the neighborhood every evening after work, but once daylight-savings time started and the winter cold arrived, that no longer seemed either appealing or safe on the streetlight-less roads near my home. There aren't enough podcasts in the world to get me onto the treadmill in my development's gym more than twice a week. I started to feel restless and housebound, and by the middle of November I'd decided to take the yoga plunge and started researching studios in the area.
I quickly found one that seemed ideal: only a mile and a half from my house, with lots of classes at a range of levels every evening. The new student special was $45 for a month of unlimited classes; after that, I could either buy 5- and 10-class packages ($85 and $160, respectively) or a monthly pass (as low as $95 per month with a year-long contract).
The new student special was easy to say yes to, and I immediately purchased my pass online and signed up for an "unwind" class that night. But the idea that if I liked the studio, I'd be paying $95 or more every month after that made me pause. What if, I thought, I studio-hopped instead? There are always Groupons for yoga studios, and most of them offer introductory specials as well. I could probably keep my yoga budget under $50 a month if I chased deals. I decided this seemed like the best plan — I'd still get my yoga classes, but in the most frugal way possible.
By the time I'd gone to a week of classes at the studio, though, I'd changed my mind about moving around to save money. I realized very quickly that I don't want to be the new girl at one yoga studio after another just to save a few bucks. My initial goals in committing to yoga were entirely health-related — I wanted to lose weight and spend some time getting out of my head every day. I hadn't even considered that becoming a regular at a studio was also a way to meet new people and become more settled in Ann Arbor.
Although I make a living being an extrovert online, I'm a tremendous introvert in person, and it takes me a long time to feel comfortable and get to know people. I'm also easily intimidated by the women who seem to be professional yogis — my workout clothes are from Target and Old Navy rather than Lululemon, and I'm in far from the best shape of my life right now. Facing a new set of teachers and students every few weeks would probably increase my anxiety, not reduce it.
Slipping into a daily routine of going to "my" studio, making small talk with other students in the coatroom and on the way out to our cars, getting to know all the teachers and figuring out which classes I like the most … all of these convinced me to buy that one-year pass on New Year's Day. Ninety-five dollars a month for yoga is not an insignificant line item in my budget, though if I can keep up my average of five classes a week that means I'm paying $4.75 per session, which seems much more reasonable in my head. For under five dollars, I get an hour of physical exertion and mental calming, as well as the prospect of making a few friends. (I'm working on that. Don't rush me.) It might not be the cheapest option, but it's the one that offers the most fringe benefits.
Maura Elizabeth Cunningham is a historian and writer based in Ann Arbor, Michigan. Follow her on Twitter @mauracunningham and on Instagram@mauracunningham82.
---
Support The Billfold
The Billfold continues to exist thanks to support from our readers. Help us continue to do our work by making a monthly pledge on Patreon or a one-time-only contribution through PayPal.