If You Build It…
My complicated relationship with Ikea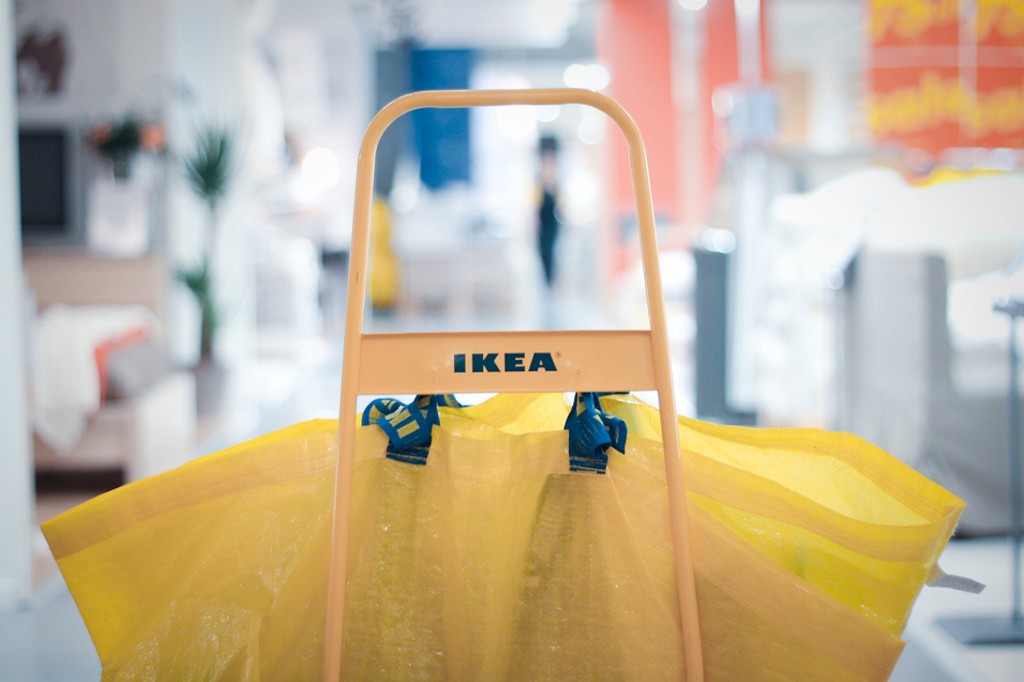 I love Ikea. But I don't even like to build my own breakfast. I figured if some higher power wanted me to build furniture, he/she would have made me a carpenter or allowed girls to take shop class in the Canon-McMillan School District in the '70s. As a child, Tinker Toys, Lincoln Logs and Erector Sets were just confusing. And putting together furniture is neither time nor cost effective.
When I moved to West Sacramento last year, I discovered that my local bus route ended at Ikea. I hadn't been to Ikea in years, but this new proximity made me curious to renew my acquaintance. I received the catalog, but I usually glanced through it and relegated it to bathroom browsing, adding it to that pile of unwanted magazines next to the toilet.
Before my first visit, I reviewed the latest catalog, and made a list of the exotic Swedish furnishings that I wanted to bring into my little apartment. Soon my list totaled over $300. Once there, after fortifying myself with some Swedish meatballs, I started looking for the things on my list. Did I really want a $40 mirror to hang over my bathroom or bedroom door? And how was I going to get 50 pounds of wood-like furniture-to-be slabs out of the Zipcar that I had rented for the occasion? No wooden Ikea furniture for me. If I couldn't lift it onto a pallet, I wouldn't be able to lift it out of the car. Even though I really craved the butcher block stand for my new microwave, and a $50 television stand, I had to leave them behind. I wasn't about to pay a $59 delivery fee to have an unassembled stand transported three miles.
I narrowed my purchases to metal. Unlike my musical preference, this metal wasn't heavy. I got a $30 aqua blue rolling cart to use as a nightstand. I got a metal valet to display my clothes for the next workday. I bought a pink metal desk lamp for my new nightstand. I bought three garbage cans — a pink wire one to put next to my $5 desk, a large plastic one for my kitchen and a black metal one with a foot pedal for my bathroom. But even putting together the cart and valet proved to be a challenge. I can't follow directions, especially when they are drawings that make no sense. I reversed the rods on the valet and had to take it apart.
But I do have some Ikea furniture. A co-worker gave me a used chair that after a year is on its last curvy legs. I bought two Ikea dressers from a friend of mine. The front of the bottom drawer of one of them fell off after a few months. The rest of my furniture is a lot cheaper than a $40 Ikea mirror. I found a nice study wooden stand for my printer at Goodwill for $5 and another co-worker gave me a wooden bookcase that became the home for my microwave.
But I still love Ikea. My apartment is filled with Ikea minutiae that I never knew I needed. My new Ikea doormat greets me each day when I come home. Another Ikea lamp sits next to my computer. My television may still sit on a plastic tote, but my dirty laundry sits in a pink canvas Ikea bag. Who can resist a square clock that gives the time and temperature? Or a $2 throw and a $1 picture frame?
The only thing that resembles real furniture in my apartment is a folding bookcase from The Container Store (I used a $20 off coupon) and a kitchen table that I bought from a friend. Maybe when I move to my dream active senior community in a few years, I'll commit to a La-Z-Boy, a real sofabed instead of a dusty futon, a comfortable queen-sized mattress with a bed frame and a television stand made of sturdy real wood.
Or maybe not. I think that it's the impermanence of Ikea that lures me back. When I moved into my first apartment in 1984, I bought all new stuff from a fancy furniture store. But when I moved from Pennsylvania to California a few years later, I had to leave it all behind. And to be honest, home furnishings don't really interest me. Even though I have about ten oversized interior design books, I don't feel the need to emulate their pages. I don't entertain at home, so it doesn't bother me that there isn't a place for guests to sit. I'm probably never going to own a house again or live in any residence for longer than five years, so it doesn't make sense for me to spend thousands of dollars on furniture. So I will continue to go to Ikea, treating myself to dumb stuff I don't really need and don't have to put together. And meatballs, of course.
---
Support The Billfold
The Billfold continues to exist thanks to support from our readers. Help us continue to do our work by making a monthly pledge on Patreon or a one-time-only contribution through PayPal.