One Day With Frida
How art—and an artist—taught me not to be afraid of spending money.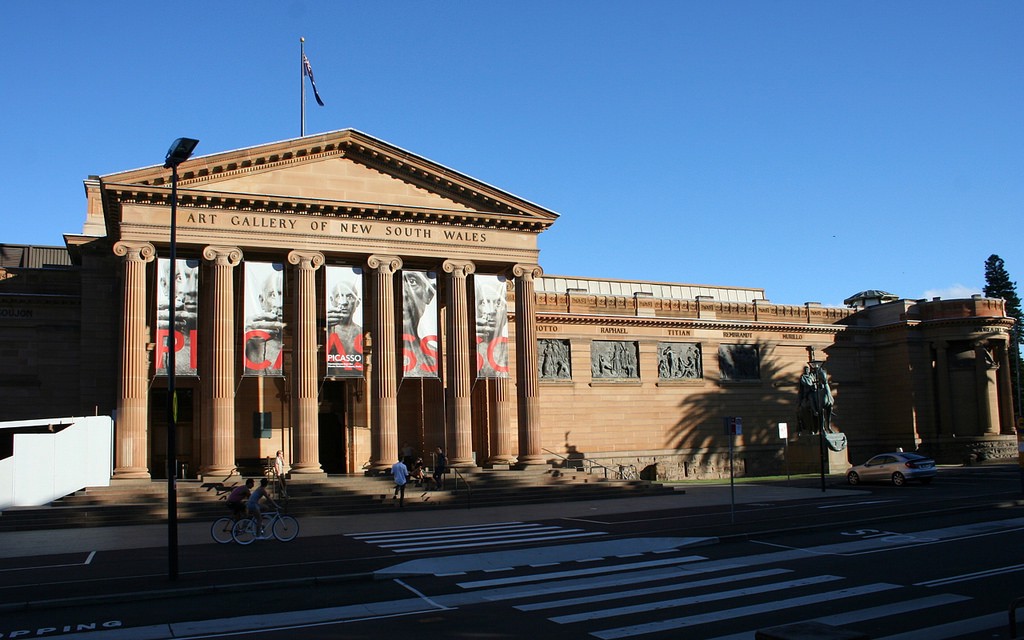 I have this one T-shirt that always gets me compliments. It's a dark purple cotton tee with a print of Grant Wood's "American Gothic" on the front — only instead of the iconic farmer couple in the original painting, Frida Kahlo and Diego Rivera are the ones standing grimly in front of the wooden farmhouse. The label on the inside says "Mexican Gothic."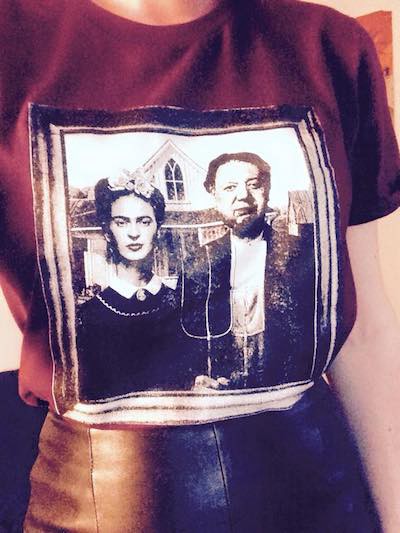 This shirt cost me $15 from the National Museum of Mexican Art in Chicago. When I bought it, I was a grad student on an extreme budget, but that didn't get in the way of my innate willingness to buy literally anything with Frida Kahlo's face on it.
I am A Fan of Frida. Her work has a depth and richness to it that I've always found arresting — her paintings strike me as haunting glimpses into a primal dream-world of mute violence and dark beauty. (Frida herself was convinced that the commercial viability of this style was limited — at her debut American show in 1938, she told The New Yorker that "no one will buy" her painting of a brutal domestic murder. "Everybody gets scared," she said.) My crush on Frida hardly makes me original. In fact, if anything, it serves to mark out exactly how unoriginal I am: just another young woman vaguely into art, fashion, and feminism, wearing a Frida Kahlo T-shirt to make sure the rest of the world knows it.
But for all my fandom, I'd never seen her paintings in their original form. So when an exhibition of her work was announced at the Art Gallery of New South Wales, I promised myself I'd go before the exhibit closed in October. (To increase the likelihood of following through on this promise, I also told many of my friends and family that I was planning to go.) The Art Gallery of New South Wales is in Sydney, and I live in Brisbane, so it was set to be a pricey endeavor — but isn't that what money is for? Just book the flights! Don't worry about the cost! Everybody gets scared, right?
So I set off to spend one day with Frida. The heftiest expense was plane tickets, but my work schedule made it possible for me to avoid the worst of the weekend price hikes by flying down on Sunday and flying back on Monday. The cheapest workable option was to take two one-way fares with different carriers — the first being a flight out of Brisbane at 7:20 a.m. for $79.38, or around $60 USD, to give you an idea of the current exchange rate. (Despite being a veteran by now of the deeply-regretted early morning flight, I continue to be lured by the lower prices, always believing anew that this time I won't mind waking up in the dark.) My dad generously picked me up from my house at the godforsaken hour of 6:00 a.m. (in the time-honored tradition of airport-bound dads, he pushed for 5:45, but I have my limits) and drove me to the airport, thus saving me the price of an Uber and/or Airtrain. Being someone who Cares Deeply about the price of airport food, I also cut down on costs by bringing my own breakfast (banana, Greek yoghurt, two muesli bars) for a grand total of $3.90. I'm unclear on exactly how much this exercise saved, but a ham and cheese toasted sandwich on the flight cost $9.00. Do with that information what you will.
The first money I spent after arriving in Sydney was $20 on a public transport card to get me from the airport to the city center. (Minutes later, my boyfriend texted with the mildly infuriating information that he had one at home from his last trip to Sydney, still with money on it, that he'd forgotten to give me before I left.) After walking from Central Station to my AirBNB ($83 for the night — I could have stayed at a YHA for cheaper, but I'll pay almost anything to avoid having to sleep in the same room as strangers) and leaving my backpack there, I left again to wander through the city to the art gallery. I had planned to stop for lunch at any café that appealed to me along the way, but that plan was derailed by a hole-in-the-wall place selling Vietnamese pork rolls for $4.95. I remain categorically unable to resist Vietnamese food, so I bought one and ate it in the park, along with a coffee ($3.75). I was lazing in the shade of a huge tree, secure in the knowledge that my ticket reserved me a spot for 1:30 PM entry to the show, when I idly checked said ticket to find that it was in fact for 1:00 PM. Which happened to be in ten minutes. Scrambling ensued.
I made it to the show on time, if a little sweaty, and spent the next hour and a half there, working my way around the whole exhibition twice. Afterwards, I wandered through the Royal Botanic Gardens to the Opera House, took selfies like a tourist, read for a while on the lawns of the Gardens, and then walked an hour and a half to Newtown for dinner. When I got there, it was early evening and still light outside, so I sat reading in the window of a big airy pub and had a pint of beer ($11). For dinner, I randomly selected one of Newtown's approximately six hundred Thai restaurants. Alone and slightly tipsy, I enjoyed a huge and delicious plate of pad thai ($10.90), before walking back to my accommodation and falling asleep almost immediately.
The next day, I'd planned to do Sydney's famous coastal walk from Bondi to Bronte, but it was cold and raining. I had an afternoon flight and no wet weather clothes or closed-in shoes, so I abandoned that plan and walked to Glebe for breakfast. Coffee with eggs and avocado on toast cost me $18.75 (guess I'll never own a house now, oh well), and getting lost in the streets of Glebe cost me nothing. At least they were very picturesque streets, with lots of old stone walls and churches and big leafy trees.
When I finally got back on track, I walked all the way down the main road to the waterfront, drinking in all the beautiful and highly unattainable-in-my-lifetime houses lining the street. I browsed in three bookshops and one secondhand clothing shop and bought nothing (a major achievement) but did stop at a fruit shop to buy a blood orange ($1.00). By this time it was cold, I was damp, and my flight home ($59.74 on a budget airline that shall not be named but bears the name of a large wild cat and is widely regarded as being almost as dangerous) was leaving in a few hours. I walked along the waterfront to the CBD, caught a train back to the airport, and ate the blood orange with my remaining two muesli bars ($2.00) in the airport lounge. This was not a particularly satisfying lunch, but it was supplemented with the smugness I felt when I noticed that a small bag of airport Cheezels cost $5.00.
Oh, and the show? My ticket was $18 and worth every penny. Seeing the paintings in person was everything I'd hoped, and my throat caught more than once. I walked away with a renewed appreciation of Kahlo's bravery and genius. (Also a renewed commitment to buying the aforementioned Frida Kahlo merchandise, as I immediately spent $3.95 on two postcards from the gallery shop.)
All up, my day with Frida cost me $320.32, or $245 USD. That's not an insignificant amount for someone like me, who works part-time and has to consciously save in order to keep enough in the bank. It sounds frivolous, maybe a little wasteful, to take a plane and stay overnight in a different city just to see an art exhibition. It sounds like the kind of trip you'd take only if you had more money than you knew what to do with, which I certainly do not. But even though the cost was relatively high and included things like takeaway coffee and meals out — things I usually try to limit spending money on — my day with Frida was worth it.
Part of my ongoing financial education involves trying to learn how to spend money when it needs spending — how to stop worrying over every purchase, wondering if there wasn't a way I could have gone without or got it for less. I spend a lot of time saying no to things because they cost too much money. That in itself isn't a bad thing, but since I'm not in debt, there has to be at least some point to all the self-denial, lest it become compulsive. I'm trying to see money as something that (in most cases) eventually needs to be spent, and spent on things that are worth it. Seeing Frida Kahlo was one of those things, even if it did end up costing me much more than the $18 price of admission. Everybody gets scared, but we don't have to let that get in the way.
Joanna Horton is a writer and radio producer living in Brisbane, Australia. Her work has appeared on The Millions, The Toast, 4ZZZ, and is forthcoming at The Fem. You can read her blog here, listen to her radio show here, and follow her on Twitter: @joanna_horton
This story is part of The Billfold's Change Series.
---
Support The Billfold
The Billfold continues to exist thanks to support from our readers. Help us continue to do our work by making a monthly pledge on Patreon or a one-time-only contribution through PayPal.