The Cost of Fulfilling a Childhood Fantasy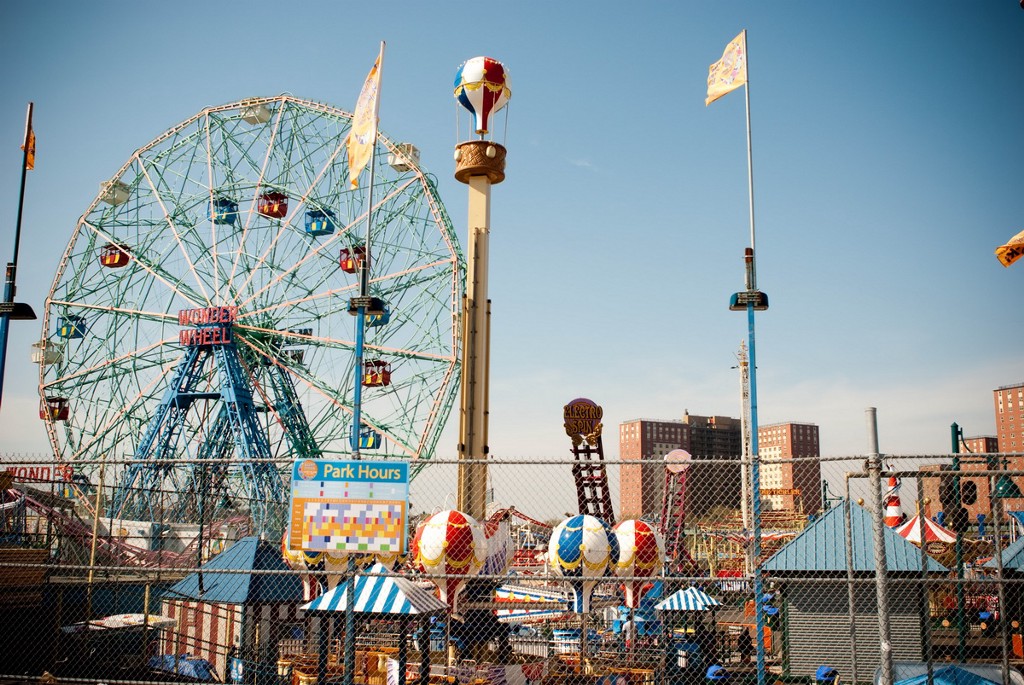 Growing up, I was always fascinated with Coney Island, and dreamed of my family taking me to visit. My parents took me to plenty of amusement parks as a kid, so it's not like I was desperate for high-octane entertainment. But there was something about the uniqueness of Coney Island, and the fantasy of being in New York City, that made me always want to go.
I've been to NYC several times, but understandably, my various traveling companions have always preferred Manhattan's many sights to taking the train an hour to see an old theme park. I've been living in California for several years, and spending a lot of money on airfare for this trip always seemed silly. Luckily, I'm living in Baltimore for a couple of months, and I learned quickly that there are numerous ways to easily get from Baltimore to NYC. So I started planning a solo weekend fantasy-fulfilling trip, tracking costs to keep the trip reasonable. My younger self didn't stop grinning, even as I sorted out the less-exciting pre-trip logistics.
Transportation
A quick search showed that taking the bus was far cheaper than the train or a flight. The buses also all have free WiFi, which meant I was able to earn money writing while on the bus. I settled on BoltBus over the other contenders, mostly because their pickup terminal was the closest to my neighborhood in Baltimore.
I also needed to get to and from the BoltBus terminal on both ends- and also take the subway from where I was staying in NYC to Coney Island. I was able to rely 100% on public transportation, using a bus in Baltimore and the subway in NYC, which kept these costs pretty low.
BoltBus cost, round-trip: $73
Bus and subway costs: $14.40
Total transportation costs: $87.40
Accommodations
Although I usually like the convenience of staying in Manhattan, I decided to find a place to stay in Brooklyn this trip, for cost savings and since Coney Island itself is in Brooklyn. After searching through traditional options and the sharing economy, I ended up choosing a hostel in Brooklyn close to a subway stop. I like hostels for solo travel, since they usually have kitchens for storing and preparing food, big common rooms with activities, and lots of other solo travelers.
Accommodation costs: $126.80
After a smooth trip to NYC, I checked into my hostel and promptly spent $18 on pizza at the nearby pizza place the hostel recommended to me. Financially, this actually turned out to be a good move: I stored the leftovers in the hostel refrigerator, and they fueled me through a few additional breakfasts and lunches.
I woke up early the next morning, excited for the fulfillment of my long-time dream. Then I looked outside. The weather had been beautiful the previous day, but this morning it was gloomy looking, and the wind was blowing. My phone informed me there was a 100% change of "light rain." Uh-oh. Not to be deterred, I was glad I'd packed waterproof boots and an umbrella, and grabbed them just in case.
The weather looked similar for the duration my subway ride through Brooklyn. Then I got off the subway at my stop. Less than a minute later, as I was starting to take photos, the clouds opened upand it started pouring rain. It was right about noon, so along with most of the other desperate tourists in the area, I ducked into Nathan's Famous Hot Dogs and spent $12.80 on lunch from the famous restaurant.
Nathan's only has outdoor seating, which not surprisingly no one wanted to use in the massive downpour. Dozens of us were crowded around the condiment tables, staking out a space to stand and eat our food. Next to me, a young couple was taking selfies and laughing about their predicament. "This is exactly how my childhood self imagined this day would be," I told them. "Exactly." They laughed and told me this was their second fail of the day; they'd run into the same weather disasters trying to go to an apple orchard.
After about 45 minutes, the rain slowed down significantly, and I figured a little wind and light drizzle wouldn't keep me from enjoying some of Coney Island's famous carnival rides. Unfortunately, Coney Island's amusement park, Luna Park, didn't agree with me, and presumably for safety reasons their rides were all shut down. My inner child wasn't going to get a ride on the Coney Island Cyclone after all. On the plus side, I saved the $35 I'd expected to pay for an unlimited ride wristband.
Instead, I spent some time walking around the boardwalk, taking windy photos and doing my best to imagine just how fun it would be to hang out on that beach on a hot, sunny day. I was too cold to spend a ton of time walking outdoors, so in replacement of the rides, I walked a few blocks over to the New York Aquarium, which was discounted at $9.95 since it's still in the process of being rebuilt. I had a good time looking at colorful fish exhibits, sharks, otters, penguins, and watching a sea lion feeding.
The weather still was cold and gray when I left the aquarium, but the Coney Island Museum was open now! I may not have been able to ride the actual rides, but I was able to get some thrills instead by reading about the weird history of Coney Island — and all for only $5. I ended my day by going to the Coney Island candy store, It's Sugar, and satiating myself with a sugar high for $9.54.
At this point, I was freezing and it was getting late, so I rode the train back to my hostel and got a $10 bowl of ramen at a nearby cafe for dinner, and picked up $2.15 worth or snacks for my bus ride back the next day. On Sunday, the day of my bus ride back to Baltimore, I woke up to a perfect, sunny day that would've been far better suited to visiting Coney Island, but I wasn't terribly disappointed. Weather and all, I had a great time, and my inner 10 year old was smiling.
Total cost of the weekend: $281.64
Thrilling my childhood self: priceless!
Kacie Berghoef loves to travel, and is a writer and Certified Enneagram Teacher. She teaches and writes about Enneagram personality types at Berghoef & Bell Innovations.
---
Support The Billfold
The Billfold continues to exist thanks to support from our readers. Help us continue to do our work by making a monthly pledge on Patreon or a one-time-only contribution through PayPal.