I Bought My Own Place! And Now I Can't Afford To Date
The summer brings the possibility of many first dates. Yet I've wound up on an accidental detox.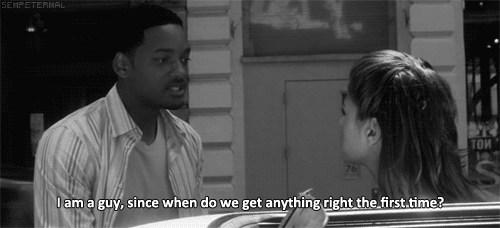 "I have this extra tkt 4 the Bey show, do u wanna go?"
Of course she had an extra ticket. She'd just gone to The Roots picnic in Philly and verbalized her disappointment in missing out on seeing Kanye West at Governor's Ball.
Being that we're still in the early stages of getting to know each other, I enjoy that we have the same taste in music. So, "Hell Yeah!" Who wouldn't want to go to a Beyonce concert on a Friday night? I was also purposely staying away from any links of concert footage. Lemonade had converted me and I wanted my moment to bask in the newfound status as a Beyhive Boy.
But that initial reaction was immediately followed by doubt. It didn't sit right with me to not be able to pay her for the ticket. Beyonce tickets that are not in the nosebleeds don't come cheap. However, between the Formation Tour and the recently announced Bad Boy Reunion Tour, I was having a dilemma with my savings account.
I reminded her of an earlier remark I'd made: "you like to live the fast life, I don't know if I can keep up!" I admired her ability to spend money on whatever she wanted to do. I was just slightly jealous that I couldn't do the same.
Even though she made it clear she wasn't expecting money for the ticket and it didn't count as a date, I politely declined.
Home alone on a Friday night, it dawned on me what a burden home ownership had become on my social life.
I closed on my bachelor pad in April and moved in about a week later. The process was tedious and frustrating. After living in several big cities, I craved a place to call home. I'd reached a point in my life where the need to put down roots had become a priority.
House hunting is not for the weak. I went back and forth on what part of the area I wanted to live in, how much space I needed, and how much of a budget I was willing to consider. I've lived in apartments for most of my 30s. The amenities that quintessential high-rises provide are enticing and were tough to walk away from. No more going to restaurants downstairs in basketball shorts and Nike slides. No more valet on those nights where I drank too much. And definitely no more doormen to kindly serve as buffers when I wanted to be left alone.
Nothing solidifies the isolation of adulthood like owning your own place.
Having just completed my grad program and begun working in a steady career, I felt ready to add a great partner to my life. So instead of going with the trendy neighborhood, I followed the long-term vision of suburban life. While my space is still a bachelor pad — I own two decorative towels so far — it mattered that the environment and setting could accommodate a wife and child or two, the things I desire in the near future.
At the beginning of the year, I prayed for clarity in two major areas of my life: finances and dating. I'm a guy who loves love. I like the idea of being able to spoil the woman I'm dating. I worked hard to get my finances in a place to do that. I embraced spontaneity. The money didn't matter because dating is all about creating fun experiences.
However, now my mind is overwhelmed by dollars and cents. I wasn't prepared for the number of sacrifices I'd have to make in my daily life. I've had to alter a lot of my habits, many of which include socializing.
Without being aware of it, I was embarking on a dating detox, because I couldn't afford to date — at least, not the way I wanted.
I'm one of the few single guys in my group of friends. Not only are the others married and living in dual-income households, they also have careers that give them a level of financial freedom. They can't relate to my careful spending. I couldn't help but feel left behind when they took a spontaneous group trip to the Bahamas for Memorial Day weekend. It sucked to tell them I couldn't go. The best I could do was make the most of a day trip to Atlantic City with friends who understood my cost consciousness.
On the drive, I wrestled with the after-effects that had taken me by surprise. I wasn't prepared for the hit my social life would take. And women don't always understand the financial responsibility that comes along with dating, even if they're willing to share it.
Society places the financial expectation of courtship and dating primarily on men. $30 for drinks, $60 for dinner, $20 for valet: the cost can add up quickly for even one night, assuming you want to impress a woman. And most of us do. The male ego is fragile. Pride won't allow a man to let a woman know he's not financially stable enough to court her.
When you're dealing with someone whose company you enjoy and things progress, a talk about finances is going to have to happen. And it was difficult for me to have an honest conversation about my money predicament. It was embarrassing to admit that I paid for a hotel room with a Groupon. I felt emasculated when a woman let me know she was cool with paying for dinner or whatever activity we were going to do. What mattered to her was quality time with me. But what mattered to me was proving that I could provide a stable life for her if she chose me.
When I think about how I feel defeated, knowing I'm not in position to go where I want or do what I want at a moment's notice, I snap back to the reality and tell myself it's worth it. Still, when it comes to having to talk about money or expose the imperfection of a new situation (even a temporary one), I'd really just rather not.
I'm happy to have a real place to call mine. The goal was a big deal on my life's to-do list. But it's a dream that has left my dating and social life a bit stagnant. I'm learning to be okay with this. Besides, Beyonce will be back on the East Coast in September. I have all summer to level up and find a date.
---
Support The Billfold on Patreon
The Billfold continues to exist thanks to support from our readers. Help us continue to do our work by supporting us on Patreon.