You Have No Idea Where Your Food Comes From
"Farm to Table"? F for Fake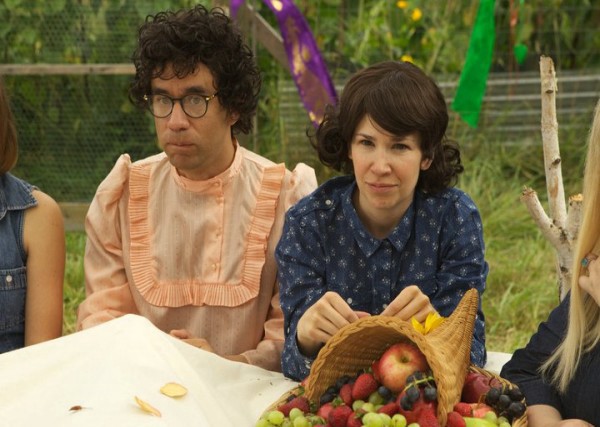 A series at the Tampa Bay Times by newspaper food critic Laura Reiley reveals an unpleasant truth: restaurants that claim to serve food that's "organic," "local," "farm-fresh," and, in the case of animal products, "humanely raised" are, overwhelmingly, just telling customers what we want to hear. She calls the large-scale deception "greenwashing."
This is a story we are all being fed. A story about overalls, rich soil and John Deere tractors scattering broods of busy chickens. A story about healthy animals living happy lives, heirloom tomatoes hanging heavy and earnest artisans rolling wheels of cheese into aging caves nearby.
More often than not, those things are fairy tales. A long list of Tampa Bay restaurants are willing to capitalize on our hunger for the story.
In one example, Reiley went all Veronica Mars on a particularly pricey and highly rated restaurant in the Tampa area called The Mill.
Servers are likely to start proceedings with a mini-disquisition on how all the food comes from within a couple hundred miles of the restaurant (mileage may vary).
"Everybody's spiel is a little different," said chef-owner Ted Dorsey. "But I say a 250-mile radius."
Dorsey said he buys pork from a small Tallahassee farm through food supplier Master Purveyors. But Master Purveyors said it doesn't sell pork from Tallahassee. Dorsey said he uses quail from Magnolia Farms in Lake City. Master Purveyors said the quail is from Wyoming. Dorsey said he buys dairy from Dakin Dairy Farms in Myakka through Weyand Food Distributors. Weyand said it doesn't distribute Dakin. Dorsey said he gets local produce from Suncoast Food Alliance and Local Roots. Both said they have not sold to The Mill. He named three seafood suppliers. Two checked out, but a third, Whitney and Son, said they had not sold to The Mill yet. They hope to in the future.
A disillusioned Reiley summarizes, "If you eat food, you are being lied to everyday."
There are plenty of good reasons for restaurants to play this game. It's a way for them to further differentiate themselves from chains like Applebees. They acquire a saintly sheen, as they get to appear not merely expensive but noble. Many consumers, after all, are eager to believe they're consuming only the highest quality ingredients and are willing to pay a premium for the experience of pretending they're dining in a rural Italian village that supplies grapes from the vineyard and chickens from the backyard. Unfortunately, vineyard grapes and backyard chickens don't scale.
Most restaurants do not have the time or wherewithal to deal directly with farmers and producers; most farmers and producers don't have the infrastructure to do their own sales, marketing and delivery.
So the storytelling begins.
I encourage you to read the whole piece, even though it's so discouraging (at least to those of us who, up until now, really liked the idea of eating locally, etc.) because the evidence piles up like cars behind an overturned truck on I-95. "Local" greens come in a bag from Mexico. The grass-fed beef was once someone's regularly ill-treated cow. The Long Island duck hails from rural PA.
At one joint, everything is advertised as local or wild; preservative-, hormone- and additive-free; and made from scratch in-house. But the so-called "wild Alaskan pollock" pieces in the fish-and-chips "are made from frozen Chinese pollock treated with sodium tripolyphosphate, a common preservative." Blue crab? Jumbo lump from a can. Grouper? Tilapia. And you don't even want to know about the lobster.
Or do you:
In addition to flavor enhancers disodium inosinate and disodium guanylate, the [Lobster] Sensation contains surimi, a fish paste that is flavored, frozen, extruded, dyed, rolled into ribbons and cut into chunks.
That shouldn't be surprising: everyone misrepresents fish ("DNA testing found that one-third (33 percent) of the 1,215 samples analyzed nationwide were mislabeled"). But the bait-and-switch applies to meat too. That veal in your veal schnitzel? Pork. And not even the nice pork. That would be way too expensive.
All right, all right, so restauranteurs in Florida are, at worst, corrupt scavengers, and, at best, dubiously creative types struggling to survive, to capitalize on trends without being bankrupted by them. What about other states? Is this a nationwide problem, or one specific to the state that, after all, gave us Bush v. Gore?
You do the math:
On an average week, 530,000 head of cattle are processed in the United States, he said. Fewer than 12,000 of them are naturally raised and antibiotic free.
"Sysco might buy 4,000 pounds a week of all-natural beef. Do you think that will service all the people who are claiming to sell it?"
If you see all-natural steak for less than $20 on a menu, he said, beware.
Experts also advise the cunning use of logic.
The first tipoff on a menu? Constancy.
"The only thing we can grow year-round is lettuce," said Urban Oasis co-owner Cathy Hume. "If they have collard greens on the menu in June, something is wrong."
That's it, you say. Too much fraud. I'm done with restaurants. I'm going to shop at farmers' markets and cook my own food.
few people seem to know that [at the farmers' market] there are nearly no farmers. That this stuff came from Mexico, Honduras, Canada. That your grocer has already passed it over.
Over several weeks, I visited Tampa Bay's outdoor markets. At a dozen different markets, I counted 346 discrete vendors, many of whom sell at multiple markets. Of that number, only 16 sold their own produce, honey, eggs, meat or dairy. Plenty of wind chimes and hot sauces, but less than 5 percent represented Florida farmers growing their own food.
OK, I'm going back to sleep. Wake me when it's Soylent time.
---
Support The Billfold
The Billfold continues to exist thanks to support from our readers. Help us continue to do our work by making a monthly pledge on Patreon or a one-time-only contribution through PayPal.