Meet A Man Who Took 14 Cross-Country Flights in 7 Days For The Miles
He's starting a business to help people travel smarter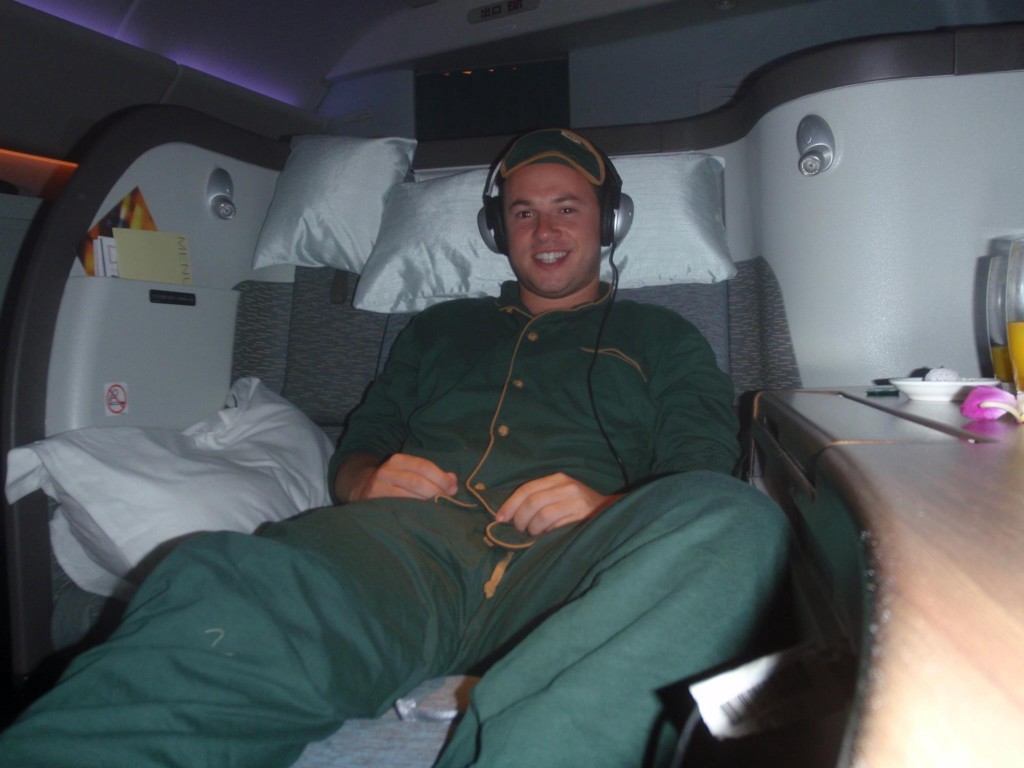 Full disclosure: Dan's father is now married to my mother-in-law. This interview has been edited and condensed.
Hello! Please introduce yourself.
My name is Dan Pierson. I'm the founder of SlingShot, your personal concierge for free reward travel. We help more people travel further through the responsible use of credit. I've been super lucky to fly all over the world for free by optimizing frequent flyer travel — now I'm building a company to bring that same opportunity to others!
Tell me about your background with travel. What are some of the trips you've taken?
I started traveling right after high school, when I took a gap year before college. With my big bro Jon, I travelled to Alaska, Australia, and New Zealand; my dad very generously donated his frequent flyer miles to help us get overseas.
I've been lucky to visit 60+ countries in the years since.
Some of my favorite trips include: riding a steel framed bicycle from Seattle, WA, to New Orleans; an earlier bicycle tour down both the N. and S. islands of New Zealand; a 60 day Greyhound (aka the Dirty Dog) tour across the US and Canada; and most recently, my walk across the island of Cuba.
That's pretty amazing. What was the walk across Cuba like? Was this before it was officially opened to American tourism again?
My walk across Cuba actually started at the end of my bicycle trip across the US. I'd told myself before I left that, should money and motivation remain when I reached Key West, FL, I'd stow aboard a boat headed to Cuba.
After 3,000 miles of riding, early one morning in NOLA, a black cloud came over me as I realized I couldn't continue my tour. This was quite the shock; my whole identity was wrapped up in being that guy riding his bicycle across the country. A powerful series of events concluded in the December 17, 2014, announcement of the resumption of relations between Cuba and the U.S. and I realized that was the next journey in this wider journey called life. I went down to the U.S. State Department office, told them I'd fallen in love with a British girl on Bourbon St and needed an expedited passport to chase her down to London. Three weeks later, I was on a flight to Havana.
Cuba is a fascinating place, and one that can't be understood without spending weeks if not months on the island. As it relates to personal finance, it's fascinating in that an island of 11 million people was only introduced to capitalism in the 1990s. The black market is everywhere, because people make $30 a month and want iPhones and flat screens just like their neighbors 90 miles north.
The end of my walk across Cuba
Let's back up. Where you were working, pre-bike trip?
Lyft, [which] was (and still is) one of the most exciting companies in San Francisco; we grew from 15 to 64 cities in my short stint there. I loved my team, the company's mission, and was satisfied with the day to day, but couldn't escape a nagging feeling that I was meant to do something else. I started taking 30 minute long walks, then hour long walks, then two-hour long walks — before I sat myself down and realized a tech job in SF wasn't for me. Three weeks later, I hopped on the bicycle in Washington State and started riding east.
I'd quit my job at Lyft after just nine months, right before my stock options vested, so I took a big financial hit.
Oh wow. Did you know what you were passing up when you left?
Stock options at startups typically have a "cliff" of one year; if you don't stay for that long, you leave with nothing. I was three months short when I left for my bike trip, but Fall was calling and I knew my time was limited before winter set in. So I took off. I left some cash on the table (nothing life-changing by any means), but I sure would love to have it in my checking account right now!
I once asked Bill Gates a question: With all of the resources at his disposal, where did he feel least able to affect meaningful change? I was lucky to receive this answer: "No matter how much money you have, you can't buy time. There are only 24 hours in every person's day. So I set clear priorities, like my family and my work, and am pretty hardcore about sticking to them. It helps that I'm lucky enough to be able to free up some time by choosing not to do certain things. For example, I don't mow the lawn."
Five Questions from the Twitterverse
We haven't figured out immortality yet. I have friends die — it seems like all the time. In fact, a dear friend just passed this week. So I'm committed to living an intense, full, beautiful life without compromise, outside of the unconditional love for the people closest to me.
So I walked away. Well, rode away. =)
You mention that you were gifted some miles. How else did you finance these trips / make them work for you in terms of funds? Did you earn any money, for example, while you traveled?
Right out of college, I moved to Buenos Aires with my dog Nevada. I started an Internet marketing agency hiring Americans living abroad to create web content for companies in the U.S. The golden days of spam. The best part of the gig was the freedom it afforded me to travel on my own schedule. More recently, my project Subway Sets financed my bike trip. About once a month, I'd fly back to NYC from wherever I parked the bike to produce a show and bring in a few thousand dollars.
When I was 22, I devoted about six months to learning to "hack" the frequent flyer system. I read every blog and pored over forums to understand how this mysterious system worked. And I got pretty deep; stories better told over whiskey than the Internet include a seven day stint where I'd wake up in Boston, fly to San Francisco, hang in the airport for an hour, then hop right back on a plane to the East Coast. I did that 7 days in a row; my face looked like a pizza pie after.
When I was 22, I devoted about six months to learning to "hack" the frequent flyer system.
SlingShot isn't about that kind of crazy stuff. I learned the hard way, so our customers don't have to: the easiest way to quickly, easily accumulate miles is by very responsibly opening new credit card accounts.
Um. Seven days in a row, you flew cross-country, twice, every day? That was cost-effective?
It was during the Great Recession: a weird Perfect Storm of cheap paid tickets and bonus offers from the airlines. For about $1800 and a tremendous toll on my body and spirit, I earned Executive Platinum status, the highest on American Airlines, and enough miles for a first class round trip ticket to Thailand on Cathay Pacific.
How long did you stay in Thailand? Was it worth it?
It's tough to think about particular trips. I don't particularly like the term "digital nomad," but for most of my adult life I've found myself living that lifestyle. I think that trip in Thailand was about two months long; I was running my agency, so it was great because the cost of living was so low!
So which trip prompted this new business idea?
SlingShot is the culmination of 10 years of learning how the frequent flyer system works. I've been lucky to fly all over the world for free, sometimes in first class, where I most certainly did not belong. But it's never been about the premium stuff for me; one day I was sipping Dom P on Cathay Pacific, the next waiting in the rain for the bus.
What's important to me is giving more people opportunities to travel farther. That's our goal: by cleaning up this messy, complicated system of airlines, alliances, credit card offers, we're giving consumers more insight into how they can use reward travel to see new places.
And why travel?
We live in a fucked up world. Don't think there's much disagreement there. Bombings in Paris, wars in Iraq, this guy named Donald Drumpf. I deeply believe the path towards a more inclusive, peaceful world is paved with travel, and the corresponding increase in understanding across cultures. If SlingShot can help people visit more places by educating them and providing tools to better utilize that complicated frequent flyer system, it'll be a tiny dent in the universe I can be super proud of.
I deeply believe the path towards a more inclusive, peaceful world is paved with travel.
Do you have any qualms about the way it requires the use — even, perhaps, mastery — of credit cards?
Nope, not at all. Credit card companies spend billions of dollars marketing to customers and buying miles and points from airlines. The system is confusing on purpose. We're building an unbiased layer on top of all the credit card companies' marketing, to provide education and tools to our customers so they can better understand how to maximize their credit card spending dollars.
$45 billion dollars in points go unused every year; that's money for the banks, and wasted value for Jane on Main Street. Of the hundreds of travel reward credit card products out there, which is best for Jane, based on the places she loves most in the world, her frequent flyer program participation, spending patterns, credit info, etc? And once she applies for a card, how can we then help her get the absolute maximum value out of frequent flyer travel?
We advocate very strongly for responsible credit, to the point of telling folks visiting SlingShot that if they're going to spend money they don't have and accrue a balance they can't pay off, they shouldn't open new lines of credit.
Do you think you provide added value even to people who already feel pretty credit card savvy?
Yes. We're building technology that can analyze and provide insight into this incredibly complicated system more comprehensively than the most Jedi of frequent flyer ninjas.
Say Jane is 27 years old, works as a manager at Starbucks, received a great education around credit from her parents (credit score: 700+), makes $40k a year, and has two weeks off from work every year. She has 9k American Airlines miles, and 20k United Airlines miles. Those are like gift cards from another city that just hang out in her purse; they're meaningless because she can't use them.
With SlingShot, we can figure out how Jane can add to those existing balances by using her credit responsibly to travel anywhere in the world. By applying for a card and hitting a spending minimum of $4k over three months, Jane can travel just about anywhere in the world for free. Exciting, huh?
Speaking of exciting: talk to me about the nuts and bolts of starting your own business. Is it 90% exciting, 10% terrifying, or what? What's the breakdown for you?
I've started several businesses, but this is my first potentially venture capital backed-company (hopefully, if we close this current round; Angel investors, get at me!).
Starting this company is 110% exciting and approximately 30% terrifying. But I am laser focused on our mission of expanding the travel pie, and I find that the truer I stay to that vision, the more committed I become. Ben Horowitz, one of the most successful investors in the world, says he likes to fund entrepreneurs who like the taste of blood in their mouth. I am somewhat surprised to discover that chewing glass only makes me want more. Kinda sick, huh? =)
[editor's note: Dan now recalls that the idea comes from Elon Musk.]
Elon Musk on the Best Way to Eat Glass [Video]
How did you come up with the capital? Your old Bay Area coworkers?
I'm very lucky. My mom went back into the workforce at age 37, after I was born, and worked hard as a social worker and then probation officer. She has — literally — perfect credit, because she always lived within her means, even when she wasn't making much money. She's now paid off her house, socked away a bunch of cash in her retirement account, and is in a position to provide some capital as I start this new business.
No questions asked; she believes in me deeply and wants to give me every chance to succeed. In fact, she just provided seed capital for my sister's new business Daily Jars, too. My mom's SUPER MEGA LEGIT AF.
I assume that's a technical investor's term?
It should be!
What is it like to START a business when it seems like you haven't worked at any one business for that long yet? Do you feel like you'll be able to keep it going, know what works and what doesn't, and so on?
My Linkedin profile might not reflect long stints at places. But I've started three successful businesses: BsAs Copy (3 years), Subway Sets (3 years), and now SlingShot (the next 10 years of my life, if everything goes according to plan), alongside years of experience in technology and venture capital. My resume is certainly eccentric! — but it reflects my breadth of different challenges I've overcome and opportunities I've seized.
Do you think, when the time comes, that you'll retire abroad?
I'll end by saying that as long as I feel this passionate about my mission, I'm never going to retire. I hope to continue working on the things that are important to me until the day I die. But in the meantime, there are lots of empty spaces in my passport. =)
---
Support The Billfold
The Billfold continues to exist thanks to support from our readers. Help us continue to do our work by making a monthly pledge on Patreon or a one-time-only contribution through PayPal.