The Cost of Learning to Drive in Brooklyn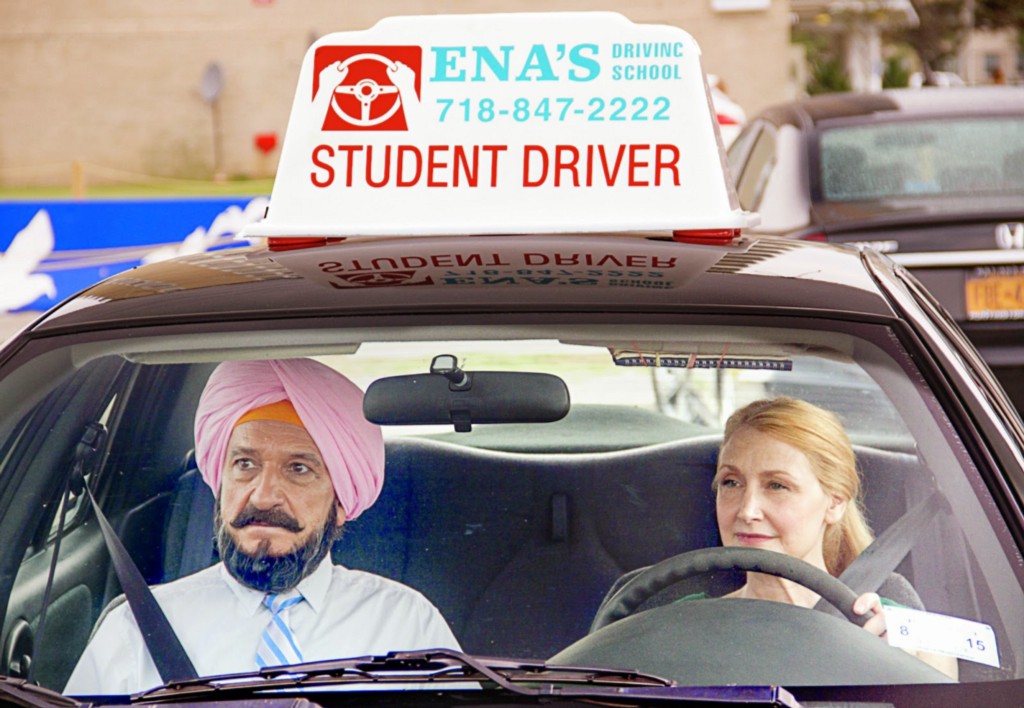 If you're a 20-something living in New York City, it's not uncommon to be without a driver's license. In fact, I have a good number of friends who grew up in and around New York who are license-less. Until recently, my boyfriend Josh was one of them.
Josh grew up in Brooklyn, and his school stopped offering driving classes when he was of age to take them. A reliable subway system, our pedestrian-oriented city, and the cost of maintaining a car meant he had never been interested in getting his license. However, when Josh started applying for jobs with New York state, he found that a license was necessary. To the DMV we went.
In Georgia, my dad taught me to drive in my high school parking lot, where I spent hours swooping about on Sunday mornings. But there aren't really any large lots in the city, much less empty ones. The only real way to learn is to just dive into the deep end and practice on the streets, but even as a seasoned driver, I don't like driving around the city. There are too many pedestrians and bikers, too many wildcard drivers. Plus, without a car, we literally didn't have a vehicle for practicing. Teaching Josh myself was out.
Google "Brooklyn Driving Schools" and you'll see a ton of options. A standard package for new drivers usually entails about 8–12 lessons, the 5-hour required pre-licensing class in which you get a certificate upon completion that you have to present at your exam, and use of the car at your exam, which the driving school usually sets up with the DMV. The price of the basic package is usually somewhere between $400–550. Individual lesson can cost between $35–40. Just the 5-hour pre-licensing class can cost between $40–45.
Aside from just finding an affordable package that meets your needs, we also found a few other factors that were important to consider:
Some driving schools offer free pick up and drop off from home — convenient if you don't want to spend money on the subway. See if potential driving schools offer this option or try to find a driving school close by.
Look at the quality of the driving school's website and pay attention to their customer service when you call with questions. Some driving schools have far more advanced websites that offer online scheduling options, which can be very helpful. If it's a struggle to get in touch with them from the get-go, it's only going to be a bigger pain every time you need to communicate with them to book your lessons, pre-licensing class, and exam.
Read lots of Yelp and Google reviews to get a sense of the school's reputation. Some of these driving schools are organized operations and some are just a couple of people with a student car. It's important to have an instructor you feel comfortable with.
The school where Josh did his lessons was close to our apartment in Brooklyn — 95% of the reason we chose the company. Lessons consisted of his driving instructor picking him up from home and just driving around the immediate neighborhood. The lessons were very oriented towards passing the test, so the instructor really only concentrated on driving situations that would be on the exam. A majority of what he was practicing was parking on the street. Otherwise, it was just driving up and down, doing K turns down empty side streets, practicing crossing intersections, and going out on the freeway once or twice.
Josh failed his first exam after hitting the curb while parallel parking (an automatic fail). The school offered to set up another exam date, free of charge, but they also started hassling him about leaving a Yelp review and, even when he left one, they repeatedly complained that it wasn't positive enough, despite a perfectly positive rating (4 stars) and a fair evaluation (they felt mentioning the instructor's sternness made him sound too harsh). We decided to find him another place to take his test, which presented its own challenges. Scheduling an exam takes 6–8 weeks, so Josh would have to wait. He didn't want to lose the momentum he'd gained through his lessons — the longer he waited, the more lessons he would probably need, which meant more money.
We found some schools offer rush services with an appointment guarantee within 2–3 weeks. The service was pricey — $250 — but at least Josh would be behind the wheel soon. Despite the money, the second time proved a charm. And while we're not running out to buy a car or speed down the highway anytime soon, passing the exam still elicited those same butterflies as when you're 16 and emerge triumphant from the DMV.
Final tally:
9 hour-long lessons, a 5 hour pre-licensing course, and exam appointment with use of the car for the test: $450
Two 45 minute-long lessons and rush exam appointment with use of the car for the test: $250
Total: Four months and $700
Kimberly Lew is a published playwright and blogger living in Brooklyn. Last weekend, while driving in Jersey, she was yelled at by another driver to "Go back to New York." Check her out at www.kimberlylew.com.
---
Support The Billfold
The Billfold continues to exist thanks to support from our readers. Help us continue to do our work by making a monthly pledge on Patreon or a one-time-only contribution through PayPal.