Show Us Your Grocery Receipts, Part Seven: Target
"If this list had a second title, it would be 'I don't have time for this.'"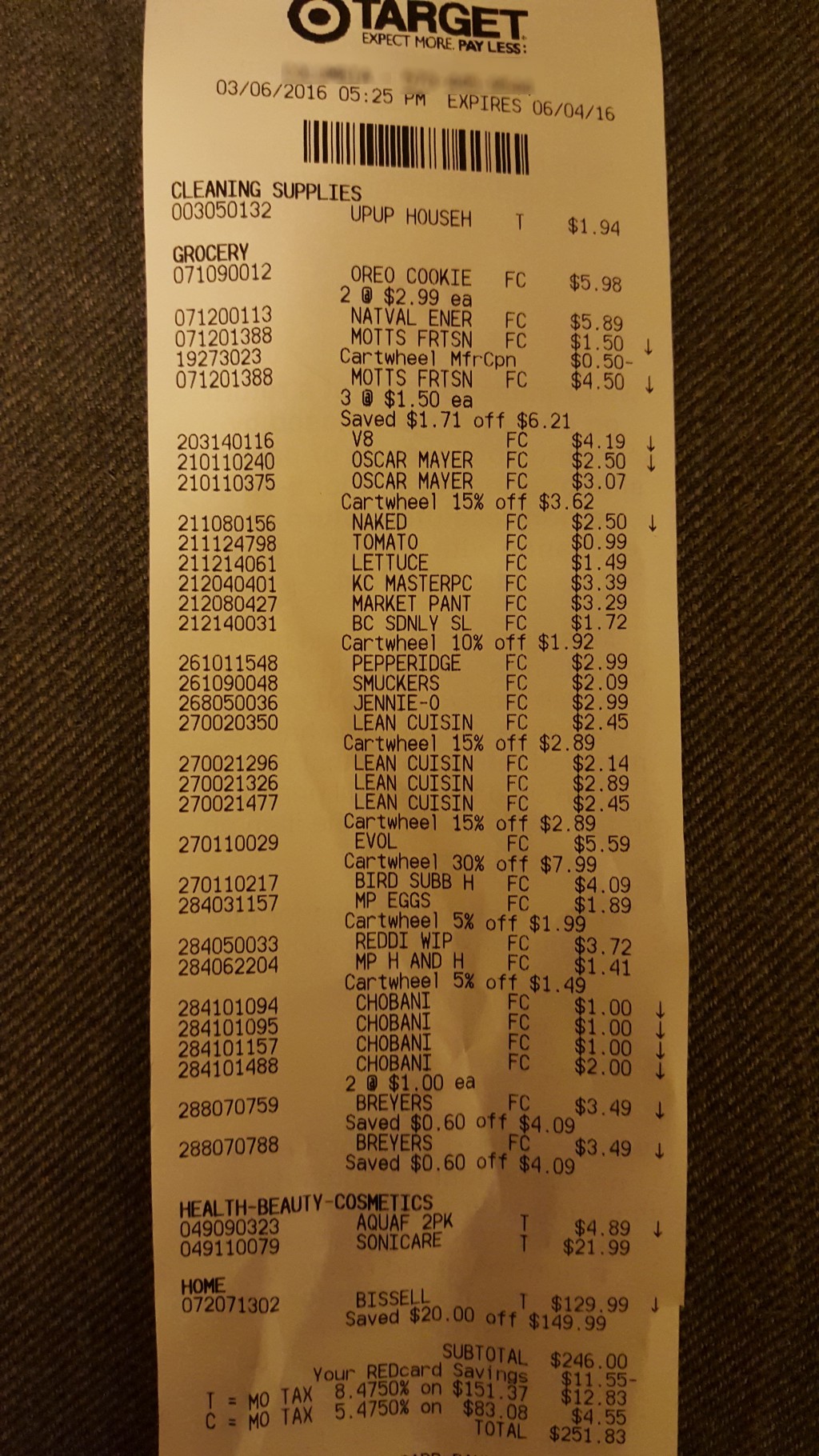 This week, let's look at one Billfolder's "fill-in-the-gaps" grocery trip. Her analysis as follows:
This was a fill-in-the-gaps grocery run. My name is Kristin and I'm a Midwestern single mom to an almost eight-year-old boy. I'm in a long-term relationship with a man who eats most of his meals at my house but we don't live together, and I buy all the groceries. In order to balance the cost of the food he eats at my house, he buys most of the meals when we go out. He also does all the dishes which makes up for the cooking labor imbalance.
Our Target is kind of strange because it's an anchor store at the mall, of all places. They expanded it a few years ago to have groceries but it's not a Super Target, either. Some kind of strange in-between. But it's the closest store to my house and I like their app for coupons, plus my 5 percent with my red card, so I go there a lot for groceries between big hauls.
If this list had a second title, a la Rocky and Bullwinkle, it would be "I don't have time for this." My partner helps, but I'm mostly doing this on my own while working a high-stress job, so convenience food has a tendency to take over the list. The lack of fruits and vegetables is a little embarrassing, but we still have plenty of those from when I did a trip to the real grocery store last week. I was saving that receipt but it seems to have disappeared. We do eat fruits and vegetables, I promise.
Dinners this week:
Apple bratwurst with baked beans and tater tots
Pork chops with colored peppers, brown sugar glazed carrots, long grain and wild rice
Turkey burgers with leftover baked beans and pasta salad
Pork steaks with baked beans and pasta salad (I can stretch a can of beans pretty far)
Meatloaf muffins with herb-roasted potatoes and green beans
The receipt:
Cleaning supplies: Target brand Mr. Clean Magic Erasers. Magic is right.
Oreos: not for us. I'm on the PTA cookie committee because most of the other volunteer opportunities are during the day when I am working.
NATVAL: Nature Valley protein granola bars for a kid on the go.
MOTTS: fruit snacks. They were on sale and we go through these like water once sports season hits, and it will soon.
V8: A six pack of V8 energy drinks. I balk at the price in the store and don't buy them, and then like a dolt I stop at Starbucks on the way to work and spend $7.50 on a chai and pumpkin bread like it's no big deal. I realized that today. Just buy the energy juice, Kristin.
Oscar Mayer: Lunchables. The kid mostly likes school lunch but they have chicken nuggets literally every Tuesday so this gives him a break. I grew up poor so the fact that I'm buying my kid Lunchables is somewhat a symbol of my ascent into the middle class.
Naked: see above re: Starbucks but replace it with the coffee stand at work where Naked juices are $3.50. I know I'm going to want one. Why spend $1 more?
Lettuce and tomato for turkey burgers. Yum.
KC Masterpiece because it's the only bbq sauce that exists as far as I'm concerned. For pork steaks and meatloaf later this week.
Mayonnaise.
Suddenly Salad pasta salad mix. I really just buy this for the seasoning packet. I always add frozen peas and sliced olives when I make it.
Pepperidge: hamburger buns. I don't cheap out on these.
Smuckers: hot fudge for sundaes.
Jennie-O ground turkey: I buy most of my meat at the university's meat market but they have limited hours and I'm out of ground beef.
Lean Cuisines: really trying to not eat out for lunch because it gets expensive quickly. Since I don't cook a real dinner about half the time, there are no leftovers to take in. So instead I take a Lean Cuisine, a V8 (veggie, not fruity energy), a piece of cheese, and a piece of fruit.
EVOL: frozen bagged chicken teriyaki dinner stuff. I hate cooking. Loathe it. These skillet meals help on the nights where I just can't summon the energy to put forth the effort, and they're not totally terrible for you. Better alternative than takeout or fast food.
Bird Subb: see above, except alfredo pasta. Kid and I split this for dinner tonight.
Eggs.
Whipped cream for sundaes.
Half and half for my tea at work (another alternative to the lure of chai lattes).
Chobani: yum yum yogurt.
Breyers: two cartons of ice cream. Strawberry for me and thin mint for the kid.
I also bought toothpaste, toothbrush heads ($$$!), and a Bissell Spotbot which so far has really impressed me. As my cats are getting older they are also getting pukier.
Previously: Show Us Your Grocery Receipts, Part Six: Wegmans
---
Support The Billfold
The Billfold continues to exist thanks to support from our readers. Help us continue to do our work by making a monthly pledge on Patreon or a one-time-only contribution through PayPal.