Job of the Day: Canhead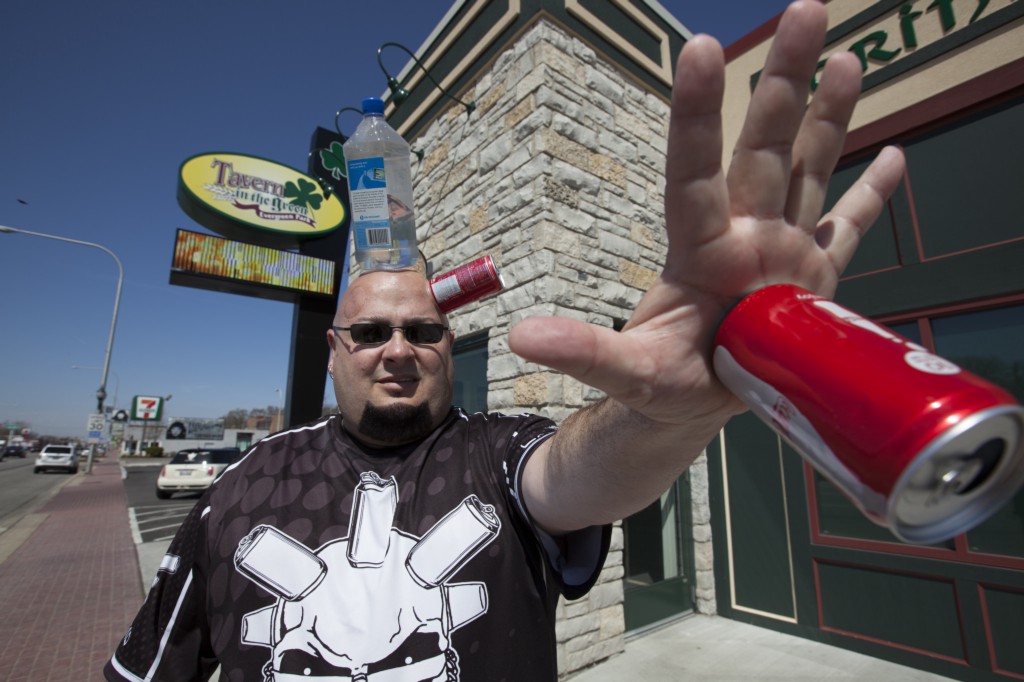 Jamie Keeton is a man with an unusual talent: cans stick to his head.
Not just cans; bottles (both empty and full), smartphones, plastic jars of peanuts, action figures, and more.
It has to do with his unusual body temperature, which remains at a slightly elevated 100 degrees Fahrenheit. (If any Billfolders want to explain why a higher-than-usual body temperature would cause objects to "suction-cup" themselves to someone's skin, I am ready to learn.)
Keeton, being a smart and enterprising person, has found a way to profit off his canheadedness. From the official Canhead website:
Using attributes like his personality, kindness, fun-going and hardworking attitude, Canhead can be your Ultimate Marketing Tool. He attracts massive crowds and attention with his unique ability. He has been hired at many sporting events. For example, NASCAR, where he averages around 60,000 photos a day along with interviews by almost all of the media outlets in attendance. He has been hired to make appearances at various nightclub events to entertain patrons. He has also been hired by several different organizations to be a celebrity guest on their parade floats and golf outings.
"It's turned into a business where I actually promote people's companies all the time," Keeton told ABC7 Chicago. "Different companies, just to wear their name on my cans or on my shirts."
Keeton also told ABC7 that he could earn $1,000 a day as Canhead, and up to $8,000 in a weekend. Does that mean Canhead is a sustainable business? Maybe. However, following the trend of "everyone has two or three jobs these days," the Chicago Tribune notes that Keeton also runs a sign company and only uses Canhead to "augment his income."
iamcanhead #canhead #worldrecord #instacrazy #totallycool #marketingtools #humansuctioncup #usingmyheadforbusiness pic.twitter.com/KYxmCvLpsd
I'm rooting for Canhead, in part because the various interviews Keeton has done in the past few days show him to be personable, kind, fun-loving, and hardworking—exactly what his business promises.
Also because I love the idea of someone getting paid to stick cans to his head.
But I think the hashtag #usingmyheadforbusiness is what finally suction-cupped me to Keeton. (I'm a sucker—get it?—for a good pun.)
Canhead has been around for a while, but Keeton is enjoying a recent media boost since he reportedly broke the Guinness World Record for "most cans stuck to a human head."
(Please note that he did not set this record, he broke it. There's at least one more can head out there.)
The Chicago Tribune, always the killjoy, warns that this report may be a little presumptive:
Can Head said he just won a Guinness world record for cans stuck to a human head, but Guinness on Thursday could not confirm that, saying it would take months of investigation to determine whether Can Head did indeed achieve the record fairly.
I guess we'll know for sure on the day Twitter starts circulating a photo of a man with a Guinness World Record stuck to his head.
---
Support The Billfold
The Billfold continues to exist thanks to support from our readers. Help us continue to do our work by making a monthly pledge on Patreon or a one-time-only contribution through PayPal.