An Interview With a Co-Worker Who Won $3 Million in the New York Lottery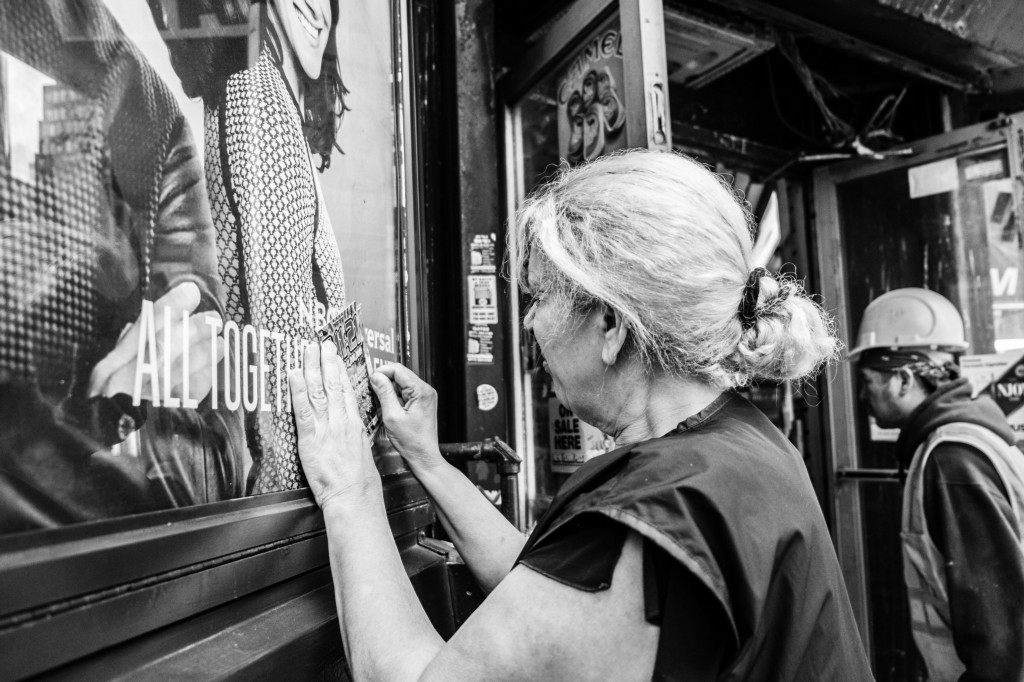 I met Wallace days before I left my copywriting job at a large Manhattan magazine publisher. He's been working downstairs in the print department since 1994 and is a quiet, unassuming guy with an improbable story.
In 2009, you won the New York Lottery. How did it happen?
I won a scratch-off for $3 million. After taxes, they gave me $96,000 a year for 28 years. (In a scratch-off, you automatically get an annuity.)
When I first won, my friend Maurice was with me. He was happier than I was!
Were you in shock?
I wasn't in shock, because I gamble a lot. I go to Atlantic City. I play lotto numbers every day. I play cards. I know I've gotta win big one time. I looked at it and said, "Okay, I won the $3 million jackpot." Maurice was jumping up and down, like it was his shit.
So you didn't go crazy when you won the scratch-off?
When I won it, I stayed at work. Because that isn't really the kind of money for quitting your job. I paid off all my debt and bought a house in Long Island and a new car, an Audi Q5. That's the flashiest thing I did. After that, I had to think about the future. I'm 57 years old. When I get 65, then I can live. I want to maybe move to New Jersey or Maryland then. I need some quiet and trees.
Before you won, you'd been working two jobs for seven years.
I worked here during the week and then security on Saturdays and Sundays. I quit that second job. Now I have a weekend.
You won the weekend! Had you ever won big before that?
When I go to Atlantic City, I can win $4,000 or $5,000 easy. I'm used to having money. It doesn't faze me.
How did you manage your winnings?
The first thing I did was get a lawyer and a will. If you don't have a will and something happens to you the next day, that lottery money goes to the city. Then I got an accountant. When you win money, you've gotta think about taxes. Taxes will kill you. If you don't do the right thing, Uncle Sam will get you. If you don't pay taxes, you end up owing a lot of penalties. I started investing. That was new for me. After a month or two, I planned a trip for me and my whole family.
Where'd you go?
We went to Vegas for a week — I told you I gamble! I paid the airfare and the hotel rooms, but my family had to bring their own money. I lost about $10,000. But you gotta lose to win.
Have you ever worried you might have a gambling problem?
I don't think I have a problem. I just like to gamble. Some people like to drink or get high. The only bad habit I have is smoking cigarettes — and sometimes losing when I gamble.
Did anything surprise you about winning?
I never thought I'd win that much on a scratch-off. Usually, it's $20 or $500. The jackpot was a surprise. I didn't see any of that money until probably three weeks after. One day I opened my checking account and saw all those zeros.
Did people treat you differently?
The bank did. When I go now, they call me Mr. Morris and help me right away. Before I was just some normal person who had to wait like everyone else.
At work, I'm still the same person. I don't want people to know me, because I got money. I want them to know me for me.
What was your life situation when you won?
I was married and living in Bed-Stuy, Brooklyn. I got divorced two years after I won and had to give her some of it.
Mo' money, mo' problems?
It was going bad before I won. We'd been together four years and talked about splitting up. It was just one of those things. A lot of older people live together, but they don't love each other. That's not for me.
You didn't tell your adult sons about the money right away.
Nope. I waited to tell my oldest son, who was locked up. My other son's money-hungry. They know now, but they don't bother me about it. They know I'll do things for them, but I'm not going to just give everything away. I'm a practical person. I got my middle son an apartment and paid his rent for six months. He has to do the rest.
Do you still buy scratch-offs?
I buy $20 in scratch-offs every day. I get here at 7 a.m. and buy two $10 scratch-offs. In a good week, I could win $700. Bad week, I could win $20 or $40.
If you win again, I'm not gonna believe it.
Why?!
The odds of you winning even once are so unlikely!
If I win again, though, I'll do more things. Then I'll quit my job.
Amanda Green is a writer in New York City. She's written for Mental Floss, Marie Claire, Popular Mechanics, and various other print and web publications.
---
Support The Billfold
The Billfold continues to exist thanks to support from our readers. Help us continue to do our work by making a monthly pledge on Patreon or a one-time-only contribution through PayPal.