Places I've Lived in Wellington: Behind a Couch, in a Half-Finished House, and More
by Dan Hughes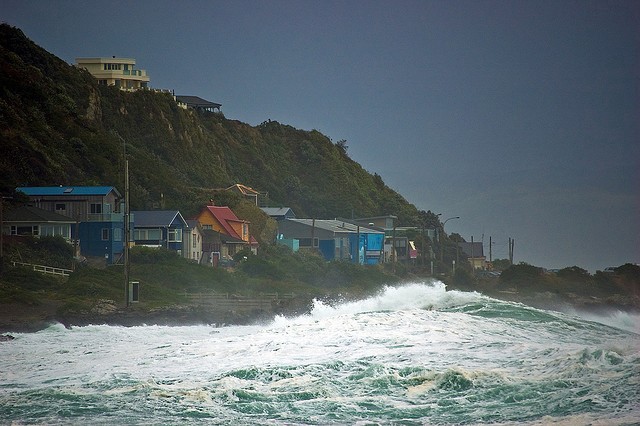 Back in my early 20's, I spent three years living in New Zealand's capital city, Wellington.
My friends and I had been travelling around South East Asia like a bunch of nomads before we set foot on NZ soil and although we knew we needed to get real and get jobs, we were still in somewhat of a party mode.
Neglecting to realise our travel tokens wouldn't go as far as they did in South East Asia, we set out on a three-week whistle-stop tour of the country, sightseeing, drinking, walking and hitchhiking our way through the north and south island. It was great for a while — until our funds ran out.
When a friend and I returned to Wellington with a handful of dollars and our tails between our legs, we bought a big bag of shopping, sold some stuff to Cash Converters and booked ourselves into the YHA Hostel for five nights.
YHA Wellington: $15 per night
When we checked ourselves into the YHA with the last of our pennies, we were in panic mode and needed to find jobs. We ran around trying to get anything that was going, but without an official fixed address, it proved difficult.
In our desperation we even entered the quiz at the local Irish pub where the star prize was a DVD player (then worth around $200). We paid our entry, bought half a Guinness each and embarked on a potentially lucrative quizzical mission; we came second to last.
So, after the fifth night in the hostel, our cash pretty much ran out and we were evicted. Luckily we grabbed the night entry code, which meant we spent a few nights sneaking in after dark, eating the communal food and sleeping behind the couches.
Eventually we bumped into two friendly Scottish girls who recognised us from earlier in our trip — they had just got a house share downtown and they said we could couch surf. We were saved.
Backpacker House, Newtown, Wellington: $60 per week (bills included)
After a stint of sleeping on the couch or the kitchen floor, we managed to pick up a job working nights at the city's bargain department store and a room became free. My friend and I sourced two single mattresses, some secondhand furniture, and moved into a tiny rectangular room which seemed like a palace at the time compared to our previous living situation.
For a while it was great: the panoramic city views, the parties, the BBQs in our big garden, not sleeping under a backpack… but it wasn't long before a few disputes turned things sour and people began to bail in the middle of the night. Eventually there were only three of us left in our husk of a house, so we decided to leave. The poor girl left lumbered with me and my friend said we could live in her aunt's place with her in the Wilton Hills for next to nothing, so we rented a van, gathered up our stuff, left our last month's rent with a note and set off into the sunset.
Half-Finished House in Wilton, Wellington: $100 per month (bills included)
The view from my friend's aunt's half-finished home was peaceful, and my room was an ample size. The only problem was the building was very old and in the middle of renovation; after coming back home from a night shift, with heavy eyes, there was no living room in which to sit (unless you call crates on a stone floor and an old AM radio a living room) and no kitchen in which to cook.
So, after a 10 hour shift, I'd end up eating some confectionary I bought from work while sitting on my mattress, before trying to drown the sound of power tools by playing The Small Faces as loud as I could on my Sony Discman — it never worked.
I could only hack it for a couple of months and swiftly handed in my notice. One morning while pondering where to look for a new place, I bumped into a fellow Englishman I'd met earlier in Auckland while on the bus. He told me he was living right by the beach; I enquired about a room but he said there was nothing going. Just as my heart sank, he said my friend and I could crash on his floor for a month as his room was massive.
Epic House Share, Oriental Bay, Wellington: $130 per week, plus bills
The house was huge and clad with wooden panels and as you opened the front door, there was a colossal reception area with a waiting bench. The reason for the waiting bench is because the house used to be a big old brothel, which also explained the seemingly endless amount of mirrors.
I waited patiently for a room and eventually, one became free. I pounced on it like a ravenous lion and when I glanced out of the window and saw the bay, coupled with the iconic city skyline, I couldn't believe my luck. I was living in the most affluent area in Wellington — and although it was the shabbiest house on the street, I did not care.
Many people came and went during my time in Oriental Bay and many crazy things happened during that time. With each new set of people came a different house dynamic — sometimes it was blissful and sometimes it was unbearable, but beach and the city skyline always kept me smiling.
One of our longstanding housemates, who will remain nameless, was responsible for taking the rent in cash and depositing it into the landlord's account, but one day we received a court summons as we were in four months' worth of arrears. After confronting him about the missing rent, we found out that our housemate had a gambling problem — needless to say the dosh was long gone.
I accompanied him to court so I could witness his defence against our landlord. Somehow, he managed to reduce the arrears by half and avoid prosecution, as he dug up almost unnoticeable maintenance issues related to the house that fell onto the landlord's shoulders — I was half impressed and half astonished at how he managed to wriggle out of the situation so easily. But the thing I remember most about that court hearing is that after reading the notes, it was clear that the judge thought I was a woman — I was sitting at the back of the room and had long hair, but I also had a bushy beard!
Living by the beach in Wellington is something I'll never forget and I'm glad I was privileged enough to experience it, even for a few short years. One thing I won't miss is sleeping behind the couch in the YHA: it's cramped behind there.
Dan Hughes is a North London based writer with a penchant for oddball fiction, the bass guitar, beer, Bukowski and travelling to strange places. You can find out more about him by getting lost in his Catchy Space.
Photo credit: Phillip Capper
---
Support The Billfold
The Billfold continues to exist thanks to support from our readers. Help us continue to do our work by making a monthly pledge on Patreon or a one-time-only contribution through PayPal.