How Gilmore Guys Do Money
By Meryl Williams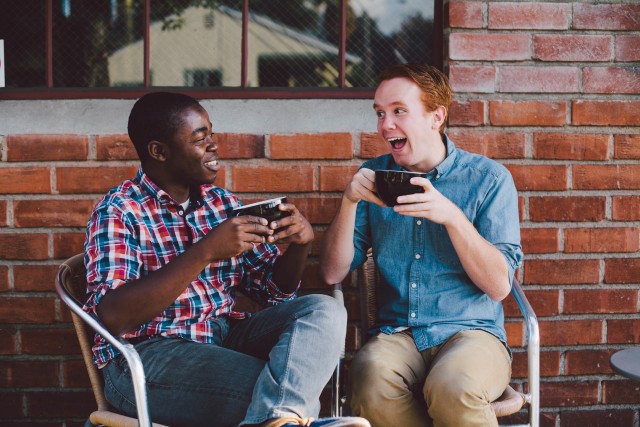 Kevin T. Porter and Demi Adejuyigbe started the Gilmore Guys podcast a little over a year ago with very low expectations, and have since seen their podcast grow beyond anything they could have predicted. Today, Gilmore Guys is part of the podcast network HeadGum and has regular sponsorship. The pair travel to cities across the country to record special, often sold-out live episodes of the show, with 2016 dates in Seattle and Portland happening soon.
Porter, a long-time fan of Gilmore Girls, teams up with Adejuyigbe, a newcomer to the series, to watch one Gilmore Girls episode per podcast. The two then record their re-cap, often with a special guest, offering insight into the actions of much-loved characters of the WB series, which ended its seven-season run in 2007. Netflix recently announced plans to do a limited series revival, a development which prompted the Gilmore Guys to do an emergency episode of the podcast the night the story broke.
The podcast succeeds because the hosts are authentic in their love for the show. They don't operate on snark, and discussions often get into a deeper level of critique, such as taking the 2000s-era show to task for its attempts at humor that wouldn't fly today through gay, transgender, and feminist lenses.
How does a show go from two guys learning how to do a podcast about a mother/daughter relationship-driven show to one with a fiercely devoted fanbase — one that attracts big name guests like Liza Weil and Scott Patterson, or Paul F. Tompkins and Jason Mantzoukas? I spoke to Porter and Adejuyigbe to find out.
When the podcast first started last October, what were your initial expenses?
Porter: The initial expense was mostly hosting. I had bought some of the equipment a year or two ago — a recorder, microphone, and we had to multiply that once we started having guests. Now we get free hosting through our [podcast network] but before then we paid a monthly fee on Libsyn. We had two episodes a week and we were releasing them at as high quality as we could without making them a clunky download for listeners. So were we paying one of the higher-end hosting costs. That was the initial overhead. We didn't pay for the studio because we used it for free. Some people do them from their homes or from where they work. It depends on what kind of show you're doing.
At what point did the show start to outgrow your initial resources? Was there a moment when the popularity of the show seemed to be really evident?
Porter: Probably the moment that the Atlantic article hit. Kevin O' Keeffe did a feature on us and on the show and released it in late December of last year. [Libsyn] gives statistics saying, 'X amount of people downloaded this episode,' and it breaks it down by geographics as well. When the article hit, we saw our numbers skyrocket. iTunes does metrics weirdly in terms of recency and relevancy, but after that, for a couple days we were the number one comedy podcast [on the iTunes charts], which was kind of a cool moment.
You did all your own branding right from the start — did one of you have a background in marketing or other experience doing promotions for other work?
Porter: Nope! I had worked doing some social media for a composer I used to work for, so that was kind of the realm of my experience.
Adejuyigbe: I had been doing social media stuff for myself for years, but had not had the focus of growing an audience for a project like this. I feel like there's not much difference in working toward building an audience for yourself or for a project you're invested in.
Porter: We truly had very low expectations for what the podcast was. We wanted to do something fun and invite funny people on, and make a comedy podcast. It wasn't as calculated as it maybe might appear to some people. What we did want to do was make sure everything we put out was high quality. We wanted to invite guests on and have them come check out [Gilmore Girls]. But we needed the audio to sound good, the social media to be together in this way, and to not look haphazard.
When was the first live episode recording you did? Did it generate revenue? What about the later ones you had to travel other cities for?
Our first live show was in April at UCB Sunset here in Los Angeles. UCB [with four total theaters in LA and New York] doesn't pay performers like you would at a comedy club, in order to keep ticket prices low. So that way, students never pay more than $5 or $10 for a show, as opposed to a $30 ticket with a two-drink minimum at a comedy club. Then students can afford to see big names like Amy Poehler or Jason Mantzoukas, to make comedy something that is accessible to a lot of people. So we don't get paid for those shows.
Travel shows are different. For those, we get a cut at the door for wherever we're playing. That cut covers the travel, so were never out any money when we go to Brooklyn, or to Seattle in the new year. The percentage that we get covers travel. Local-only would probably not be sustainable as a live show model. We want to keep live shows as cheap as possible. And we're never going to charge for the show — the podcast will always be free.
How did your show's sponsorships come about? Did HeadGum approach you or vice versa?
Porter: I knew Ben Schwartz who connected us with HeadGum. They were looking for new shows to populate their lineup. We met with them in maybe June or July, and we talked about the business and our vision. Joining the network was a hard decision to come to. We wanted to be sure it was to the ultimate benefit of the show and not to its detriment. We knew there could be backlash [once ads were incorporated] — but we loved the guys behind it. They're great people to work with. They negotiate sponsorships with different companies for us, and tell us which ads we're doing each week and give us ad copy.
Do any guests require a speaking fee?
Porter: No, thankfully not. That's one great thing about the podcast and comedy community in general. Everyone coming on the show is doing us a favor by giving us their time. We've had several guests come on our show who bring in a whole new audience. It's cool to be a part of, and it's cool how, even though these people have so much success, for a moment we can sit across the table for them and we're all on mic and we can be peers for a little bit.
How many hours each week do you each spend on work for Gilmore Guys?
Adejuyigbe: It's a 75/25 split — Porter does pre- and post-production, cuts and edits it, cuts clips, comes in with notes. For me it's mostly, I watch the episode and I come in.
Porter: Which works for our dynamic, since I'm a long time fan and Adejuyigbe's watching for the first time. It made sense that I would be the one cutting clips and doing the research. In terms of hours… We both watch the show, which is typically 42 minutes. We're taking notes as we're watching, and I'm editing clips and finding sound bites. Then we'll watch the episode a second time, so around two hours is spent just watching the episode. I do the Television Without Pity boards research [for a regular segment], pull Q&A from our Twitter, other tidbits and stuff. So before we even get to the studio, it's probably around 4–5 hours to read through and make sure we're getting the best stuff. [Then we record.] For season five, we haven't had a single episode under two hours. We have bonus episodes shorter than that. Our studio isn't ours, so we spent about 45 minutes total on setup and teardown. Maybe 8 hours is spent on prep work and recording, and then we go into post-production. We listen to the entire episode to tighten stuff, like eliminating or shortening pauses, getting rid of mic pops. Editing, re-editing, mixing the sound, putting it out, uploading it on our server, promoting… this takes 4–5 hours. So it's about a 15-hour process, from start to finish, per episode. It's different on different podcasts — especially comedy podcasts, where there's less prep time.
We always want to put as much effort into it as possible. It's important for us to be as prepared as we can be. When we're not comprehensive, we get follow-up from fans about it.
What's changed most for you since the podcast started? Have you had extra work come your way as a result of the show?
Adejuyigbe: For me, lots of things have come up. People are being more aware of work I was already doing and giving me opportunities to write and produce things. I got an agent through a meeting we had with someone else. The biggest thing the podcast has done is it has raised our profile to do things outside the podcast. We got to do some TV stuff, like ads for the Gilmore Girls [UP Network] marathon, things like that. People recognize us as people who have more than just this one TV show.
What, if anything, do you foresee about the way podcasts will be funded in the future?
Porter: A lot of shows recently have rolled out pay models, where after a certain amount of time episodes go behind a paywall. I don't connect with that as a business model and I don't think it will help a show grow. Ads right now are the most palatable for everybody. For us, it's best to be consistent and have the freedom of it. And the freedom is dictated by not a lot of money is being exchanged hands. If you want to start a podcast tomorrow, it can be any show you want it to be. A paywall might infringe on that freedom. The core philosophy of podcasting is doing exactly the kind of show you want to do. A donation model could also great, a lot better than a forced paywall idea.
A "Netflix for podcasting" is counterintuitive. I think advertising works well for our show. It's the best way we know how. We just try to make the ads as entertaining as possible. HeadGum has been good about letting us put the ads at the front [of each episode]. Until this point we haven't gotten mandates [to place ads in the middle].
Adejuyigbe: If you're going to do a podcast, you've got to build up goodwill with listeners before doing advertising. You can't ask listeners to pay $3 to find out if it's a bad episode. I feel like having ads in a podcast isn't that big of a deal. Make it something you don't want to skip. You have to have a reason to have an ad. Podcasting changes from episode to episode. If you could guarantee the quality of an entire season [of a podcast], then it would make sense to charge. But it's like paying for music now. Why do I need to pay $2 per song? How about I pay $10 per month to stream instead? If you're gonna start a podcast, you should be confident enough in the idea that you're going to be willing to spend money on it, just like if you were making a movie. Put in the work and time and money and if you're lucky, people will reach out to you to pay you to make it free for consumers.
Porter: Quality control and trust [are crucial]. Truthfully, if given the opportunity, I wouldn't have wanted to put ads on the first season, or first two seasons of our show, since we were unknown then as far as podcasts go. The alternative is to listen to two people learn to be hosts of a show. We have three ads at the top of each episode… we would have taken a hit on goodwill [in the beginning]. It's different for established comedians or brands, like Sarah Koenig, with Serial. But for us, it wasn't going to be a viable option.
Find the Gilmore Guys podcast on iTunes or your preferred podcast provider. New episodes drop Mondays and Wednesdays each week.
Meryl Williams is a Chicago journalist who recently moved to Portland. She loves roller derby, upbeat music with depressing lyrics, and shamelessly ordering the Kids Pack-size popcorn at the movies. Sign up for her awesomeTinyLetter.
---
Support The Billfold
The Billfold continues to exist thanks to support from our readers. Help us continue to do our work by making a monthly pledge on Patreon or a one-time-only contribution through PayPal.