The Cost of Everything I Slow-Cooked In The Past Few Days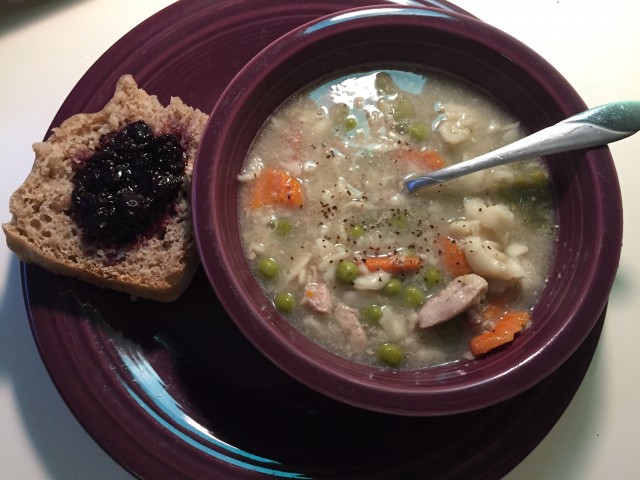 Instead of filling up your entire week with "the cost of everything Nicole made in her slow cooker," I figured I'd start batching these like cookies. (Can you make cookies in a slow cooker? Internet says… yes.)
So here's a quick cost summary of everything I've slowly cooked in the past few days:
1) Chicken noodle soup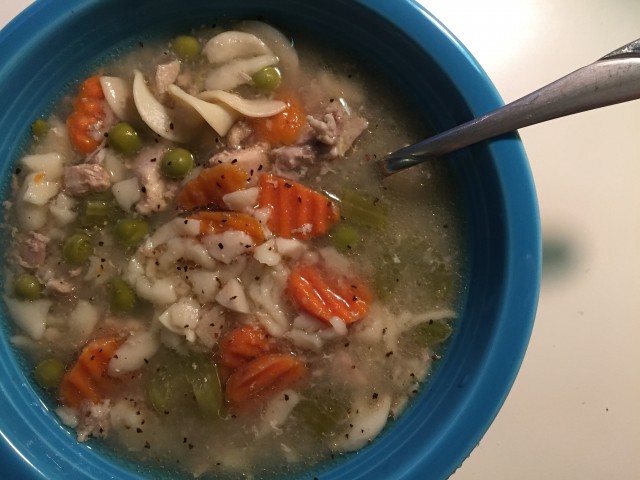 I used Betty Crocker's Slow Cooker Hearty Chicken and Noodle Soup recipe, except I couldn't find snow pea pods at my Safeway so I used ordinary green peas instead.
Ingredients:
— Open Nature boneless skinless chicken thighs: $5.59
— Safeway chicken stock: $3.00
— McCormick thyme: about $0.05 worth of a $5.29 container (and yes, I know I need to find a better place to buy spices than Safeway)
— Safeway frozen peas: about $0.42 worth of a $1.25 bag
— Celery and carrots: about $0.30; I bought in bulk this time, and together they cost $2.69
— Safeway egg noodles: about $0.67 worth of a $1.35 bag
— Garlic: another $0.25 worth of the garlic heads I bought for the beef stew
— Salt and pepper to taste, probably $0.10
Total cost to make four quarts of chicken noodle soup: $10.38
This took only five minutes to prepare, even with the chopping, and turned out really well. It's interesting how, in the beef stew, the celery and carrots took on the flavor of the beef and the potato and the cornbread flour; in the chicken noodle soup, they tasted like themselves.
2) Bread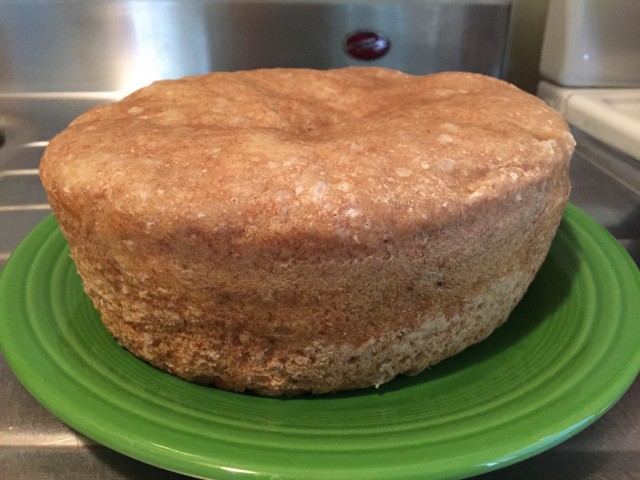 I used the Mark Bittman no-knead bread recipe with half proportions of white and whole wheat flour. I also let it rise overnight this time. This bread turned out much better than my first loaf, and the costs are pretty much identical:
— Flour: about $0.63
— Yeast: about $0.05
— Salt: about $0.05
Total cost to make one slow-cooker bread loaf: $0.73.
3) Blueberry jam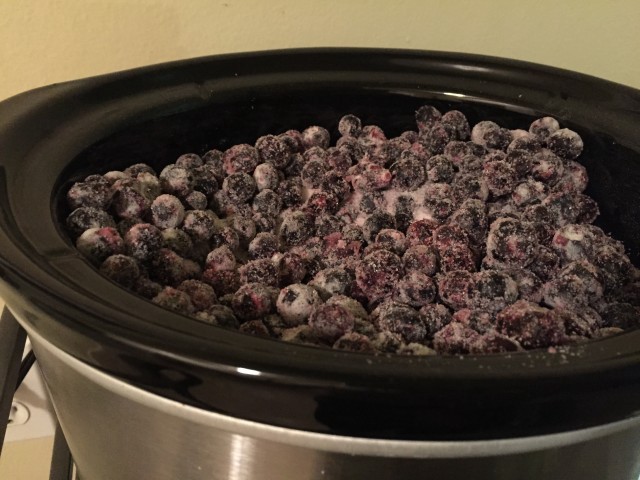 I tried to make jam in the slow cooker, because you can't have bread without jam. I sort of used The Humbled Homemaker's recipe, and I sort of used the recipe on the back of the Sure-Jell pectin box, and then I said "do I really need to add that much sugar?" and only added half of the sugar recommended.
(Which is, if you take a look at the picture, still a lot of sugar.)
Costs:
— Safeway frozen blueberries: $11.99
— Sure-Jell fruit pectin: $3.69
— Safeway sugar: about $1.40 of the $2.79 bag.
This was a four-pound bag, by the way, and I should have put all four pounds into the jam. (Four pounds of sugar = roughly eight cups.) Instead, I thought two pounds "looked like enough," because it was a "ridiculous amount of sugar" and was also "going to overflow out of my slow cooker if I poured in any more."
Total cost to make what boiled down to two quarts of blueberry jam: $17.08
When I woke up the next morning to check on my jam, I was pretty sure I had ruined the recipe. I portioned it out into my freezer containers and put it in the refrigerator to chill, and by lunchtime I was still pretty sure I was going to throw it all out. It tasted like weird blueberry water, and by then I had already gone online to read up on my mistake and learn that a lot of cooks similarly ruin their first batch of jam because they get nervous about the amount of sugar they're pouring in there.
By dinner time, it had jelled just a little bit, and had started to taste more like jam, so I think I'll keep eating it. I ate the first loaf of bread I tried to make, after all.
4) Muesli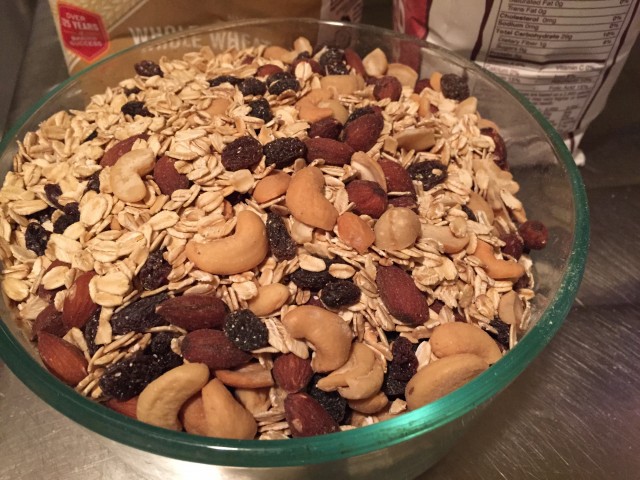 I also wanted to give you a muesli update. As many of you suggested in the comments of my first muesli post, I could probably get my costs down by using fewer ingredients. So I pared down to oats, raisins, and nuts. I'm still using the same $4.69 bag of Bob's Red Mill oats that I bought two weeks ago — turns out there are way more oats in there than I had thought — and I found less expensive nuts and finally hunted down the economy package of SunMaid raisins.
At this point, the things that are going into the muesli include:
— Some portion of the $4.69 bag of Bob's Red Mill oats
— Some portion of a $4.99 economy sized carton of Sun Maid raisins
— Some portion of $4.98 worth of mixed nuts
I cut my "total ingredients" cost down from $17.34 to $14.66, and got more food by volume in the process. So: less expensive muesli that lasts longer and still tastes just as good.
This week, I'm planning to make beer bread, vegetable alphabet soup, and pumpkin Fireball brownies (again). I'll let you know how they turn out.
This story is part of The Billfold's DIY Month.
---
Support The Billfold
The Billfold continues to exist thanks to support from our readers. Help us continue to do our work by making a monthly pledge on Patreon or a one-time-only contribution through PayPal.