Hair Apparent: The Cost Of Caring For Natural Hair
by Beatrice Hogg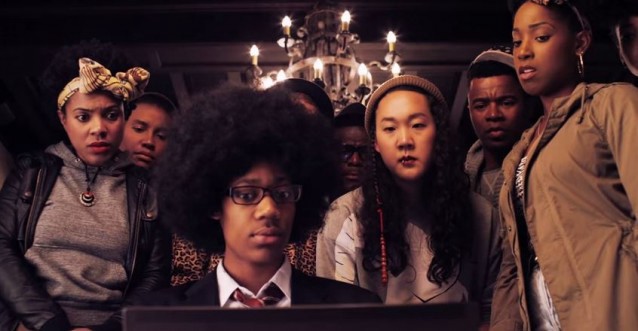 Recently, I found out that my hair loss was not due to a disabling condition like lupus or thyroid problems but probably due to stress. That revelation prompted me to start thinking about the amount of money I spend on hair care. Gels, crèmes, sprays, shampoos, conditioners, moisturizers — not to mention wigs, headbands, hats, and appliances — have cost me a small fortune over the years.
For someone who doesn't have a lot of hair, I spend a lot of money on hair products. Some women amass makeup collections that would rival Pat McGrath's toolkit during Fashion Week, but for me, hair stuff is the mane attraction. When I visited my hair stylist after a three-year absence to discuss my thinning hair, she sold me a box of hair loss treatment products that cost $33. But I didn't like the way it changed the texture of my hair, so I supplemented it with a restorative oil, which cost $10 at Target.
Like a lot of maquillage aficionados, I am brand loyal. For the past decade, my favorite has been an East Coast line of products made especially for curly haired girls. Until they branched out to department stores a few years ago, I could only get products by having them shipped from New York City. Even with local stores carrying the products, my favorite product was always sold out, so I still had to pay $32 for an eight ounce jar, not including tax, shipping and handling.
Hair care is a lot of work. Even the most basic hair care regimen can get pricey. Despite the depiction in most movies, none of us wake up from a deep slumber fully coiffed. A simple boar bristle hair brush can set you back $25. A detangler comb can cost $26. What about washing? Do you want shampoo or cleanser? Is there a difference?
My special thinning hair kit came with a big bottle of special cleanser. I usually spend about $14 on shampoo or cleanser. The next step is conditioner. Do you want leave-in or rinse out conditioner? Besides the special thinning hair rinse-in conditioner, I have one that is an extra special deep conditioning crème in a pretty pink color and a detangling leave-in conditioner that cost $10. My aqua blue colored conditioner from my favorite brand costs $11.00 for a twelve ounce bottle.
For many women, especially women of color, cleansing and conditioning are just the start of the hair care journey. Do you want your curly hair to be straight? There are relaxers and other magic potions on sale for you. Do you want your straight hair curly or your curly hair curlier? Flat irons and curling irons can be had from $10 on up. I found a flat iron for sale on eBay for $1,149.99. Amazon.com has 45,027 results for "Beauty: Hair Care: Tools & Appliances."
My arsenal includes at least five products, from four different companies, to enhance the curl in my hair. I have more smoothies, meringues, and butters for my hair than most people have in their kitchen. I also have flat iron spray, nourishing oils, shine enhancers, two flat irons, one curling iron (I used to have four), and a hooded hair dryer, which my cat used to think was a cat heater — RIP, Ozzy.
I don't have a blow dryer.
For women who consider Medusa to be a role model, a plethora of additional hair can be purchased for a price. I've never had a weave or braids, but I hear that real fancy human hair can cost thousands of dollars, not to mention the cost of the lengthy process of adding the hair to your head, which has to be repeated every few months.
Even though I haven't had any tresses affixed, I do love a fun wig. I used to have about ten of them, but now I'm down to three, one an impulse buy that I bought a few months ago but haven't worn. (Never been to a wig store? Give it a try — it's a fun way to spend an afternoon.)
But I don't give wigs the respect that they are due. My wigs aren't supposed to look like my real hair, or the real hair I used to have. One is a brown pageboy with blond highlights, another is a shoulder-length cascade of blonde curly synthetic hair, and the impulse buy is a shorter version of the curly wig in the color of the pageboy, on sale for $20. To me, wigs are just hats with hair, a way to look different for a few hours. I'm not going to pay $100 or more for a human hair wig that I can wear every day. For a night on the town, a synthetic 'do will do quite nicely.
Besides wigs, there are other ways to cover a head. Since my thinning started, I have bought a lot of hats. Berets, tams, and beanies in a wide range of knitted styles reside together in a small leopard print hat box. Straw hats for summer, wool fedoras for winter and some cotton brims for the equinoxes are crammed in a bigger hat box. I've been a hat person all my life, since my first foray into St. Elizabeth's Catholic Church in the days before Vatican II. I still wear headbands, but only wide cloth ones, as my hairline has receded too far for a skinny cloth or plastic hairband. Even though I'll spend $32 for my favorite hair goo, I refuse to spend that much on a hat or headband.
When you add it all up, it's expensive to care for or camouflage hair, no matter what you do. When or if my hair starts growing again, I'll probably start dyeing it, not so much to hide the gray, but because I like fuchsia. Maybe I need to open a special hair care savings account — pink hair doesn't come cheap.
Financial Graffiti is a column about middle age monetary misadventures — with a beat.
---
Support The Billfold
The Billfold continues to exist thanks to support from our readers. Help us continue to do our work by making a monthly pledge on Patreon or a one-time-only contribution through PayPal.