A "Netflix for Broadway" Question of the Day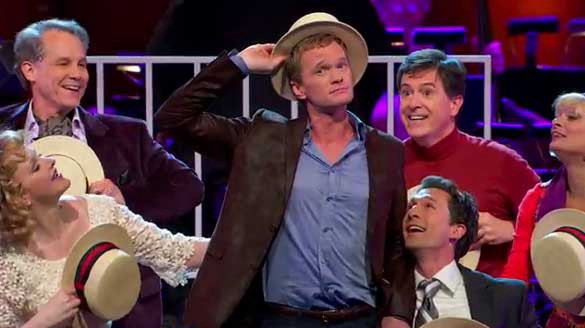 How much would you pay to stream Broadway shows on your laptop or mobile device?
BroadwayHD thinks you'll be willing to pay $7.99 per show or $14.99 per month, and I'm not sure about that.
The new "Netflix for Broadway" streaming service sounds, on the surface, like a great idea. Stream performances on your laptop! But I went and checked out the library, and there's nothing in it I'm willing to pay $7.99 for. There are maybe enough musicals to count on one hand, and maybe enough contemporary shows to count on the other hand, but the majority of stuff available for rental is only going to interest the theater historian.
There are a few things I'd pay $7.99 to watch, like the 2011 New York Philharmonic production of Sondheim's Company that included Stephen Colbert, Neil Patrick Harris, and Christina Hendricks — but I just looked it up, and Amazon's streaming it for $2.99. Plus there are all of the popular Broadway bootlegs floating around YouTube. Why can't BroadwayHD stream Wicked or Spring Awakening, so fans can watch the shows legally?
Well, as BroadwayHD explained to ThinkProgress, it all comes down to ticket sales. If you can watch the original cast of Phantom of the Opera on your laptop, are you going to pay $100+ for a ticket when the touring cast comes to your town?
I'd say yes, actually. If you're still paying $100+ to see Phantom of the Opera, 29 years after its first production, it's like going to see your favorite band perform live. It's about the same thing fandom's always been about: shared experience, community, and the geek factor of knowing all the words.
BroadwayHD agrees with me, and they want to use their service to create more fans. Here's what they told ThinkProgress:
The way we've gone about this business is to focus on limited-run, celebrity-driven shows, so we don't have to worry about it, so we can go back and say, "This is working, and we're doing research and exit polls on the live, in-cinema productions, and we've found that when people see these shows this way, it eliminates the risk of buying a ticket to see it in person. People see it in the movie theater and then go see the live version."
Long-term, they want to stream Hamilton and Wicked and The Lion King and all of those shows that we might actually pay $7.99 to watch. Short-term, this is what they've got in their library.
So. The ultimate theater-lover's question: will you pay $7.99 now to help them succeed?
---
Support The Billfold
The Billfold continues to exist thanks to support from our readers. Help us continue to do our work by making a monthly pledge on Patreon or a one-time-only contribution through PayPal.