Why Buy The House When You Can Get The Village For Free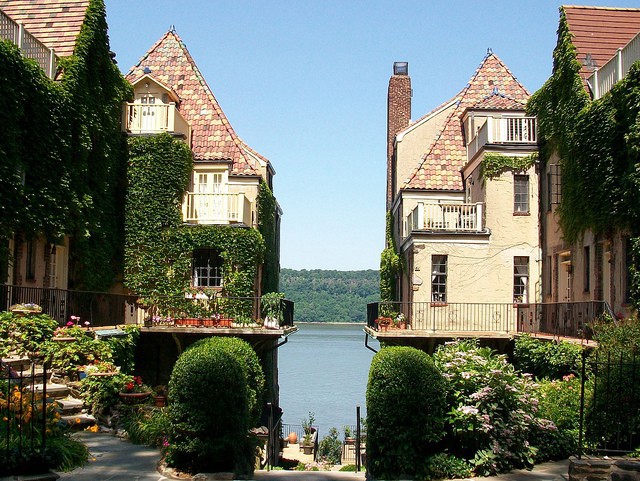 Look, a hamlet for sale, cheap! Do you suppose it was abandoned because it took forever to make up its mind about anything and couldn't commit to an action? ba-dum-CHING, y'all, that was a Shakespeare joke.
Ahem. Back to it:
Called O Penso when residents lived here — the very last of whom left about a decade ago — the hamlet is now for sale, and includes a bread-making hearth, several barns, and stone and wood horreos, the raised granaries typical in this part of the country.
It has already stirred the dreams of potential buyers, including one American entrepreneur interested in turning it into a language school. …
Here in this corner of the Iberian Peninsula, the business of selling abandoned villages has even become something of a policy tool. One mayor is trying to give away an abandoned village in his district for free, so long as "buyers" promise to restore it and add back value — ideally drawing young people while they do so.
NPR adds the area is not half bad, especially if you like surfing, and you should reach for your pocketbook quick:
The village, near Ortigueira, comes with free well water and a bakery with a stone hearth. Six miles away, green cliffs drop off onto white sand beaches — and some of Europe's best surfing.
The biggest of the village houses has hardwood floors and five bedrooms overlooking an orchard with peaches, figs, walnuts, apples and pears. At the bottom of the valley, there's a little river full of trout.
The asking price for the whole village: About $230,000 — negotiable. Smaller villages with less fertile land go for tens of thousands. Adkinson has one house for sale for $5,600.
Prospective buyers include British retirees, Adkinson says, and an Indian who has expressed interest in converting the hamlet into a yoga retreat center.
Considering my ancestors on my dad's side were thrown out of Galicia back in the day and had to flee to, ugh, Eastern Europe, I'd argue that the Spanish government should consider giving its abandoned ghost towns to particular young people, such as me and mine, as compensation. Maybe if we pretended we had cursed them and they needed to appease us so as to reverse this trend? Because things do not look good for the Iberian peninsula part of the country, real estate-wise. The Daily Mail reports, "According to an estate agent there are around 2,900 deserted villages in rural Spain."
Indeed, Barca, another abandoned Spanish village, was for sale for basically nothing as of a year ago:
Barca is one of more than 100 Spanish villages on the market, according to Rafael Canales, who runs a website that specialises in the sale of deserted hamlets. Across the country, 50 years of urbanisation and the economic crisis have left more than 2,900 hamlets empty. The majority are nearly impossible to sell because of questions over ownership.
"Ten years ago, businesses were buying," says Canales. "But now 75% of our clients are individuals." Much of the demand comes from Spaniards, but "they lack access to credit". Instead, his principal buyers are Norwegians, Swiss and Belgians.
Villages for sale range from minuscule six-house hamlets to streets with dozens of homes, as well as churches, bars and museums. Around €62,000 (£52,000) will buy you a hamlet of six fixer-uppers, while those with millions to burn can get a 75-house village to themselves. While he gets thousands of inquiries, Canales says realistically he sells two or three hamlets a year.
Spain is not the only country hosting fire sales. As you may recall, Italy recently made news for offering houses FOBO. And I'll bet this would be a smart time to buy real estate in Greece.
---
Support The Billfold
The Billfold continues to exist thanks to support from our readers. Help us continue to do our work by making a monthly pledge on Patreon or a one-time-only contribution through PayPal.