My Kids Go To School With Holes In Their Shoes But They Also Go To Europe
by Amy McElroy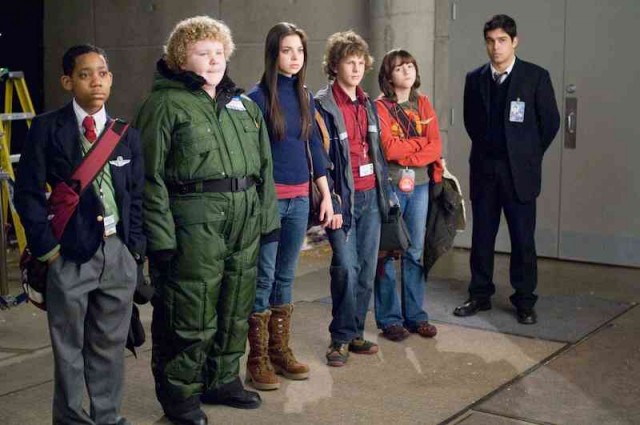 The words, "We don't have the money for that," echo in my ears from childhood. Clothes from Sears back-to-school sales, store brand groceries, leftovers from Tupperware every other day, and camping vacations defined our lifestyle. Yet we always lived in one of the nicest houses on the block. When the neighbor kids asked if we were rich, I laughed, my stomach twisted in confusion and embarrassment. As I grew up, I realized that real estate was simply my parents' priority. It made sense as an investment, but it also felt a bit like a lie to have told us all those years that we didn't have the money for this or that. I certainly didn't learn anything about financial priorities as a kid.
My husband and I also believe in prioritizing real estate, but beyond that we're of the same mindset as recent scientific research that spending our money on experiences is more worthwhile than loading up on possessions.
So far, we've traveled from Northern California with our two daughters to the clear teal waters of the Dominican Republic, where we stood waist deep and watched the sun set after everyone else had cleared the beach. That same trip, the girls flew on trapezes and windsurfed for the first time.
Our best Christmases in the last several years were spent with my nieces and nephew in Chicago, where my daughters got to see the magic of first a Christmas through a toddler's eyes. While everyone else bustled out one year to see the Christmas light display at the Lincoln Park Zoo, I held my three-month old nephew in the quiet of my sister's couch on his first Christmas Eve, so lucky to have him in my arms.
Every winter, our family sings Les Miserables as we drive over the mountain to ski the Sierras. The girls jokingly, for the most part, argue about who gets to play what part. My husband jumps in to sing Jean Valjean during the most dramatic scenes, with the Bruce Springsteen-esque voice I love. I laugh and sing along whenever I can remember the words.
Escaping technology for a long weekend every year, we visit my uncles in their Idaho mountain cabins. We keep bugs away with nightly campfires in the teepee and cheat with flashlights to find the outhouse in the dark. The girls spend hours reading and then ride down to the icy river in the back of a pickup truck full of local kids.
Since the girls were infants, we've explored the island of Maui where my husband spent his childhood summers with his mother's extended family. As the girls grew, they learned to snorkel off the reefs and partake in traditions, like wiping the gravestones down with baby oil and filling the vases with fresh flowers and water.
The last several years, we've chased and cheered on my husband as he competed in triathlons all over the country. After his first full Ironman in Arizona, he said, "Thinking about you guys waiting for me during the run was the only thing that kept me moving, sometimes."
This summer, we're all headed to Europe for a whirlwind tour of three countries in nine days before our older daughter soon heads off to college. Time is running out for our adventures together.
And yet, these experiences require monetary sacrifices. The general rule in our house is that new clothes come at Christmas and birthdays unless your toes are sticking out of your shoes. Otherwise, you can buy them yourself.
The same goes for "stuff," like electronics, or toys, when the girls were younger. For doing a few chores, they receive a small allowance for things like going to Jamba Juice or to save up for something. For the most part, they know better than to ask for things. But once in awhile, I'll pull out my parents' old phrase, "We don't have the money for that."
My husband hates it when I say that. For me, it's a reflex, though I know it isn't really true. Instead, it's that we've chosen to spend the money other ways.
I'm trying to get in the habit of saying, "We have a big trip coming up, so we're saving money for that" or "As a family, we choose to spend our money on things like travelling and seeing shows together, rather than new jeans."
Sometimes I wonder what people think when they see my kids in the same clothes week after week with their fraying shoes, while they're jabbering on about their vacations to Club Med or how much they loved Kinky Boots and Book of Mormon. Never mind that the teachers and other parents probably think I'm crazy to expose my 13 and 15 year olds to those shows; they also probably think my financial priorities are completely out of whack.
But I wouldn't change anything, and — short of us winning the lottery — I don't think the kids would really change our lives either. Every day this summer, our younger daughter says, "I can't wait for Europe!" She just spent her birthday gift cards on a buy-one-get-one free sale online and bought a few new clothes for the trip.
But maybe they are learning something about making choices about financial priorities, too.
Recently, my older daughter, who will be a junior this fall, told me she doesn't remember much of anything about her normal, day-to-day summers growing up. But, she said, "I remember nearly every minute of our vacations together."
When my younger daughter told her friend she was going to Paris this summer, the friend said, "Oh, you're so lucky! You always get to go to all these cool places. You're going to Paris, and you're always going to Hawaii."
My daughter told me she responded, "Yeah. And you get a new iPhone every six months." The friend laughed while my daughter rolled her eyes.
Amy McElroy is the Editorial Director and a writer for sweatpantsandcoffee.com. Her recent work also appears at Noodle, Modern Loss, BlogHer, Rewire Me, Role Reboot, The Manifest-Station, and elephant journal. Find her writing craft blog and list of editorial services at amyjmcelroy.net. She's on Twitter at @amyjmcelroy.
---
Support The Billfold
The Billfold continues to exist thanks to support from our readers. Help us continue to do our work by making a monthly pledge on Patreon or a one-time-only contribution through PayPal.