The Cost Of An American Girl Doll Experience
by Hayley Krischer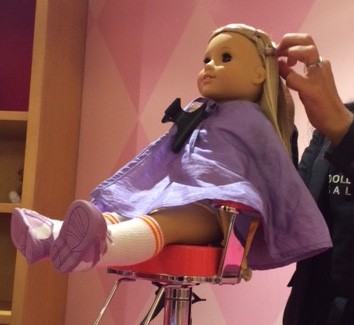 I promised my daughter a visit to the American Girl store so we could get her dolls' hair braided in the double fishtail style advertised in the American Girl catalog.
When my daughter Elke was five, she asked for an American Girl doll because the catalog invaded our mailbox. The catalog's glossy pages were filled with girls and their dolls baking cupcakes, sitting by the pool in matching bathing suits, having sleepovers, the works. They are having the best time of their lives, the kind of best time that only can be had with an American Girl doll.
"This is why I immediately recycle the catalog," a friend with two daughters told me.
We bought Elke a look-a-like, so for $115 we ordered one through the catalog. (We also bought a hairbrush for $8 and had her ears pierced for $16.) The doll was lovely, so colloquial, a sweet throw back, as in, you get your daughter a doll and you have a tea party on the lawn with some broken teacups or something. Elke named the doll Katia, pronounced Katie-AH. When she was asleep with Katia, I whispered to my husband "Are we insane? A $115 doll? Shouldn't she be behind glass? What if her hair gets matted? Fuck. What if we lose her?"
Once upon a time, the American Girl dolls were a simple concept. They were pricey, but unique. There were three choices, and each doll had a story of their own, their own name, a historical background. Now there's an overwhelming choice of dolls. Faces and faces of dolls with perfect cheeks, two tiny front teeth, eyelashes that reach until tomorrow and 11 combinations of skin, hair and eye colors. In 2012, American Girl sales reached $567.5 million. Also staggering, most American Girl owners spend an average of $500.
There are two dolls now in my house. The second came a year after the first; she's a "Forever" doll. Her name is Julie Albright. She plays on the boy's basketball team. Her parents are divorced. She's from 1974 and wears bell-bottom pants with a braid in her long blonde hair. She costs $115 and comes with a book.
So Elke and I took Julie and Katia on the train into Manhattan ($12 round trip) and then the subway from Penn Station ($2.75 each way), making our way to the American Doll mecca across from Rockefeller Center. There were at least 50 hairstyles to choose from. Katia got the "double waterfall" braid hairstyle and Julie got the "ponytail veil." Each one cost $20.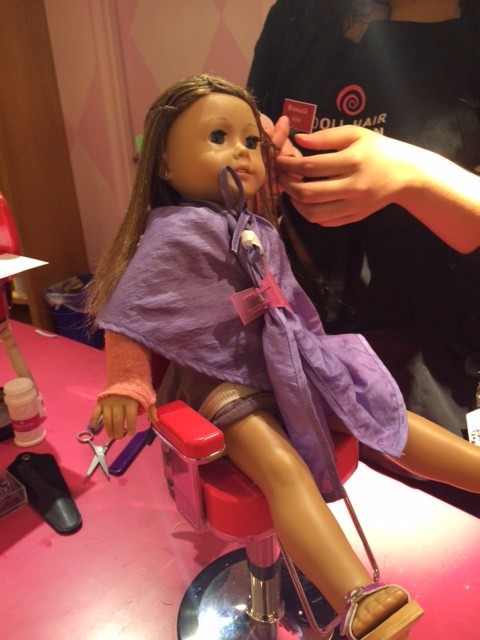 There's a Pampering Plus package option for $5 in which they wash your doll's face and legs or the Spa Deluxe package option for $15 which your doll gets shipped off to Canyon Ranch for the day and then comes home with paper cucumbers stuck to her eyes. We didn't choose either package.
After the hair salon, we walked around the store, which is really an American Girl wax museum, stopping in front of a Bride of Frankenstein costume ($34). The costume is a white silky dress, a black wig with white stripes, black boots and a black stitch choker. "Maybe you could be the Bride of Frankenstein for Halloween and you can match with your doll?" I said, because goth is my weakness.
I pulled up a Karloff's Bride photo on my iPhone and Elke jumped up, excited. Then she remembered that she wanted the design-your-own outfit where you choose a pattern on an iPad and they print it on the dress for $20, "like the one in the catalog." (That damn catalog.) I let her have both.
Lunch was a three-course meal ($24 per person, doll free). It included mini cinnamon buns, lunch and dessert. Elke had the tic-tac-toe pizza and the dolls drank pink lemonade. They give the dolls a tea and saucer to take home (we got two).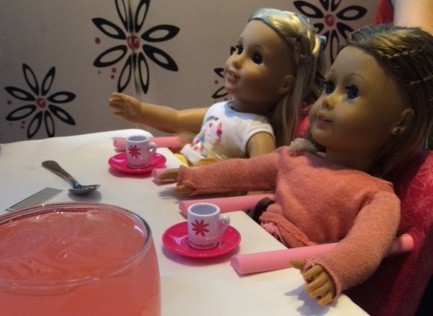 Also, they have at least 30 "loaner" dolls who will sit with your kid if you don't have one because no one gets left out at American Girl. The little girl sitting next to us and her doll were dressed in a matching outfit, and to make conversation, I asked her mother if she bought the outfit at the store. "No," she said, laughing like I asked some impossible question. "Amazon. Everything is much cheaper on Amazon."
It was after 1 p.m. and store was starting to fill up and the doll faces began morphing into small children trapped into plastic bodies, so I took Elke's hand and led her out of the store. We talked about the fancy doll displays and how this was a special day, that lots of kids don't get American Girls or get to come into New York City with their mom. She knew, she said, and she thanked me, and I held her little hand, her skin soft and dreamy. Human skin, not like doll skin. On the subway, our red American Doll bags gleamed in the fluorescent lights. The experience on exhibition. People smiled.
It's a conflicted experience, American Girl. It's wholesome — many of my friends used this word when I spoke to them about it, "wholesome" — yet it's also expensive and formulaic, prescriptive like Tiffany's engagement rings and that blue box the rings come in. The American Girl store is consumer laden and phony, but doll play is the most basic form of imaginary play! I'm filled with saccharine and tears when Elke plays with her dolls; I know one day this phase will be over, and when she's 17, I'll cry, beg her, "Let's just have one little tea at the American Girl store? For old times."
On the train home, Elke asked me, "When we go home, can we look at the Amazon clothes?" The two dolls snuggled between us. Katia's fishtail braids were already unraveling.
"Sure, honey." I said. "Look, I know we talked about this a lot already, but I wanted you to know that it's not just about spending — "
"Money," Elke said, finishing my sentence.
I stared at her, my little six-year-old. Is that what I've taught her with this extravagant trip to the American Girl store?
"Money? No, It's about spending time with you." I said and kissed her.
"Oh," Elke said, shrugging. "Because I thought it was about spending money."
I hated that all my talk of privilege and spending money and expense convinced her that this was the only take away from the day — that my credit card was now heavier.
"I think the dolls had a great time," I said, and Elke smiled, squeezing them in that chokehold way kids do, and then she squeezed me. It wasn't about the money, of course, it was about diving into this ritual that felt sincere and innocent, wholesome, maybe; yet it was also a playdate that she and I could replicate without the store. Just the four of us, the two dolls, Elke and I, in the lawn, sipping on pink lemonade.
Total cost of the day (not including the dolls): $159.50
Hayley Krischer is a freelance writer. You can find her on Twitter here.
---
Support The Billfold
The Billfold continues to exist thanks to support from our readers. Help us continue to do our work by making a monthly pledge on Patreon or a one-time-only contribution through PayPal.