Reader, I Eloped With Him
by Tera Brasel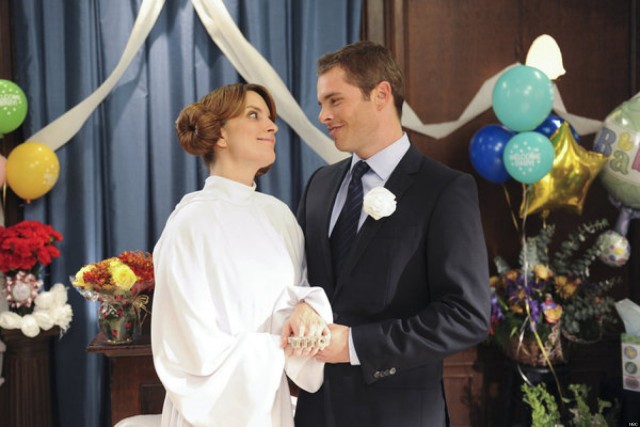 When I was in the fifth grade, my best friend planned a "wedding" for my crush and me. The friend dubbed herself maid of honor, made little bouquets out of tiny craft store posies, and named the date. The groom was absent the day of the ceremony, probably sick with cold feet, and spent recess the next day running around the playground with his best man. The experience was equal parts embarrassing and exhilarating.
I'm now certain that this event colored my impression of what a real wedding would be like. Participating in pageantry has never really appealed to me. There is too much opportunity for something to go wrong. While I like huge dresses, large colorful flowers, having everyone I love gathered in one place, and music and dancing and food — I just don't care to have it all focused on me. At any rate, my hypothetical wedding ceremony never crossed my mind after the 5th grade debacle. Until, that is, the day my boyfriend proposed.
It was April Fools' Day. Make of that what you will, but if it was a joke, he is playing a long con. We were young, and he had graduated from Army basic training the day before. I drove to the event with his mother, who had brought her own engagement ring at his request. (His parents were divorced, and when we talked about it later, she said she hoped I was not superstitious; I wasn't.) The odds were likely that he would be deployed to Iraq by the end of the year. I gave myself a few days of pie-eyed fantasizing about bridesmaids: my sisters! My cousin! His sister! So many options! But time was suddenly a concern, along with so many other things. He was starting this new career, and I was wrapping up my junior year of college and moving to a new state for an internship. Neither of us lived in the same state as each other, or our families. We didn't set a date immediately.
When someone elopes, there are lots of possible reasons. When I think of an elopement, I imagine two possible, opposite scenarios: 1) the "shotgun" wedding, with a "girl in trouble" and an unwilling groom, a horrifying stereotype has largely dissipated, along with the idea that two people who don't love one another should bind themselves together permanently, legally, and emotionally, for the sake of a surprise baby; and 2) a mad dash to Gretna Green in 1811, where you can be united with your lover before your guardian forces you to marry him instead, thus gaining permanent control of your inherited fortune.
Thankfully, neither of those scenarios fit us.
Our circumstances were fairly common for folks who choose to go the elopement route. It was the most timely, frugal route to get the job done. I didn't know it at the time, but we were acting out a situation fairly typical for young military folk, particularly in wartime: just this week I heard someone else in the armed forces community refer to this as an "insurance wedding." I was also the third person in my family to have an elopement, so perhaps this attitude towards pomp is a familial thing.
We hemmed and hawed about planning a wedding, until his unit gave him a final date of deployment and it became radically clear that we couldn't afford even the modest ceremony we had discussed. After that, it became a discussion about which courthouse was most convenient. I asked for a four-day weekend at work, since we had pretty strict time restrictions on this internship; I still have the approved paper requests. We magnanimously invited our parents. On the designated day, he drove from Georgia to Central Florida, picked me up, and drove me back to Georgia. We stopped for a nap along a rest stop.
When we made it into town, we freshened up at his barrack, where two other sleepy soldiers were going about their daily ablutions. Neither of us wore dress clothes. I think we sprang for brand new "business casual" clothing at the Gap. I was not precious about the outfit, either: the bride wore black. And Chucks. I understand the impulse to splurge on beauty for a big day like this, but I eschewed that whole spa/spray tan/style package. I hadn't had a haircut since May, my highlights were all grown out, and my tan was from my outdoor job in Florida: uneven, more brown than bronze. He looked moderately more presentable. He shaved regularly back then.
It's amazing to me that as simple as our ceremony was, it still was not without its hitches. We ran into the first roadblock at the courthouse. All of the clerks who issued marriage licenses at that location, they said, were off at a conference, learning how to better issue marriage licenses. I twitched at this irony.
My mother-in-law-to-be drove the lot of us, my parents now in tow, to the next county over. They were happy to issue the license, but, they said, none of their judges were available that day to perform the ceremony. So, back we went to the original courthouse, where the judges were there that day, but alas! It was lunchtime. We finally said, "Eff it," and went to Ruby Tuesday for lunch. I think his mom paid.
After such a convoluted process, the ceremony was very short. While we made an effort to include our parents, their presence made the whole ordeal that much stranger. Looking back, I'm thankful that we didn't have a larger wedding, because I had some serious issues with exchanging serious, intimate vows in front of three people who were not my husband or the officiant. It was a little nerve-wracking.
Newly wed, we left the courthouse. We took a few photos outside, and opened some cards sent ahead by family. I'm pretty sure I called my grandma. Afterward, his mom went back to her hotel room to watch "Survivor," and we drove out to the lighthouse on Tybee Island, followed by my parents. It was fully dark on arrival, and there was no view to speak of. We drove our separate ways. I don't remember much else of the weekend. I think we went shopping for Christmas gifts. We probably saw a movie. On Monday, he went back to work, and I called a taxi to take me to the bus station. I rode the Greyhound back to Orlando.
I had a bridal shower a year later, when he came back from his first deployment, and I set up an apartment for him in Georgia, while I completed my last semester of college in Illinois. To furnish that apartment, my aunts and the ladies of my church threw me a bridal shower. Again: a year after the actual wedding. I hadn't grown any more accustomed to being the center of attention in the previous year, but a shower is a shower. I participated in games and photos, and counted myself lucky that I was already married.
By this point in time, some of my other friends had gotten married, and gone the traditional route, with circuses and paper plate bouquets of ribbons and bows, and crabby mothers-of-the-bride and snippy mothers-in-law (I have always counted myself lucky for my in-laws). Fathers come with their own bridal baggage, too, believe me. I was thankful to have that portion of events finished. It was simple. Nobody could gripe about my decision because it was my own; I didn't ask for input or money, and the event was over anyway.
We celebrated our ten-year anniversary last December. To put our youth in perspective, my husband's cousin was married a month before that anniversary. My husband's aunt was in tears at the prospect of her youngest's marriage, and also perhaps not having any more weddings to plan, since she is a natural event planner. My mother-in-law asked her to throw us an anniversary party, because somehow, we never gotten around to having that reception. His aunt tearfully agreed.
So, in June, 10.5 years after we married, we had a dinner with my mother-in-law's family. It was lovely. There were gifts, which I did not expect. There was excellent food, which I did expect, as his aunt is an amazing cook. There was a limited guest list. There was absolutely no cost to us.
Our ceremony cost $50 and a tank of gas; throw in a lunch at Ruby Tuesday's for five, if you want to add the cost of a reception.
As for rings, his mother gave us the engagement ring's matching wedding band. He picked out a simple $20 gold band at Wal-mart, as well as its subsequent replacements. The honeymoon consisted of three days in a Georgia motel, at a cost of about $70/night, a cab ride, and a bus ticket. This was all money well spent, as the end result was the same: the marriage has lasted.
I don't begrudge people their ceremonies. If I am envious of an aspect of anyone else's wedding experience, it is probably the freedom of time. But I suppose as with everything else, wedding planning is proportionate. Someone who has a year to plan a wedding has a year to decide, and then everything happens at once: Aunt Isabel complains about the seating chart and Cousin Ella brings along her three uninvited toddlers and Nephew Joe invites his girlfriend of two weeks. It's a year of headaches. I had an afternoon's worth.
This story is part of our Wedding Season series.
Tera Brasel is a writer and teacher based in the St. Louis Metro-East. She's still married.
---
Support The Billfold
The Billfold continues to exist thanks to support from our readers. Help us continue to do our work by making a monthly pledge on Patreon or a one-time-only contribution through PayPal.