Massachusetts Unionized Home Care Workers Get $15 Minimum Wage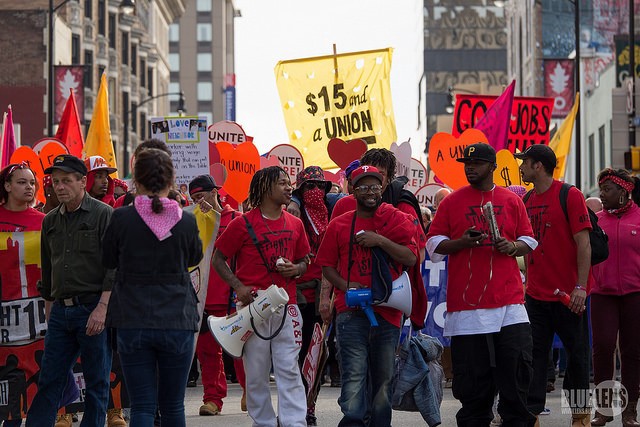 The newest group to win a $15 minimum wage: unionized home care workers in Massachusetts.
The union, United Healthcare Workers East or 1199SEIU, is the first group of home care workers in the country to receive a $15 minimum wage. The 1199SEIU website explains why this is important:
"This victory, winning $15 per hour, it means we are no longer invisible," said Kindalay Cummings-Akers, a PCA from Springfield, MA. Cummings-Akers cares for a local senior and became a union activist at the onset of the campaign. She was also a member of the statewide PCA negotiating team that reached the agreement with the Baker administration.
"This is a huge step forward not just for home care workers, but also toward ensuring the safety, dignity, and independence of seniors and people with disabilities," she added. "We are a movement of home care workers united by the idea that dignity for caregivers and the people in our care is possible. Today, we showed the world that it is possible."
What do home care workers usually earn? ThinkProgress states that "they make just $9.61 on average, while a quarter live in poverty and three in five rely on public benefits." The $15 minimum wage will make a significant difference; in an 8-hour workday, for example, a home care worker's pre-tax wages could jump from $76.88 to $120 — at minimum. In a 40-hour week, they'd go from $384.40 to $600.
The 40-hour week is worth mentioning because prior to January 1, 2015, home care workers were ineligible for both a minimum wage and overtime pay. The loophole was called the "Companionship Exemption," and here's how the US Department of Labor defined it:
An employee who performs companionship services in or about the private home of the person by whom he/she is employed is exempt from the FLSA's minimum wage and overtime requirements if all criteria of the exemption are met. "Companionship services" means services for the care, fellowship, and protection of persons who because of advanced age or physical or mental infirmity cannot care for themselves. Such services include household work for aged or infirm persons including meal preparation, bed making, clothes washing and other similar personal services.
This so-called "companionship" work did not include registered nurses (they are allowed to receive minimum wage and overtime pay) but not all care workers are RNs. Instead, many home care workers perform healthcare tasks such as bathing clients and ensuring clients eat meals — and those tasks often fall under the category of "companionship."
However, President Obama helped push forward a federal act that granted minimum wage and overtime pay to all home care workers. To quote the DoL again:
If you are a home care agency or other third party employer, effective January 1, 2015, you are required to pay at least the federal minimum wage and overtime pay to any direct care worker you jointly or solely employ, regardless of the worker's duties. Direct care workers are workers who provide home care services, such as certified nursing assistants, home health aides, personal care aides, caregivers, and companions.
So this is a huge step forward for home care workers across the country, an even bigger step for unionized home care workers in Massachusetts, and one more step towards a $15 minimum wage for everybody.
Photo credit: Mark Dixon
---
Support The Billfold
The Billfold continues to exist thanks to support from our readers. Help us continue to do our work by making a monthly pledge on Patreon or a one-time-only contribution through PayPal.