Female Victors Get Paid One-Quarter Of Male Losers' Consolation Prize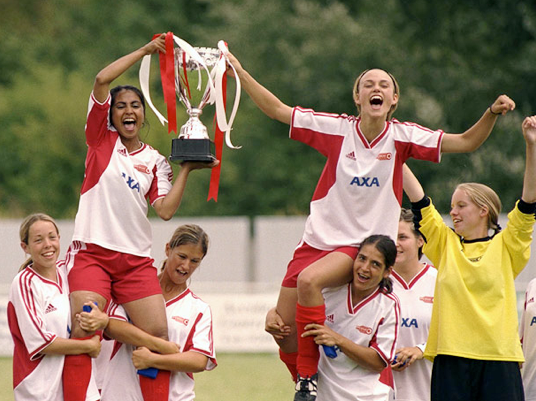 Did you watch the Women's World Cup final last night? It was pretty amazing. I don't watch soccer very often because things move fast and yet nothing happens, but when the Americans took on the Japanese yesterday things moved fast and boy did stuff happen.
[Team captain] Carli Lloyd was on a mission.
It was her goal to help her team bring the World Cup trophy to the United States for the first time in 16 years. …
Lloyd indeed was the star of stars Sunday, and throughout the tournament. On Sunday, she scored in the third, fifth and 16th minutes of play, leaving the 2011 champions stunned. It was her third goal that summed up her spectacular play in the do-or-die matches in this Cup. Lloyd took a pass at the halfway line and deftly touched the ball around a lunging defender. Lloyd looked downfield and decided to let fly. From 55 yards.
Twitter went insane with joy. It was almost as much fun watching my timeline as it was watching the face-painted, shrieking, jumping up and down fans in the stands, at least one of whom was dressed as a bald eagle. Twitter was also full of fun facts: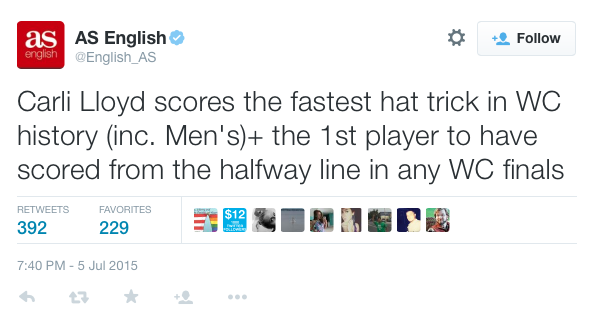 For all that — for making history and for winning — FIFA will award the women's team $2 million in total. Not too bad, right? Unless you compare it to what the men make.
The U.S. women's soccer team defeated Japan on Sunday to win the World Cup. For their dominant performance, the team will collect $2 million from FIFA, the international body that runs the tournament.
The championship prize for women pales in comparison to the $8 million in prize money awarded to men's teams who lose in the first round. Every men's team was awarded $1.5 million just for participating. …
The U.S. women's team has won the World Cup three times. The U.S. men have never won the tournament.
The winning female team makes not much more than what every male team makes, simply for showing up. America's men, who lost in the first round, still made four times more than America's women, who fought all the way to the end and emerged victorious.
National numbers, available later today, will let us know how many people watched the game. Local numbers are strong, though, and ratings overall for the tournament have been fantastic.
Television ratings have soared. Fox reports the six US women's matches so far in this World Cup have averaged 5.3m viewers, a rise of 121% over the 2011 Women's World Cup. At one point 12m people watched Tuesday's semi-final win over Germany. For a sport that has not been seen as American enough, the ratings are enormous.
"I think it's fair to say they have exceeded our highest hopes," said Michael Mulvihill, a vice-president for Fox Sports which is broadcasting the World Cup in the US.
Perhaps FIFA will take all this into account when it figure out how much to pay champion athletes the next time around. And if Wheaties doesn't put Carli Lloyd on a box, plenty of people would like make it up to her by putting her on the twenty: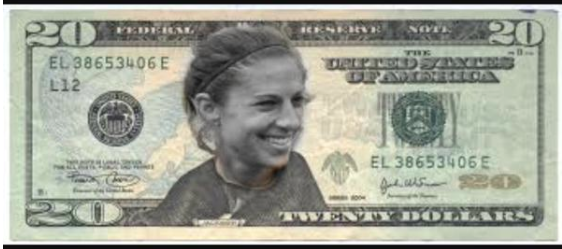 ---
Support The Billfold
The Billfold continues to exist thanks to support from our readers. Help us continue to do our work by making a monthly pledge on Patreon or a one-time-only contribution through PayPal.