Come For The Band, Stay For The Fridge
by Beatrice Hogg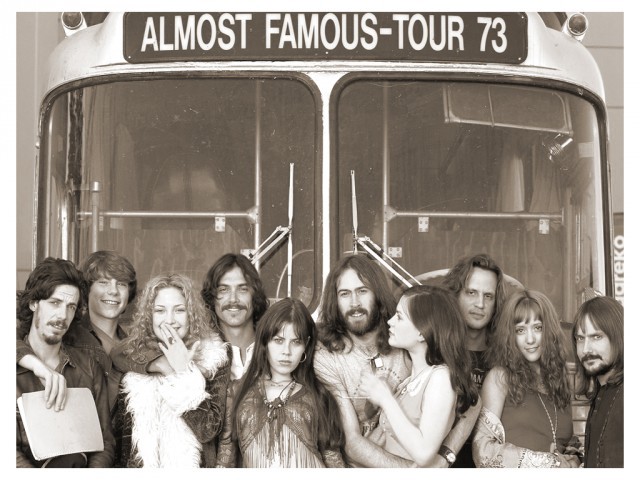 I am a huge fan of live rock concerts, but I'm not a VIP. For over thirty years, I have enjoyed going to rock shows, and then hanging out after the show to meet the band. Not "meet the band" in an Almost Famous way, but to just say hi, thank them for their music, and get a photo or an autograph. When I used to go to shows in Pittsburgh in the mid-eighties, my friends and I would hang out in the lobby of the hotel next to the Civic Arena after the show. It was fun — and free.
Sometime around 2009, at the height of the recession, bands started offering "VIP Packages." With a VIP package, fans could attend a meet and greet with their favorite band, get a photo, and spend a few minutes with greatness — all for a price. VIP packages could cost from $50 to $300, depending on the band, and their greediness, I suppose. Now, I live and breathe music, but there is no way that I would ever pay $300 to shake Tommy Lee's hand, or anything else for that matter.
Did I say $300? I just looked online at the VIP Experience page for Mötley Crüe's Final Tour. Some of these Experiences cost as much as a weeklong vacation. For the "Too Fast" Ultimate Meet and Greet VIP Package, you better take out a loan for $4,500. That's right: for the price of a small used car, you can meet Vince Neil, Mick Mars and Nikki Sixx.
I guess you can't meet Tommy Lee at any price.
But that's not all you get for your expenditure. You get two tickets in the first or second row, the chance to get one personal item autographed by the guys, a behind the scenes tour, a custom Mötley Crüe Marshall fridge, an electric guitar autographed by the three guys, a custom plaque, a $400 merchandise voucher, an autographed litho, a limited edition record, a laminate, a tour program, a pick tin set, a sticker pack set and an onsite VIP host. That is a package for the hardcore fan.
Even if I had that much extra income to spend on one night, I don't think I would want a commemorative fridge. Not even a Led Zeppelin fridge. How would you carry a fridge at, or home from, a concert? Maybe you get a voucher to send in to have it delivered. But if you don't need or want a fridge or a guitar, you can meet the band for $1,125 and still get the other stuff.
If you really want to be a part of Crüe history, you can pay $1,995 per person to attend their final show in Los Angeles on New Year's Eve. At least that package involves two nights accommodation at the Andaz Hotel, formerly the infamous Continental "Riot House," a guided tour of rock and roll hotspots, a pre-show cocktail party, and New Year's Day breakfast.No confetti. You do not get to meet the band.
I saw Mötley Crüe at the Civic Arena in 1987 for $15.00. A few months later, my friend and I were given free tickets for their sold-out show at Maple Leaf Gardens in Toronto while we stood outside of the venue. We didn't go in, as it was too late to see Whitesnake, the opening band. I still have that ticket. And we got to meet Whitesnake when they came out after the show.
A few years ago, I went to a small Sacramento club to see a legendary rock guitarist. The VIP package was $250: to meet the band, take some photos, sit in during sound check, and get some swag. At the end of the night, the only VIPs I saw were two teenage boys who obviously had very generous parents. Who else can afford these packages? These days, it costs at least $25 for a ticket at a smaller venue. Large stadiums and amphitheaters start at around $75. Parking costs at least $10. Authentic concert tee shirts are $25 to $50. Even a kerchief with the band's name on it costs $10. If the venue serves drinks or food, add on at least another $20. A non-VIP night out at a concert can set you back over $100 before the band even takes the stage.
I understand that the cost of touring can be prohibitive, but how much more do they want from us? We spend years, even decades, buying the music, purchasing the DVDs, and calling the request lines or selecting the tunes on online music sites.
After a small venue show last year, the headlining band came out and signed CDs for every fan who bought the $9.99 six-song disc at the show. Getting a picture with the band cost $50, and anyone in the autograph-only line who snuck a photo was removed. I didn't mind paying a few extra dollars to meet the band, even though they didn't seem very enthusiastic about meeting their fans. I guess that you get what you pay for. I can only assume that a band is friendlier at a $1,000 meet and greet than at a $9.99 one.
But I'll never find out. The most I would pay to meet a band is $50, especially if it was an out of town show and I had to also pay money for transportation and lodging. Thankfully, there are still bands at smaller venues that come out after the show to meet and take photos with their fans, just for the joy of it. There are still musicians who will go the extra mile for long time fans, because they realize that loyal fans are the reason they have a livelihood.
But I have to admit that the Mötley Crüe New Year's Eve Final Show Travel Package does sound like a lot of fun, even if you don't get a fridge.
Beatrice M. Hogg is a coal-miner's daughter and freelance writer who was raised in Western Pennsylvania and has lived in Northern California for twenty-five years, where she wrote her novel, Three Chords One Song, and continues to write about music, long-term unemployment and life in general. If you feel so moved, you may contribute to her "Get A Car — Find A Job!" GoFundMe page here. Her new monthly column for The Billfold is called Financial Graffiti.
---
Support The Billfold
The Billfold continues to exist thanks to support from our readers. Help us continue to do our work by making a monthly pledge on Patreon or a one-time-only contribution through PayPal.