The Yoghurt Factor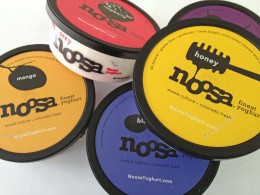 Since it's Food Month, I'm thinking a lot about the kinds of things I eat on a daily basis and what I'm spending. For breakfast, I used to have nothing but a cup of coffee, until I decided that wasn't really healthy and made myself get into the habit of eating a container of Fage yogurt every day.
I recently switched to eating a new brand of yogurt that recently popped up in the grocery store called Noosa, which apparently is an Australian-style yoghurt produced in Colorado, and costs me $3.29 for each 8 oz. container. If I applied the latte factor line of thinking to this, I'll be spending about $65 a month or nearly $800 a year for yogurt! I'm ruining my retirement by spending too much on yogurt! I'm joking, of course, but I realize that there are lots of inexpensive breakfast items to be had: eggs are relatively cheap, and so is toast, or oatmeal, or even a cheaper brand of yogurt like Dannon. But if a $3.29 container of Australian-style yoghurt motivates me to eat something in the morning, I'm happy to pay up.
---
Support The Billfold
The Billfold continues to exist thanks to support from our readers. Help us continue to do our work by making a monthly pledge on Patreon or a one-time-only contribution through PayPal.