How To Feed Your Family In 8 or 9 Complicated Steps
by Dory Kornfeld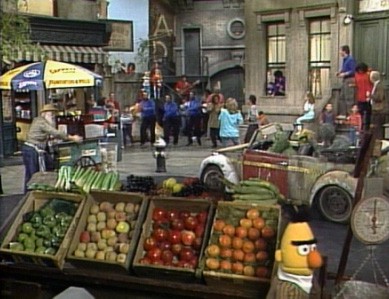 There are generally three different ways I pay for food. At the Park Slope Food Co-op, I use my debit card exclusively, since they don't take credit cards, and to pay cash you have to wait in a second line. At the supermarket I generally use my credit card, for the rewards points. At the farmers' market, cash.
If you are poor in New York City, the number of ways you can pay for food jumps to eight. In addition to cash, credit, and debit, to purchase groceries, you might use, SNAP, WIC checks, FMNP, Health Bucks, or Greenmarket Bucks. These are names of the various food and nutrition program currencies available to buy groceries here. This is a food currencies chart (pdf) I made that shows who administers each, what form it takes, and what it can be spent on.
In short, our system is complicated, paternalistic, and one more example of the burden we place on the poor.
My dissertation — defended in April and deposited just the other week — is about food access and farmers' markets. I did my fieldwork in Brownsville, Brooklyn, one of New York City's poorest neighborhoods. Brownsville is 100% Black and Latino, it has a ton of public housing, high unemployment, and its residents suffer from the health disparities that affect minority and low income people across the US: high levels of obesity, diabetes, and heart disease. Combating these dipartites is an urgent social and environmental justice concern, and there are a number of groups working to make Brownsville healthier, particularly through interventions that aim to improve food access.
One of these interventions is a farmer's market, intended to bring fresh, local, high-quality produce into the neighbourhood. I worked at this market on Fridays and Saturdays for a season, selling vegetables and talking to shoppers, in order to learn how the market contributes to residents' food access. The photograph in this New York Times article about how Brownsville is being left behind by the gentrification wave is of the intersection where the market runs on Friday. Working at the market, I was quickly introduced to the number currencies our customers used to buy their groceries.
Like most New York City farmers' markets, especially those in low-income neighborhoods, we accepted SNAP at the market. Customers can swipe their EBT card to pay for food. In order to make SNAP dollars go farther, the New York City Department of Health distributes Health Bucks, which are $2 incentives coupons given to customers for every $5 of SNAP they spend at the market: we handed these out and we accepted them. We also accepted WIC and Seniors FMNP (Farmers Market Nutrition Program), which are $4 checks that low income women and seniors get to spend at the farmers' market. Each recipient gets $24 each year.
Many customers used more than one of these currencies with each transaction. If someone bought $6 worth of food they might swipe their EBT card, after which I'd hand them a $2 Health Buck, which they would spend right away. Sometimes people would split the total between their EBT card and cash, or EBT and FMNP. Because FMNP came in $4 increments, people would often buy 2 or 3 "rounds" of food worth $4 each. We would select vegetables, counting up the total one onion or apple at a time, stopping at $4. The customer would hand me an FMNP check, and we would start again on a second bag of groceries.
It is great — and hugely important — that these resources are available, but the multiple forms that food assistance takes is incredibly burdensome for program recipients.
It is great — and hugely important — that these resources are available, but the multiple forms that food assistance takes is incredibly burdensome for program recipients. People have to track what they have available, in what amounts and what forms, and how and where it can be used. At the farmer's market, SNAP can be spent on any type of food, but the Health Bucks given as an bonus can only be spent on fruits and vegetables. Many NYC Greenmarkets have customers swipe their EBT card at a central booth in exchange for wooden tokens to spend with farmers, but the Health Bucks are paper coupons. SNAP can only be redeemed at 124 of NYC's 138 farmers' markets, but the Health Bucks can be spent at all of them. WIC distributes food-specific checks, and some, but not all, farmers take the ones for fruits and vegetables; however, these need to be signed by the customer and cannot be spent on white potatoes (see here for an example). WIC FMNP checks don't need to be signed, can be spent on anything, but can only be used between June first and November 15th.
As I type this out, I have to keep referring to the chart I made to keep it all straight — I have the luxury of not having to keep it all in my head.
The major reason for these program-specific idiosyncrasies is that each program is administered by a different agency or for a different purpose. SNAP is the United States' main anti-hunger program, and the EBT cards have gone a long way towards destigmatizing its use. WIC is make sure pregnant women and small kids get specifically healthy foods (here is the list of WIC-eligible foods), so the checks are food-specific.
FMNP is a separate set of checks good only at farmers markets, so they have to be different, too. SNAP and WIC are federally funded, though state-administered, but the Health Bucks program is a New York City program, and the Department of Health wants to track distribution and redemption of the bucks for their own data (and reports to funders!), so they are separate, specific coupons. A customer who swipes their EBT card for $5 would get $5 in tokens and a $2 health buck, not $7 worth of tokens.
All of this amounts to another project to discipline the poor.
All of this amounts to another project to discipline the poor, to make them aware that they are recipients of state benevolence and not citizens entitled to the programs of our social safety net. The need to separate and delineate the programs, dictate what foods people can purchase, and track the data on each is done at the expense of ease and efficiency for program recipients. The Wisconsin bill to administer drug tests to SNAP applicants and bar recipients from spending two-thirds of their SNAP dollars on junk food or any of it on lobster does not seem to care at all about ease and efficiency for users.
Through all of my research, my respondents expressed desire for the utterly normal. Food access, to them, meant the ability to go to a reasonably close supermarket, buy food that wasn't rotting or expired, and be treated respectfully. For food access programs to actually meet neighborhood need, they have to be attentive to how people engage with them, how they contribute to the health, wellbeing, and dignity of the folks they are trying to help. Requiring low income Brownsville residents to come to the market with a series of envelopes and folders containing different sorts of checks and coupons with different sorts of rules doesn't hit that mark.
This story is part of our food month series.
Dory Kornfeld is a Ph.D. candidate in Urban Planning at Columbia. Her best side gig is teaching economics to IBEW union members at the Harry Van Arsdale Center for Labor Studies. She also makes quilts for all the weddings and the babies. Her halfhearted tumblr is greenpeugeot.tumblr.com.
---
Support The Billfold
The Billfold continues to exist thanks to support from our readers. Help us continue to do our work by making a monthly pledge on Patreon or a one-time-only contribution through PayPal.