Cooking Like A Boss While Unemployed
by Laura Leebove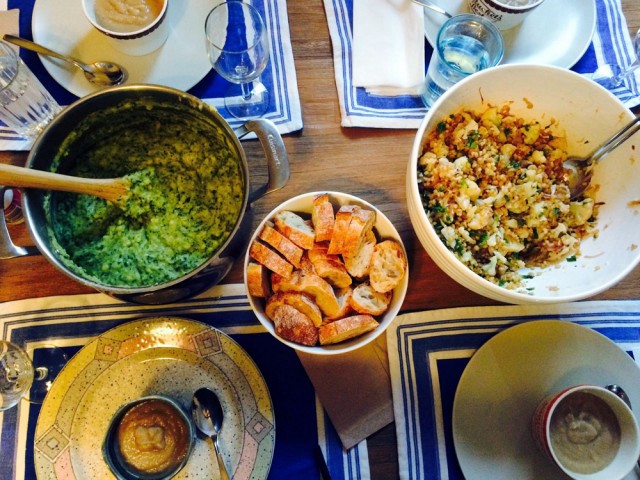 I was laid off from my job of five years at the end of February. I had known for a while that it was coming, so I'd already been living more frugally than usual, but I tightened up even more once the cord was officially cut. I live in Brooklyn, where it's easy to spend way too much money on pretty much anything — but it doesn't have to be that way! Since moving here almost six years ago, regardless of my level of income, I've become a staunch advocate for home cooking: I rarely bought lunch during the workweek unless it was a social occasion, and cooking big dinners with friends has been a regular activity.
I cooked most of my own meals even when I was working 40-plus hours a week, but now that my primary obligations are freelance gigs and job searching, I have even more time to kill in the kitchen, so I've been making the most of it. Whether I'm digging into cookbooks written by high-end chefs or turning my apartment into a candy factory, I'm grateful for the newfound time I've had to experiment — and I'm here to prove that even on a limited budget, fancy-pants eats are not out of reach.
Things to take into account: First, my pantry is always stocked with spices, baking staples and other dry goods. In the estimates below, I'm totaling the cost of ingredients I had to go out and buy, or those that require more than a few spoonfuls — which I suppose demonstrates why you should stock up on the basics while you do have a steady income. When you're doing that, I recommend buying from ethnic markets, where you can buy spices and grains in bulk at low prices, and Trader Joe's. Because 95% of the time I use the leftovers of any ingredients I buy, I'm only counting the cost of the amount required in the recipe.
Second, I'm a comfortable enough cook that I don't usually follow recipes to the letter. I'll often find a substitute for pricey or less common items — like swapping mascarpone cheese with Greek yogurt — or leave out a couple inessential ingredients, partly for the sake of convenience and also to avoid getting stuck with food I don't think I'll use up. Not surprisingly, it's more economical to use what I already have than to go out and buy something new. Here's a handy guide to some common food substitutions.
Third, since getting laid off, I've charged more food than usual to a credit card tied to the joint bank account I share with my fiancé, David. I usually cook for both of us, and before I lost my job I was making a little bit more money than he was, so I made up for it in extra groceries. Now, he makes slightly more than I did pre-layoff, so most food goes on the shared card. That said, that technically means that even less of the amounts below are coming out of my own pocket — but I think the numbers are still pretty impressive, proving that you can eat well without brunching out.
Here are some highlights from my last couple months of cooking:
An April Bloomfield feast for five (plus enough leftovers for three two-person meals)
After attending an event promoting renowned chef April Bloomfield's new cookbook, A Girl and Her Greens, David and I had three friends over for dinner as an excuse to test out a few of the recipes. Our friends brought the bread, wine and a couple of dinner ingredients, and I made curried parsnip soup, kale polenta, and grain salad with roasted cauliflower. All were delicious, deceptively simple, and a hell of a lot less expensive than eating at one of Bloomfield's Michelin-starred restaurants. Plus you don't have to worry about a reservation, and you'll have leftovers for days.
Curried parsnip soup
Purchased: Parsnips ($4), apples ($2) and onions ($1) from local produce shop; coconut milk ($1) from Trader Joe's
Minimal-cost pantry items: Vegetable stock (homemade, from produce scraps kept in the freezer), garlic, garam masala, salt
Total spent: $8
Kale polenta. Note that I only made a half batch of the kale puree.
Purchased: Polenta (about $1 worth) from a local grocery store; Parmesan cheese, not pre-grated (about $1 worth), from Trader Joe's; 1/2 bunch Tuscan kale ($1.50), leftover from earlier in the week, from the farmers market
Minimal-cost pantry items: Greek yogurt (a less expensive and more convenient replacement for mascarpone cheese); olive oil, salt, garlic, black pepper
Total spent: $3.50
Grain salad with roasted cauliflower
Purchased: Cauliflower ($3) from a local produce shop; golden raisins (about $1), unsalted pistachios (about $2) and wheat berries ($2), purchased in bulk from a local Middle Eastern market; parsley and mint (about $1 worth) and carrot juice (about $1 worth), both brought by friends, but I'll count them here anyway.
Minimal-cost pantry items: Coriander seeds, garlic, red pepper flakes, olive oil, sea salt, lemon juice
Total spent: $10
Grand total for the meal: $21.50, or $4.30 per person without accounting for leftovers
Cost of a soup and two "plates" at The Spotted Pig, for one person: $48, plus tax and tip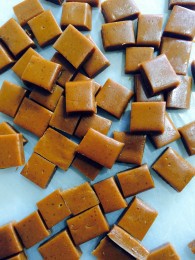 Gourmet caramels
I recently toured Liddabit Sweets' production facility in Sunset Park, Brooklyn, where co-owners Liz Gutman and Jen King make an insane selection of candy bars, caramels and other confections. I walked away with a copy of their cookbook and an intense desire to learn how to make everything, and one of my first attempts was their best-selling sea salt caramel. They didn't turn out exactly how they were supposed to (my fault), but were delicious nonetheless.
Sea salt caramels (about 100 pieces)
Purchased: Butter (about $0.40 worth) and heavy cream (about $0.90) from Trader Joe's; light corn syrup (about $1.50) and evaporated milk ($1.70) from a local grocery store; wax wrapping papers ($2 worth), purchased online
Minimal-cost pantry items: granulated sugar, vanilla bean, salt, cooking spray
Total spent: $6.50
Cost of 96 caramels from Liddabit Sweets: $64. $8 per box of 12; truly worth it if you have the money — or don't want 100 caramels, in which case you are crazy!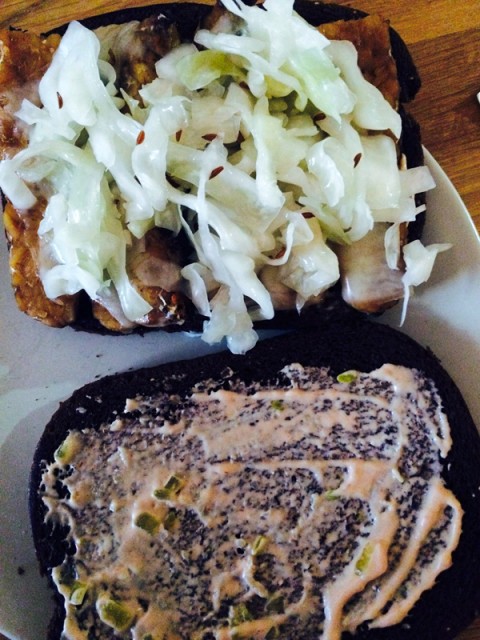 Homemade-almost-everything tempeh Reubens
I crave tempeh Reubens more frequently than any other savory dish, and it's hands-down my No. 1 sandwich: seeded Jewish rye or pumpernickel piled with marinated-then-baked tempeh, sauerkraut and Russian dressing. When I have all the ingredients for this already on hand, I'll eat it for four days straight.
Purchased: Tempeh (about $1 worth) from Trader Joe's; bread (about $0.50 for two slices) and Swiss cheese (about $0.75 worth) from a local grocery store
Minimal-cost pantry items: Mayonnaise, ketchup, horseradish and a (usually homemade) pickle for Russian dressing; spices, soy sauce, lemon juice and mustard for tempeh marinade; homemade sauerkraut, made for the measly cost of one head of cabbage
Total spent: $2.25
Cost of the open-face tempeh reuben at Manhattan's great Angelica Kitchen: $12 plus tax and tip.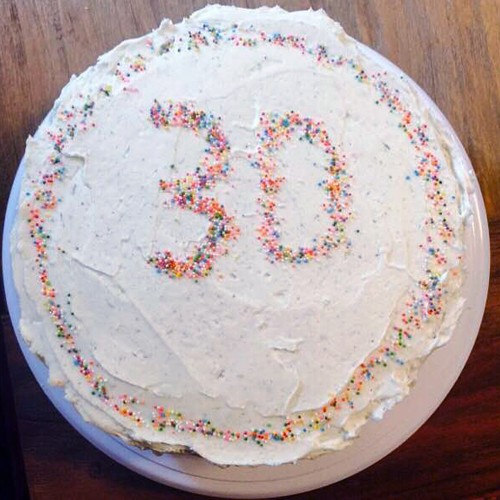 A classy spring birthday cake
One of my closest, classiest friends just turned 30 and had a house party to celebrate. David and I decided that we'll be making our own (small) cake for our wedding next year, so this is the year of cake experimentation. I went with a 9-inch, two-layer lemon cake, filled and covered with a delicately lavender-flavored frosting. My friend's friend — who I hadn't met before — Tweeted that she was still thinking about it the next day. Mission accomplished.
Lemon cake with lavender buttercream frosting. I added a little bit more lavender than it calls for.
Purchased: Butter (about $1.50) from Trader Joe's; lemon ($0.50) from a local produce shop; eggs (about $1.50) from a local grocery store; buttermilk (about $0.40), homemade using milk and lemon juice.
Minimal-cost pantry items: All-purpose flour, sugar, salt, vanilla extract (homemade, from used vanilla beans and vodka), culinary lavender (purchased for only $1 months ago), sprinkles
Total spent: $3.90
Cost of a classic birthday cake from one of my favorite bakeries: $36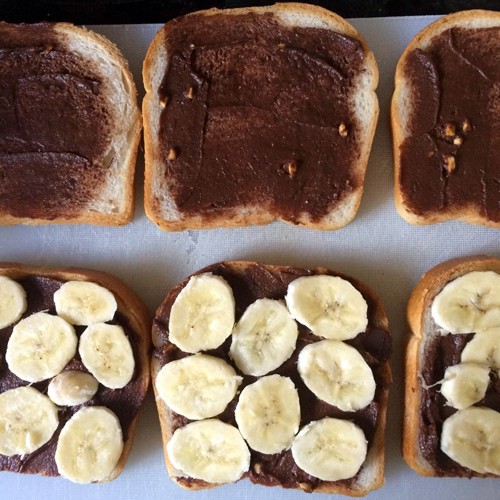 Mother's Day brunch for three
My future mother-in-law was in town over Mother's Day weekend, and David suggested stuffed French toast, Elvis style, for Sunday brunch. It was a hit (whew!).
Stuffed French toast with chocolate, peanut butter and bananas
Purchased: Bread ($1.50 worth) from a local bakery; bananas for the filling ($0.50) and berries to serve on the side (about $2 worth) from a local produce shop; eggs (about $1.25 worth) and milk (about $0.25 worth) from a local grocery store
Minimal-cost pantry items: Chocolate, peanut butter, Greek yogurt, cinnamon, syrup
Total spent: $5.50, or about $1.85 per person
Cost of French toast for one at a trendy brunch spot: At least $11, plus tax, tip and an hour spent waiting for a table
This story is part of our food month series.
Laura Leebove is a Brooklyn-based editor and writer who's currently looking for full-time work. In the meantime, you can find her in her kitchen. You can follow her often-frugal food adventures on Twitter and Instagram.
---
Support The Billfold
The Billfold continues to exist thanks to support from our readers. Help us continue to do our work by making a monthly pledge on Patreon or a one-time-only contribution through PayPal.