Reconciling Love, Long Distances, and My Bank Account
by Mikaella Clements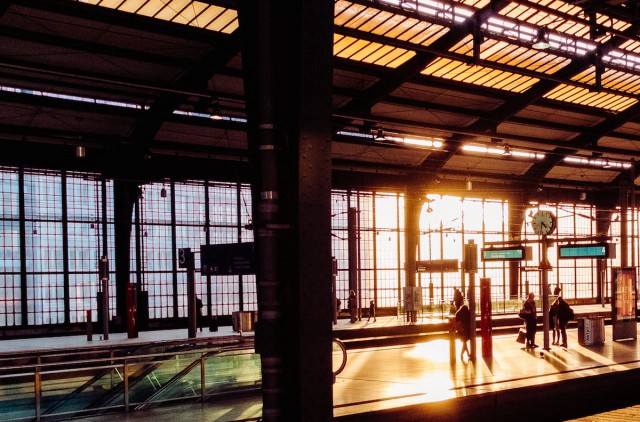 Last month my girlfriend and I had a bad fight that resolved itself into one of the more dramatic moments of our relationship. "Come here," she said, the evening we tried to sort it out on Skype. I went out and caught a night bus and then the first flight from the U.K. to Berlin and met her sheepish and blinking at the airport.
We've been long distance for the past six months and have three months to go. My girlfriend studies German at a university, and as a part of her coursework she had to embark on her year abroad last September. The experience has been, besides predictably shitty, interesting. Over the past few years, I've somehow seen a lot of friends in long distance relationships — some of whom have managed it with frightening efficiency, others who have had giant burning messes. All things considered, my girlfriend and I have done pretty well.
The last-minute trip to Berlin was obviously expensive, and I'd already spent my allotted "trip to Germany" fund that month. "I can just manage it," I said. "It's about £200."
"Well," my girlfriend said, "I can send you half of that. Or I can just pay for everything when you get here, and then you won't have to worry about getting euros out."
It was about that moment that the trip stopped being salve for an exhausting fight and became a giggly sort of fantasy.
tri
Money becomes an undeniable part of a long distance relationship, present in a way that it's not when you're living in the same city. We talk about it more, rationalizing when we can and can't see each other, how often we can afford to see each other, whether we can take a few days away from her house with flatmates to stay somewhere nice on our own. Sometimes it feels like we've entered a threesome with someone particularly intrusive. Paychecks have never been so desperately longed after and then resented when they get here, covering much less than I'd originally hoped.
Visiting each other in a long distance relationship is a strange thing. We've been lucky to manage it relatively often, seeing each other on average about once every month. Every time we're together, there's a distinct feeling like it's a holiday (especially given that at least one of us has travelled), and we're tempted to lash out and spend as we would on a holiday. Except of course, if we're seeing each other once a month, we can't afford to do that.
We're lucky enough to have two good sources of income, too. English students abroad are fairly showered with loans and grants from different governments, and I'm working two part-time jobs in marketing that have enough flexibility for me to visit often and with enough funds to do so. It's undeniable that a long distance relationship puts a strain on your finances, but we were both determined to prioritize seeing each other.
In some ways, when I got good flights and could stay at her house (saving on accommodation costs), I almost felt like I was breaking even.
Sure, I was spending at least £100 every six weeks or so on plane tickets. Then there are the resultant costs of getting to the airport — to get to my local Bristol airport it's only £10 return, but Bristol is a smaller airport and flights to Germany are much more expensive from it. I tend to go to London, where the return costs from Bristol can be anywhere from £10 to £50, depending upon the airport, the time of week, and how lucky I get. There's usually a meal in there, either pre-bought from a local supermarket for £3–5 or, if I'm lazy or forgetful, from the airport for £5–7. During the visit itself, I tend to spend more money than I would at home, say another £100 for the four or five days we'd have together, maybe more, maybe less, depending upon the trip. Roughly, that adds up to anywhere between £250-£300 — quite a large amount on my salary, though it helps that I spread it apart (flights at the beginning of the month, transport to the airport maybe two or three weeks later, and then the actual cost of being there not due until another paycheck has been delivered).
At the same time, though, I am undeniably not spending as much at home. Gone are the impulsive dinners at restaurants, the movie tickets, the music and club nights out. Gone, I can cheerfully say, is waxing regularly. My girlfriend and I are exceedingly fond of a bottle of wine after a long day — I am still exceedingly fond, but less willing to drink it on my own.
The saving is harder to estimate — after all, it's not as if my girlfriend is my entire social life. I am still going out, just not as regularly, and often with other broke young graduates. I think it adds up. Getting a new and more highly-paid job at exactly the same time my girlfriend left means that it's almost impossible for me to track exactly how much more I have saved or spent over the last six months, but I seem to have more disposable money than usual, and I dispose of it on tickets to Germany.
Last month, teary and stubborn, I disposed of it twice, and let my girlfriend take care of everything else.
I'm not sure I can pinpoint exactly when the sugar baby narrative became fascinating to me. I want to be clear here, I'm not talking about real sugar babies, the nuanced and complicated experiences of sex workers. I don't want to intrude on people's lives like that, making easy judgments that I have no experience with. What I want to talk about is the cultural narrative of the sugar baby — a divisive, problematic individual who manages to fall in those shadowy in between feminist spaces, working a patriarchal scene with a casual, easy disdain.
I love that sugar baby, and my girlfriend does too. There's something so appealing about her to me, on both sides: imagine getting to be pretty and sexy and cool, and expecting everything to be taken care of for you, and always having those expectations met. Imagine being rich enough that you could buy whatever you wanted for the girl you were with, that you could tell her "don't worry about it" and you wouldn't have to worry either. It's such an enticing fantasy. No wonder we got giggly.
It's funny how easy it is to forget you have money (or don't have money). I was in Berlin for three days, but because I didn't touch my debit card once, my bank account seemed like a distant memory, even with the hit I knew it had taken to get me there.
Between my girlfriend feeling as though she had to "pay back" her half of my flights, the horrible fight still lingering, and the fact that Berlin in the springtime has got to be one of the best, and yet somehow cheapest, cities in the world, we were more indulgent than usual. When I arrived, my girlfriend whisked me away to a breakfast out that included Bloody Marys, and it set the tone for the rest of the weekend: good food, a series of great bars, wandering around and feeling as though the city was ours for the taking.
It's not a set up that I think would work for every trip, especially given half the fun was the novelty. In any case, we're nearly at the end of our long distance sojourn, with only two more trips planned before she's back in the U.K. for good.
But it was a strange and giddy way to spend a weekend, and I think it helped with the fight. On some level, pretending I had no other anxieties, giving control of our finances (often in a language I couldn't understand) to her soothed me and took the wild edge off my fury. I felt calmer, and loved. And it was funny.
On my last morning, we went and browsed through a vintage store, where I found the pair of jeans I've been obsessed with lately: the high waisted, straight-legged cut that were tight around my waist and slightly too big around my legs, with cuffs I could roll up easily. They were perfect. I wasn't carrying my wallet.
"I'll get them for you," my girlfriend said.
"Really?" I said. "Is that okay?"
"Yeah," she told me, and winked. "Daddy's got it."
This story is part of our relationships month series.
Mikaella Clements is an Australian writer based in the U.K. She occasionally remembers to make shy jokes on Twitter. She previously wrote about her landlords.
Photo: Jörg Schubert
---
Support The Billfold
The Billfold continues to exist thanks to support from our readers. Help us continue to do our work by making a monthly pledge on Patreon or a one-time-only contribution through PayPal.