Jay Z Tells Music Fans to Drink Tap Water, Pay For His New Music Service Tidal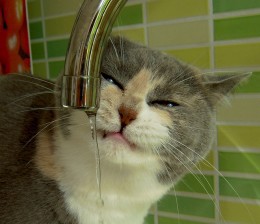 The world is not lacking in "ways to pay for music." You can purchase albums and individual tracks on iTunes, Amazon Cloud Player, and Google Play Music, for starters; you can stream and purchase music on Bandcamp; you can go to a record store and buy actual records; you can go to a concert and buy records or CDs or mp3 download cards or thumb drives.
You can go to a musician's website and donate money via PayPal. You can fund a single album on Kickstarter, or an entire career on Patreon. You can watch a YouTube video 100 times to send ad revenue to your musician of choice, or go to Spotify and play an album on repeat while you sleep to help a band fund its next tour.
And now, you can join Jay Z's new music service Tidal.
Tidal's mission is simple:
Introducing the first music streaming service that combines the best High Fidelity sound quality, High Definition music videos and expertly Curated Editorial.
It is also musician-owned — the current owners include Rihanna, Daft Punk, Madonna, Jason Aldean, Arcade Fire, and of course Beyoncé, among others — and, as Time explains:
The argument Jay Z and his fellow stars at the Tidal launch (including Nicki Minaj, Madonna, and Beyoncé) are making is that they deserve to set the price point for their music. The supporting evidence for this claim? They want to set the price point for their music.
Well, you can already do that: Bandcamp's been allowing musicians to set their own prices for years, and musicians who upload tracks to iTunes via sites like TuneCore can price albums from $1.99 to $15.99. Streaming services like Spotify and YouTube only pay musicians fractions of pennies per stream, so the idea of letting musicians set their own price point might be positioned as a direct response to that, but seriously, if you want to control your music's pricing and distribution, Bandcamp is where it's at.
So what really makes Tidal different? It's a subscription service, where users pay $9.99 a month for "standard sound quality" or $19.99 a month for "lossless High Fidelity sound quality." (The capitalization is Tidal's; I'd only capitalize "High Fidelity" if I were referring to the book or movie.)
And how can users afford that $9.99 Tidal subscription? Unbelievably, Jay Z brings up the Latte Factor, telling the New York Times that people can afford his service if they drink "free" tap water.
Maxim editor Jason Feifer responds via Twitter:
Whoever pays Jay Z's bills for him may want to inform him that water is not actually free. pic.twitter.com/jXsYKx74he
I'm not sure that Tidal fills a niche that wasn't already being filled by some type of music streaming/sales service, but I am in support of more ways to pay for music, so why not add Tidal to the list? Tap water gaffes aside, it might turn out to be a great way to stream music and support artists — and if it isn't, there are plenty of other options.
Photo Credit: Cello Pics
---
Support The Billfold
The Billfold continues to exist thanks to support from our readers. Help us continue to do our work by making a monthly pledge on Patreon or a one-time-only contribution through PayPal.