In Which I Try to Get HBO Now to Work on My MacBook Air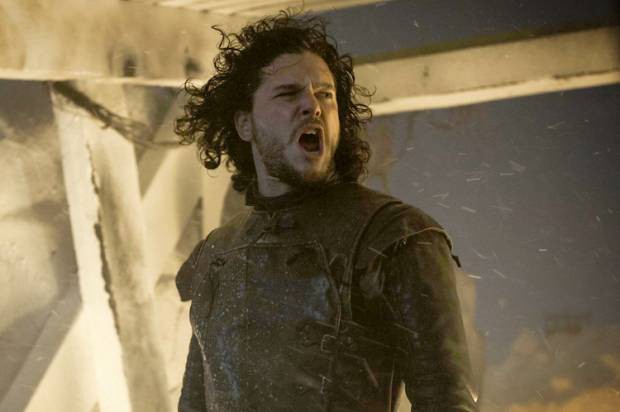 I had seen some flickerings about HBO Now on Twitter, little tweets that came and went on my timeline but that I didn't really pay attention to because they didn't contain animated GIFs of dogs or '90s references, but I didn't realize that HBO Now was up and running until I logged on to Amazon to see whether peanut butter Cadbury Creme Eggs were a thing that exists — nope, although you can buy Reese's Peanut Butter Eggs, which I elected not to do — and saw an advertisement for the Amazon Fire TV Stick.
That's from the commercials I see on Hulu, I thought. Gary Busey screaming "Amazon Fire TV Stick!"
Then I saw that an Amazon Fire TV Stick, which retails for $39, apparently comes with free HBO Go. Also free Hulu Plus, Netflix, Pandora, and a bunch of other things I would absolutely love to stream. [UPDATE: It's not free. I misunderstood the word "with." See below.]
The Amazon Fire TV Stick looks like a USB thumb drive, but the instructions on Amazon specifically say to plug it in to "your TV's HDMI port," whcih is unfortunate because I don't have a TV, and I don't believe that my 11-inch MacBook Air has a HDMI port. I wonder what would happen if I just plugged it into my USB port. Probably nothing, but I decide to Google it anyway.
Which is when I discover that HBO Now is up and running. Change of plans.
I mean, I'd still really like the Amazon Fire TV Stick, I could totally get Netflix and Hulu Plus and Amazon Prime Video and so many other things, I could just wash myself in TV like it was a firehose, like the one time I owned a TV and literally left it turned on all the time (thus cementing my decision to never own a TV again), but I don't have a HDMI port. I need to focus on what is achievable before Game of Thrones premieres this Sunday, specifically: HBO Now.
Since every extra penny I earn this month needs to be diverted towards my taxes, I am delighted to learn that the first 30 days of HBO Now are free. The subsequent months are $14.99 each, which sounds completely reasonable. It's time to go to iTunes and sign up.
Here are some words that I am currently reading on the iTunes HBO Now page:
1. "Start your 30-day free trial. All you need is the internet."
2. "This app is designed for both iPhone and iPad."
Let's find out which one is true. Remember: I do not own an iPhone or iPad (my phone is a needs-to-be-replaced HTC Evo), and although I am totally willing to go on Craigslist and buy a cheap used iPhone just so I can punt this service towards my MacBook's Chrome browser and watch HBO legally, I'm probably not going to be able to put this plan into action before Sunday and Game of Thrones.
I click a button that is labeled with a single word: "GET." You bet I'm going to GET. This is the best Call to Action copy ever.
The app downloads in approximately 8 seconds. iTunes offers no further instructions. I know I have HBO Now, in some modern definition of the word "have," but I don't know where it is or how to access it.
Okay. It's under iTunes' "My Apps." It is also my only app. Do I need more apps? No, wait, focus on the goal.
I click on HBO Now, and iTunes asks me if I want to authorize this computer, and I click yes, and then iTunes tells me "Computer authorization was successful. You have authorized 3 computers out of your available 5."
Three computers, though? Does iTunes mean I've authorized my MacBook Air as well as my nonexistent iPhone and iPad? No, wait — it probably means it authorized my current MacBook Air as well as my two most recent, now dead, laptops. It authorized everything I've ever installed iTunes onto, including machines that haven't been booted up in a very long time.
I add "remove iTunes authorization from dead laptops" to my GTD list, and continue on my quest.
At this point, it seems logical to go to the HBO Now website. I click the "Sign In" button, and HBO Now asks me for a username and password. I suspect this is not my Apple ID. I visit the Help Center:
When HBO NOW documentation or elements of the application user interface refer to registration, it means creating an HBO NOW account that the application will use to associate you with your subscription and user settings.
I already miss the two-minutes-ago when the instructions were as simple as "GET."
The next step is to try to get HBO Now to send me the password that I don't believe I ever created, and that I probably need an iPhone or iPad to create. Still, it's worth a shot. I dump my email into the password recovery form, and… they have no record of me. Of course.
It occurs to me that a HBO Now app might be hiding in my Applications folder, mostly because both of them contain the letters "app." I do a search and turn up a HBO Now IPA file, which is — you know what, I don't know what an IPA file is, but I definitely decide to click it. Nothing happens. Oh, hey, happens also contains the letters "app."
Still focusing on my goal, I start searching for other clues to this login process. The Verge skips the topic entirely:
Once you successfully register, you'll find that the HBO Now app on Apple TV is largely identical to HBO Go.
Consumerist is a bit more helpful, though I'm still not sure if they mean my Apple ID here or some other email address/password:
In terms of accessing the service through the HBOnow.com website, users who registered through iTunes will just enter whatever e-mail address and password they used when they set the account up.
Then, finally, I turn up some useful information in the HBO Now Help Center:
If you are using an Apple TV or a supported iPad, iPhone, or iPod touch, you can use in-app purchasing to get your subscription. If you choose this method, you can use your Apple ID to access your iTunes account as you would for any other in-app purchase.
This actually makes sense. I haven't properly downloaded HBO Now, and I know that "download" isn't quite the right word here; instead, I've gotten myself access to the interface that contains the option to purchase HBO Now. My 30-day free trial won't start until I open up that interface, make the in-app purchase, and create a login.
Which really does mean I'll need to get my hands on a used iPhone or iPod Touch. It is funny and fascinating and unfair that it all comes down to that.
Time to Google "Seattle bars showing Game of Thrones Season 5 premiere."
UPDATE: The Amazon Fire TV Stick does not include free subscription TV services like HBO Go, Netflix, etc. Amazon includes product copy that reads "Streaming media HDMI stick with Netflix, Amazon Prime Instant Video, music, games, and more," and I misunderstood the meaning of the word "with." Like a toy commercial from the 1990s, streaming TV services are sold separately.
---
Support The Billfold
The Billfold continues to exist thanks to support from our readers. Help us continue to do our work by making a monthly pledge on Patreon or a one-time-only contribution through PayPal.