Why A Potential Employer Needs To Know Your Credit Score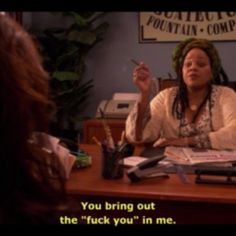 I've had a pretty bumpy road of it in New York: I've been laid off twice and had to quit once because I went to the Emergency Room during the workday, even though a) I got permission, and b) my ailment turned out to be near-kidney failure. I've been cursed at, sexually harassed by bosses, and mooned by A-list celebrities. A B-list voice over actress pulled my hair.
I've been asked for my SAT scores and my grades. One HR person declared, "I'm tired of hiring stupid people. Are you stupid?" Another potential employer pointed to my resume and asked, in a bored voice, "Are you lying about any of this?" (My answers: "No" and "No." In both cases I got the job.)
But no one has ever asked me for my credit score. Once again I get to realize how incredibly privileged I am. Because, according to The Root, it happens all too frequently.
One out of 10 unemployed workers reported credit checks kept them out of a job. That ratio is considerably higher for African Americans, among whom only a quarter of black households report credit scores of 700 or above. …
"Using a job applicant's credit history to deny employment is not fair because personal credit history is not an accurate predictor of job performance," says Rep. Steve Cohen (D-Tenn.). Last session of Congress, Cohen snagged 30 sponsors for his Equal Employment for All Act (H.R. 645), which would prohibit employers from using credit checks except in cases of national security, Federal Deposit Insurance Corp. clearance, or major responsibility over employer and employee finances. He represents Tennessee's largest and most predominantly black city: Memphis. According to a 2012 Experian survey of cities and their average credit scores for residents, Memphis is ranked in the bottom 10.
"Second chances in Hollywood and professional sports occur every day, but not for my constituents who are desperately looking for work," added Cohen.
Why would a credit report be an accurate predictor of job performance? What on earth does one thing have to do with the other? I have a friend whose credit score is better now but was low for a while, low enough that she had a hard time renting an apartment in a semi-dilapidated building outside of Ditmas Park whose stairway reeked of weed. She's one of the most dedicated employees I know and one of the few who has stuck to the same high-pressure job for years.
But the simple fact of owing money rather than having it has been keeping people out of the workforce for a while now, as this Huffington Post piece makes clear.
Emmett Pinkston served in the military for 30 years, first in the Marines, then in the Air Force, then in the Army. He helped coordinate security for President George W. Bush during the G8 Summit on Sea Island, Ga., in 2004, and worked as an intelligence analyst in Iraq from 2005 to 2007, some of the deadliest years of the war.
But when he tried to get a job as an airport security worker in 2011, the U.S. Transportation Security Administration turned him down, citing a credit report that showed him $8,000 in debt.
To Pinkston's disbelief, the TSA described him as a potential security risk. "They said there was a possibility that I would be vulnerable to bribes to let people through the gate," he recalled. "I was absolutely no security risk to any airport or port or any operation in this country," he added matter-of-factly.
In case it even needs to be said, there doesn't seem to be any evidence to support the idea that people with lower credit scores are actually less honest on the job.
Do workers with money troubles have a propensity to steal from their employers? I couldn't find any independent research that says yes, if a person has lousy credit, he or she is more likely to embezzle money or accept bribes.
It would be nice if at least federal agencies like the TSA could be encouraged to be less discriminatory — and more fact-based — in their hiring practices, wouldn't it?
Image from "Weeds" via Pinterest
---
Support The Billfold
The Billfold continues to exist thanks to support from our readers. Help us continue to do our work by making a monthly pledge on Patreon or a one-time-only contribution through PayPal.