The Cost of Losing a Passport: The Tangible Losses and Intangible Gains
by Karen Ho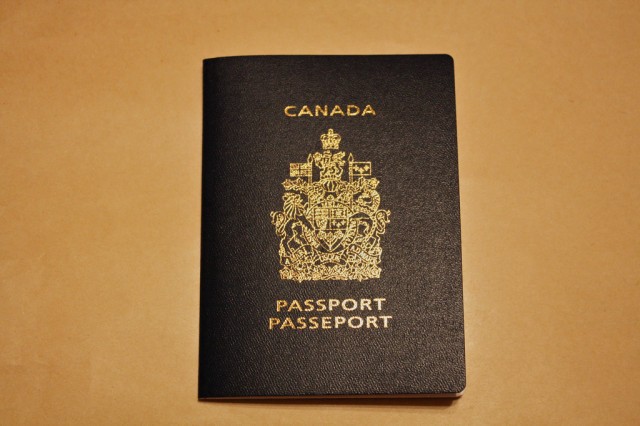 "Make the best use of what is in your power, and take the rest as it happens." — Epictetus
Travel is rarely easy, and booking a last-minute vacation is stressful. Going on that last-minute vacation with your family, to Disney World, after you have just received a job offer on the other side of the country should be a relaxing celebration. Discovering that you have lost your passport while in another country and with an impending deadline for an enormous feature can make you feel as if there is a mass of trumpets screaming inside your head. The guilt from your Chinese upbringing and 12 years of Catholic education only deepen your urge to crawl into a hole.
I recently found myself in this situation. All of the carefully Disney-disposed stress practically evaporated when I realized my passport was no longer in my carry-on backpack. It was Saturday night and we were due to fly home the next day. The nearest Canadian consulate was in Miami and it was closed for the weekend.
Somehow, I still got home. Here is what it cost and what I gained. (All figures are in USD unless otherwise indicated.)
My mother, in a stroke of genius, remembered that we had relatives in New York who were driving to Toronto in six days to visit for Chinese New Year. It was decided I would fly there and stay with them at their house in West Hempstead. My cousin said yes almost immediately and I booked my flight the next morning.
Last minute one-way flight from Orlando to NYC, (including baggage fee): 277.89 CAD
Temperatures in Orlando dipped to as low as 3°C/37°F, which meant my family ended up wearing plenty of sweaters, scarves and even down jackets to the Magic Kingdom. But even with all those layers, my mother and sister pointed out that I only had about one day's worth of weather-appropriate clothes to wear in New York. Luckily, we had a rental car and Orlando has multiple outlet stores. I had already purchased Ugg winter boots rated for -20°C/-4°F on super sale and a fleece jacket for 20 percent off at Columbia for an upcoming move to Yellowknife, NWT. After booking the flight, I picked up extra long underwear ($84.65), a hat ($5) and a pair of Burton glove liners ($37.24).
Extra NYC-appropriate clothes: $126.89
My sister's research revealed that you can cross the border in a personal motorized vehicle with a driver's license and birth certificate or proof of citizenship. I didn't need to apply for a new passport until after I was home, but a Canadian border control officer told me I might be held a little longer at the border for additional questions.
Cost to Xpresspost my birth certificate to my cousin's house in West Hempstead, New York: $25.75 CAD (Sent and paid for by my mother)
After getting off the plane, my only expenses were LIRR tickets to get into Manhattan and Brooklyn ($27), a Metrocard reload ($10), a meal at Ma Peche for my birthday ($64), and an ultra-light down jacket on sale from Uniqlo ($10). I had two lunches paid for by friends. My cousin and her husband's incredible generosity included them picking me up from LaGuardia Airport, providing most of my meals (including a $29 Valentine's lobster dinner special for my birthday), and flat-out refusing my offer to at least help chip in for gas or the Chinese take-out for the nine-hour drive to Toronto. "We would have done that anyway," they gently told me while we zoomed down the Tappan Zee Bridge over the Hudson River.
Cost of staying at my cousins' house and getting around NYC: $111.00
After getting back in Toronto, I spent about an hour filling out a new application and another hour waiting to be seen at the passport office. The clerk said it made sense that I didn't file a police report. My new passport should arrive in the mail in two weeks.
Cost to replace my 10-year passport: $218.55 CAD ($160 for the 10-year passport, $45 replacement fee and $13.55 for the passport photos)
Travelling in a time when the world hates your money
Most of the purchases in Orlando and New York were made in cash with U.S. Dollars purchased before the recent great plunge of the Canadian loonie. However, I had one credit card purchase charged at a rate of $1.30 CAD. So for my calculation, let's assume $1 USD = $1.25 CAD
Total spent: 608.74 USD or 760.08 CAD
How could I have made out better? Travel insurance.
Some travel insurance policies offered by companies like President's Choice, Allianz or RBC do cover the cost of replacing a passport and even trip delays caused by the loss under their trip cancellation plans. It's best to double-check before flying or leaving home.
Since I am a young idiot, I did not buy any travel insurance for this trip because I didn't think it was worth the $90 online quote. (Also: sheer laziness. Lesson learned.)
Other losses and benefits:
While I will miss the distinctive Japan immigration stamp from the month-long trip with my mother, every time I saw the photo in my old passport I was reminded of my dad's comment telling me I looked like a prostitute. Being in New York also gave me the chance to speak at a first-year BFA writing class at Pratt, meetChoire Sicha/The Concessionist, and hang out with my great friendElon Green.
Final thought:
As for the border itself, we arrived at the Queenston-Lewiston bridge a full hour earlier than expected at about half past midnight. After my cousin handed over all our identification to the Canadian border control officer, she explained that I was going home to Toronto and that she and her husband were only staying for two days. She briefly rolled down the back window so they could see my face. After all of the standard questions, the man in the booth paused. "Oh and happy belated birthday," he said with a smile.
Karen K. Ho is a writer and business reporter who recently relocated from Toronto to Yellowknife, NWT. Her biggest expense is travel. She can be found on Twitter here: @karenkho
Photo: futurestreet
---
Support The Billfold
The Billfold continues to exist thanks to support from our readers. Help us continue to do our work by making a monthly pledge on Patreon or a one-time-only contribution through PayPal.