How a Person Living a Nomadic Lifestyle Does Money
by Aja Frost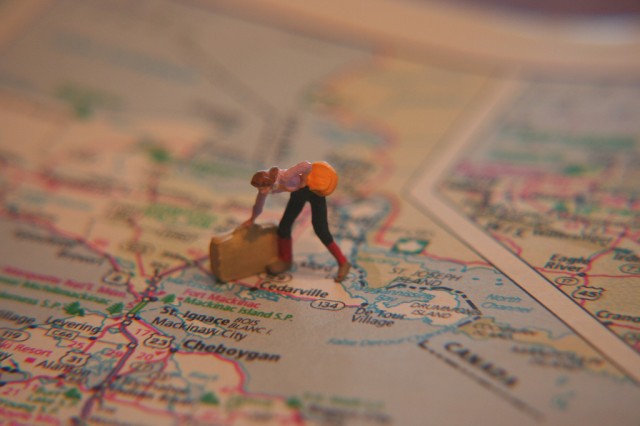 Kavi Guppta is a 27-year-old "nomadic journalist." He writes for Forbes and other publications while traveling around the globe with his 27-year-old partner and fellow writer, Kristen Marano. Kavi and Kristen have been on the road for about nine months.
Would you explain your decision to become a nomadic journalist?
My girlfriend and I spent a combined 16 years in the advertising industry back in Canada, and we were kind of fed up with the corporate life. We made a plan to take advantage of the income we had and aggressively save money so we could essentially work and travel at the same time.
We spent a good eight months putting together the funds and doing all the administrative odds and ends in order to pack up and leave. It's not as romantic as people make it seem; you can't just get up and leave immediately as they would in a movie. You have to plan a few things out — taking care of your apartment and the furniture, your clothes, where everything is going to go, your bills…
When you say you had to save up the funds, is this something that eventually you won't be able to do anymore? Or is this a sustainable lifestyle?
It's definitely something that we're trying to sustain right now. The incomes that we both had back in Toronto were substantial for both our age and the levels we'd reached in our careers, and I think it was a huge lesson when we realized even though we had really healthy incomes, we were still spending on lots of things that weren't necessary. That goes back to the lifestyle and the cost of living in Canada.
Mind you, we're in Australia right now, and Australia is probably more expensive than Canada in some ways, but the past nine months of living with less and earning less has made us more resourceful.
We've settled in Perth right now — we just got an apartment about two weeks ago.
What did you do in Canada?
We actually weren't writers in the sense that we are now. We weren't writing for publications — well, Kristen was to some extent, and I was for one of the local newspapers, but the majority of our income was coming from our advertising and marketing jobs. I'm a digital marketer with 10 years of experience, and Kristen is a public relations expert with about seven years of experience. That was the bulk of our career.
What was your income then as compared to now?
If we were looking at our combined income, it would've been somewhere in the range of $150,000 annually. At this point, our income varies month to month based on the contracts we pick up. I will say we make substantially less.
Do you combine your money, or do you keep your finances fairly separate?
We kept our finances separate until we moved to Australia. We have a joint account now because I'm a citizen here, so it worked out easier to have a joint account for both of us to be able to pay certain bills. Back in Canada, and even throughout the entire saving and spending process of our travels, we had separate accounts.
It doesn't seem to matter at the end of the day, because it's not as if we can keep our money separate beyond the online banking stuff. Out here, we have to take money out of the ATM, so we're carrying cash all the time. We basically split everything, from bills to nights out to transportation to any other expenses that come up.
Let's talk about where your money goes. What are you spending on now as opposed to before?
It comes down mostly to our numbers of nights out. I cook a lot, Kris bakes a lot, and we used to eat a lot at my house back in Toronto. But Thursday, Friday, Saturday, and Sunday we could be going out to brunch or restaurants or the bar. That changes when you're out on the road — depending on the places you go. A place like Asia is obviously going to be a bit more welcoming to that environment because it's substantially cheaper to eat out.
In Australia, we've had to create a different routine. We cook every day, and because we're working from home we eat at home every day, and once a week we'll go out and try a restaurant or a bar. But it's not at the same level as in Canada.
Another thing we're not spending on is clothing. We have very little clothing — we have just about the basics. Something nice to wear to go out and all kinds of comfortable clothing to have around the house and wear for trips around the city and outside the city.
We don't really have many things anymore. We sold a lot of it. My entire apartment was emptied out and sold on [Canada's] version of Craigslist. The apartment we have now already came furnished, so we didn't have to buy anything.
The goal is to be able to pack up and move everything in about a week if we wanted to.
How long do you think you'll stay in Australia?
Right now we're here until January 2016, at the minimum. After that we'll probably go somewhere else. Or we'll extend our stay — we're not too sure. We're going to see how the next few months go and how we feel.
Yeah, because a year is a fairly long time. You'll get to know the neighborhood, I'm sure you'll make friends if you haven't already — so do you still feel nomadic, or does it feel a little like establishing your old lifestyle in a new place?
That's a really good question. After about eight months of pure traveling, you kind of get sick of constantly moving around. It sounds really glamourous — you're going from airport to airport, and you're jumping on planes, and you're going on trains, and you're getting on a boat — but after a while it gets really exhausting. We were in New Zealand from December to January, and we were exhausted. New Zealand is a beautiful country, and we really enjoyed it, but we knew we were ready to settle down temporarily with our own place.
That being said, while we're here in Australia we're going to be doing a lot of traveling within the country. My entire family is from here and I'm from here, so we have the opportunity to move around. I'm hoping to pick up a car soon so we can have a car for the next few months and drive around the state of West Australia — which is kind of the most remote place in Australia — to check out some of the unique outback spots.
It's a temporary pause in the larger scheme of travel, but we'll still be moving around within the year.
Do you think that could become your routine — lots of travel punctuated by mini-breaks?
Absolutely. That's exactly the kind of lifestyle we're trying to develop. It's not going back to the old life of only getting a few weeks a year off and you have to make it count, it's about living and working at the same time, and taking those breaks. Establishing a routine within a city — and almost using the city as a hub. We chose Perth out of all the cities in Australia because it's a great hub to get to Asia. It's much cheaper on this side of the country to get to Bali, to get to Singapore, to get to Vietnam, to Thailand. We want to go check out more of Asia before we decide to go anywhere else.
We also chose Perth because we didn't want to live in a city similar to Toronto: huge, congested, and kind of hustle-and-bustle. Perth felt really good. It's a lot of space.
To many people, Perth is a mining town. It's only starting to become enticing to younger people.
How much money do you give yourselves for travel? You're in Perth, but you want to go to Asia for the weekend, or a week. Do you have a dedicated space in your budget for that?
Not right now, because we've just settled in. Right now all of our efforts and resources are focused on quickly building our HQ — our headquarters. But we are paying attention to the flights every week. We're looking at deals. You can get to Singapore for about $300 a turn.
It was different last year when we were traveling throughout the region because we had set outside budgets for air travel. A ticket could be anywhere from $100 to $250 one way, depending on where you were going. We flew from Wellington to Auckland in New Zealand for $100 a turn.
Certain destinations, like New Zealand, you have to go by air. You don't have the time to go by land or train. However, in Asia, there were about five months when we just traveled by land or by sea. It was really difficult, but it was cheaper. We paid maybe $11 for a bus, rather than $150 for a plane ticket.
When you were more transient, what were the most expensive parts of your lifestyle?
Accommodation. Finding a place to stay can vary. It's so inconsistent in Asia if you're not sticking to four- or five-star hotels. You can pay $15 and get a brilliant room or you can pay $15 and get a run-down, gross-looking… something out of CSI.
Was there ever a place that was so awful you guys decided not to stay there?
No, because once you're there, there may not be any other options or places to stay. We went to a village in Laos that was essentially an intersection — think of an intersection in a small town, that's all the village was. We were paying about $5 a night for this straw-thatch bungalow with basically no electricity. The electricity would maybe come on in the evening. There wasn't even a flush toilet, you had to use a bucket of water to flush anything down.
It was hot, it was dirty, and it was the creepiest place we'd ever stayed in. The experiences we had in the village were incredible, but it did feel like the longest three days of my life.
Was that another thing that prompted you to settle in Australia?
We knew we were always going to end up in Australia. From a financial perspective, it wasn't feasible for us to come to Australia first. So we ended up flipping the trip and going to Asia first. We found cheaper flights to Vietnam, then we worked our way through Asia to make our money last longer, and then we made our way to Australia and New Zealand toward the end of the year.
Oh, so you did know you were going to come to a "pause."
Yes. We didn't know we were going to pause for this long, but we knew we were going to stop.
You said you sold all your stuff. Are you not materialistic by nature, so this was easy, or was it something you had to talk yourselves into?
It was a bit of both. I didn't own a lot of things to begin with. The primary things I owned were kitchenware, because I love to cook, and books, DVDS, and records. That was it. I had a table, a couch, a bed, and furniture, and those things were easy to get rid of.
However, there are certain interests and hobbies we have that can have you collecting or hoarding quite a few things. Kris is a fashion fanatic. The process of deciding what clothes to keep and what to give away was really challenging for her.
I had a lot of clothes because of my office job. Well before we left, I pared down quite a bit and left myself with two or three pieces of clothing to wear every day to work. Nobody noticed! I was wearing pants to work with a huge rip in the crotch at one point because I didn't want to spend the money on a new pair of pants, and nobody noticed. I probably ended up getting more compliments, and I don't know if that's because I had more self-confidence — the clothes don't make the man, I guess.
How much did you take on the road?
We couldn't travel with much. We had one backpack each. Then, you go to a place like Bangkok which is a huge fashion center, and everything's so cheap. I came up with a rule that if either of us bought something we'd also have to purge something — either donate it or leave it behind. That way we wouldn't accumulate too much stuff. If you wanted a new piece of clothing, what were you going to leave behind? It made us much more selective.
Despite that rule, it was still hard, because you only have so many things to wear, and you get tired of looking like this grubby traveler.
Will you maintain such simplicity even though now you're more permanent, or have you noticed some of the old habits creeping back? I guess it's only been two weeks.
We're working our best to keep that level of simplicity. That doesn't mean we can't indulge. We have treated ourselves, especially in expensive places like New Zealand.
Do you set yourself a strict budget?
For groceries, we'll stay between $70 and $100 a week. Our apartment was in a very specific budget; we looked between $250 to $300 per week. We were lucky that you can negotiate in this market because there's such a gluttony of places.
We don't compromise on the internet — we picked up the best and most affordable internet we could get because we know we need to use it for work and staying connected with family and friends.
What do you miss about staying in one place?
Having your own space. You go from hotel room to hotel room, and hostel to hostel, and after a while you miss a place you can hang out in all the time that's your own. The space we live in needs to have good natural light, a comfortable place to work, and a good kitchen. There were many places in Asia where we had to be out of the room all day because the room wasn't a great place — it was dark, it was damp. Then you're out all day long, lugging around a laptop, trying to find a coffee-shop with reliable WiFi. It can be tiring, because I like coming home and sitting around and reading or listening to music for a while.
We're lucky because when we came to Australia we got to stay with family for a while and it was a huge help to our budget. But even that is kind of difficult because you're interrupting someone else's space. Now that we have an apartment, we're enjoying the fact that it's our own space and we don't have anyone to answer to except for a landlord.
Do you have anything else you'd like to say?
It wasn't easy to get to where we are now, but it's incredibly rewarding. There are incredible ups and downs, but I think that's all part of the journey. People don't see the effort and the sweat and dedication it takes to live like this — when people are viewing your life through the lens of Instagram and Facebook, they only get to see the perfectly packaged elements of our lifestyle. The beautiful beach, the stunning landscape, the great food. They don't realize it took a ton of work to get there, financially, habitually, even physically.
Follow Kavi on Twitter (or check out the "perfectly packaged elements of his lifestyle" on Instagram.)
Aja Frost is a student at Cal Poly San Luis Obispo who loves writing… and dessert. Follow her on Twitter @ajavuu.
Photo: Kate Ter Haar
---
Support The Billfold
The Billfold continues to exist thanks to support from our readers. Help us continue to do our work by making a monthly pledge on Patreon or a one-time-only contribution through PayPal.