American Girl Doll Furniture Costs More Than Furniture For Humans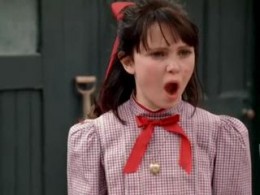 Keeping in mind that — as we learned yesterday — furniture can cost anywhere from a few hundred to several thousand dollars, today we're going to take a look at one specific furniture cost metric:
Does your furniture cost more, or less, than American Girl doll furniture?
BuzzFeed's got a quiz up titled Can You Tell What's More Expensive, Doll Furniture or Real Furniture? It's worth taking, if only so you can be shocked by some of the prices on items like "Kit's School Desk and Chair" and "American Girl Sweet Dreams Wooden Crib & Canopy."
I decided to put my own furniture to the American Girl test: my Sleep Master Platform Metal Bedframe, at $98.86, is less expensive than Samantha's Victorian bed (with canopy), Julie's 1970s bed (with beaded canopy), Caroline's 1812 wooden bed (with canopy), and Rebecca's 1920s brass bed (surprisingly canopy free).
On the other hand, my bed costs more than the simple, canopy-less beds of 1920s Kit, 1820s Josefina, and 1860s Addy — and the website helpfully notes that Addy's bed represents the simple bed that she slept on while living in a boarding house after escaping slavery. Kit's bed is designed to be equally Great Depressing, but Josefina's family lives on a rancho in New Mexico and is presented as middle-class. What's up with that, American Girl? Why doesn't Josefina get some expensive bed with a questionably-historically-accurate canopy?
Admittedly, if we add in my $189 mattress, my bed costs more than any of the American Girls' beds, and more than the Girl of Today Bouquet Bed Set that includes a light-up flower lamp and doll-sized organizer boxes so our Girls of Today can get their KonMari on. (Does the American Girl brand bring me joy? Yes it does. Gleeful, snarky, nostalgic joy.)
What's hilarious is that I once slept in a brass bed very much like Rebecca's, and it cost us nothing–my parents literally found one bedframe in an attic, and ended up getting a matching bedframe at a garage sale for maybe $10. (When you live in the rural Midwest, antiques are cheap and plentiful.) But if American Girl were to sell "Nicole's Brass Bed with Troll Doll and Garfield Pajama Set," they would no doubt charge $150 or more.
Looking at the other furniture I own (not much): my $39.99 bookshelf costs less than Rebecca's costume chest, Rebecca's sideboard, Grace's pastry cart — don't get me started on the 2015 Girl of the Year, 10-year-old pastry entrepreneur Grace Thomas — and the Girl of Today Salon Center, which includes 25 doll-sized hair elastics. There aren't any actual American Girl bookshelves to compare directly, which seems out of place — didn't Samantha and Molly both have little bookshelves or nightstands at one point, where they stored doll-sized books? (I distinctly remember a Samantha-sized Wizard of Oz.)
My Goodwill desk and chair, which can't have cost more than $20, is also less expensive than every American Girl school desk and chair set. Even the non-Goodwill version of my desk, the Ikea Linnmon/Adils, only retails for $19.99.
What about you? Take the BuzzFeed quiz, check out the American Girl furniture showroom, and weigh in below on whether your own furniture costs more, or less, than its American Girl equivalent.
---
Support The Billfold
The Billfold continues to exist thanks to support from our readers. Help us continue to do our work by making a monthly pledge on Patreon or a one-time-only contribution through PayPal.