Profit and Authenticity in a Racing Community
by Dory Kornfeld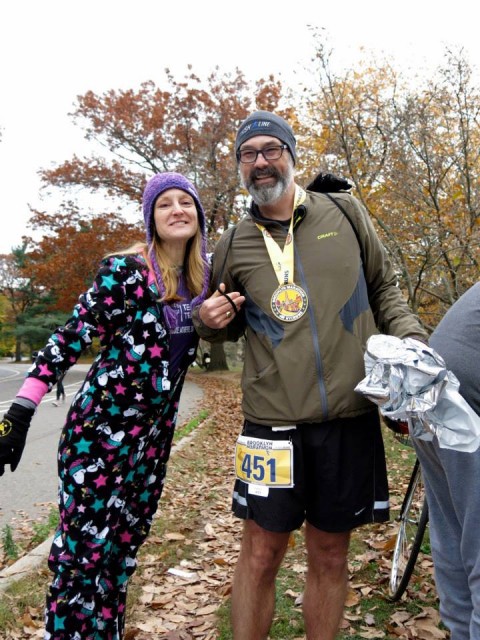 Late last year, Facebook-for-runners was abuzz with the announcement that the San Diego-based Competitor Group will be putting on a Rock and Roll half marathon in Brooklyn in October.
The exact date, course and size of the race remain under discussion, said Josh Furlow, executive vice president of global events for Competitor Group Inc., which stages about 30 half-marathon-to-marathon-length Rock 'n' Roll races a year. The name is a reference to the live-music entertainment that lines every event route. But Mr. Furlow did say the race will cover "13.1 miles of city streets — a very good showcase of what Brooklyn is."
This is big news in Brooklyn running land, as it came a week or so after the Brooklyn Marathon, put on by NYCRuns. This was the fourth year for the race which was entirely in Prospect Park; runners ran two small loops and six big loops, going round and round in circles past us cheering at the top of the big hill.
Steve Lastoe, the founder of NYCRuns has talked about the difficult process of trying to get the Brooklyn Marathon on the streets. In short: It's not easy to get the OK from the city and the NYPD to close down streets. It's a fight about permits, money, minimizing disruption and so on. Steve has been working really hard to figure all this out so that the Brooklyn Marathon can be a "real" on-the-streets event. He even had the head of the Brooklyn Chamber of Commerce out at the BK Marathon, making statements to the press:
"It would be a boon to the local economy, to local store owners, merchants, to neighborhoods. It will put Brooklyn even more on the map, more publicity, more buzz," says Carlo Scissura of the Brooklyn Chamber of Commerce.
Though it's fun to cheer in Prospect Park and see your friends (and strangers!) run by again and again, a marathon run entirely on the city streets of Brooklyn would be really really fun. New York Road Runners puts on a yearly Brooklyn Half which starts outside the Brooklyn Museum and ends in Coney Island, and there's a 10k in Bed Stuy in October that's on closed-off residential streets; old women sit on their stoops and cheer you on and it feels very neighborhood-y and great. These races are really special, and a full-length, on-the-streets Brooklyn Marathon would be amazing. The question is whether this new Rock and Roll Brooklyn Half would mean that NYCRuns would effectively be prevented from ever getting the go-ahead from the City.
A little while ago we talked about the cost of getting into the New York City Marathon via the 9+1 program. It's a lot of work (I did it in 2013 and ran the 2014 marathon). The Brooklyn Marathon (and the Central Park Marathon coming up in February) are good reminders that NYRR isn't the only organization that puts on distance races. These events are pretty inexpensive, have a much smaller field than the NYC Marathon (by orders of magnitude: there were 500 Brooklyn Marathon runners vs. more than 50,000 crossing the Verrazano on Nov. 3), and thus, a real community feel. Rock and Roll events, on the other hand, are really large and on the expensive side.
NYCRuns' attempts to level-up the BK Marathon is well-known amongst Brooklyn runners, so the Rock and Roll announcement was somewhat upsetting. Folks in the running groups I'm part of immediately chimed in with negative experiences running Rock and Roll Races (FWIW, I ran the New Orleans Rock and Roll Marathon last February and I hated it), suspicion of the Competitor Group's claims that 60% of runners will come from out-of-state, and frustration that this large company was able to get the permits for a street race half marathon while the very local NYCRuns was gaining no traction.
Also, the statement from Josh Furlow, executive vice president of global events for Competitor Group about their "typical" runner is very funny, mostly because it fails to distinguish "typical" from "statistically average":
He described the company's typical half-marathon customer as a 38-year-old female who earns $110,000 a year and travels to the race with 2.5 other people.
A Rock and Roll Brooklyn Half touches a nerve because it highlights the uneasy relationship between a running "community" made up of small neighborhood-based groups (like my own South Central Brooklyn Runners) or charity teams and the larger, often-corporate entities that we have to engage with. It's possible to be a runner and never enter a race; and you certainly don't need a GPS watch or expensive running specific "fuel" (I eat tiny halloween Snickers bars on my long runs) or a subscription to White Women In Sportsbras Monthly Runner's World. Still, it can be hard to feel like running is totally yours when it's constantly being repackaged by companies like Competitor and sold back to you, branded with Brooklyn Cool.
This seems to be a different manifestation of the Starbucks/Local Coffee Shop dichotomy. It raises questions of community, localism, profit, and authenticity — one of the major complaints about Rock and Roll races is that they are cookie-cutter events that are the same in every city. Somehow, when the head of the Brooklyn Chamber of Commerce talks about the Brooklyn Marathon creating "more buzz" for the borough, it's kind of dopey and adorable, but when the head of a large corporate entity that has multiple "brands" talks about how good their race will be for Brooklyn because of all the out-of-state 38-year-old women with six-figure salaries visiting our hot spots with their 2.5 friends, it seems bullshitty, but also clear that the race isn't really for Brooklyn runners.
It may turn out that the RnR Half doesn't preclude an NYCRuns Brooklyn Marathon. Let's hope it doesn't. And while it's easy for me to get worked up about supporting local race organizations and eschewing the Rock and Roll series, I also know that others don't care at all, they're just excited that there are more events to run.
Dory Kornfeld is a Ph.D. candidate in Urban Planning at Columbia. Her best side gig is teaching economics to IBEW union members at the Harry Van Arsdale Center for Labor Studies. She also makes quilts for all the weddings and the babies. Her halfhearted tumblr is greenpeugeot.tumblr.com.
---
Support The Billfold
The Billfold continues to exist thanks to support from our readers. Help us continue to do our work by making a monthly pledge on Patreon or a one-time-only contribution through PayPal.