Life Hacks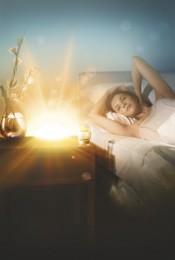 Experiences over things — that's one of the top "life hacks" on this Quora thread about things that people say have made their lives better:
It's better to do things than to have things. I'm not rich, but I can do one or the other. I can afford nice things. I could have all sorts of great shit that people would look at and desire. I can travel and do things and have great experiences with my husband. But I can't do both. Doing things together builds your relationships; having things seems to distract away from what's important.
Also:
1. Don't argue when you're angry.
2. Don't decide on something when you're angry.
3. Remember the first two. Always.
These are nice to remember, but one practical thing I've done to make my life better is to buy the right alarm clock to make waking up more pleasant (I've got this one which uses light and natural sounds). Being able to do something simple like wake up and feel good about starting your day (instead of feeling groggy and annoyed and reaching for the snooze button 10 times) really does do wonders.
Another practical thing: Find a tool to help you cut down on the amount of time you spend on something you do on a daily basis. For me, this app that helps you autocomplete phrases you use regularly has helped me out a ton when it comes to answering emails or typing out HTML.
What about you? Are there any things you've picked up that's helped made your life better?
---
Support The Billfold
The Billfold continues to exist thanks to support from our readers. Help us continue to do our work by making a monthly pledge on Patreon or a one-time-only contribution through PayPal.