Asking Companies for Recompense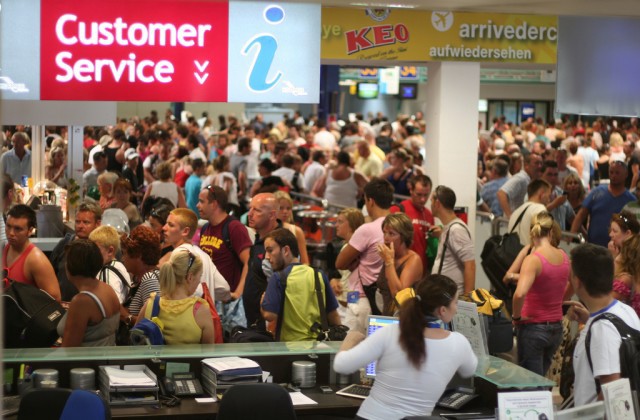 I have a small dilemma/ possible topic for discussion that might be of Billfold interest: How hard should I work to get perks, discounts, free extras, etc.?
I'm trying to get something out of an airline that rescheduled an upcoming flight on me. (I had booked a flight that departed at noon! It was perfect! How could they do this to me?) I'm obviously not going to ask for a refund, but they're changing my flight schedule on me, requiring me to get to the airport much earlier in the day than anticipated, so shouldn't I get something for that?
I don't want much — maybe an upgrade or whatever random extra they're willing to throw my way. But I've made three phone calls (first to Expedia, then to Alaska Airlines, then to the airline operating this specific flight, who said that I should call Alaska again) and sent one email, which hasn't been replied to yet. I don't usually contest things or ask for discounts if the time it takes me to do so is worth more than the discount/perk itself. Is three phone calls and one email the tipping point, where the value of my time outweighs the benefits I could be getting from it? Any advice is welcome. — E.

I touched upon this topic last month, but I think the point about the value of your time is an important one. In my case, I sent a message to JetBlue about my experience without the expectation of a response or recompense, but was pleasantly surprised a week later when they actually did. I wouldn't have spent any more time than I did for that particular case, but then again, the problem I had was minor in the grand scheme of things.
If I were in your position, I likely wouldn't have gone through the trouble of complaining about the schedule change. Airlines are often at the mercy of mother nature and other things that are out of their control, so schedules frequently change:
USA Today reminds us to look over our contracts:
An airline ticket is an agreement to transport you from point A to point B, but not always according to schedule. American's contract of carriage puts it this way: "American will endeavor to carry you and your baggage with reasonable dispatch, but times shown in timetables or elsewhere are not guaranteed and form no part of this contract."
Airlines change their schedules all the time. Most of the time, changes are relatively inconsequential; a few minutes' shift in arrival or departure times typically don't affect most fliers. Sometimes, though, a schedule change will wreak havoc on your plans, whether that means preventing you from making a connecting flight or simply cutting into your hard-earned vacation time.
But the airlines won't take responsibility for that either. On that point, American's contract of carriage says "Schedules are subject to change without notice. American is not responsible for or liable for failure to make connections, or to operate any flight according to schedule, or for a change to the schedule of any flight. Under no circumstances shall American be liable for any special, incidental or consequential damages arising from the foregoing."
Conde Nast Traveler says something similar:
The first thing to remember is airlines do not guarantee their schedules, which means their obligations and liabilities are limited. If you are unhappy with the new itinerary, you can ask the airline to find a better routing, without penalty. If none is available, in most cases your only choices are to accept the change as it stands, cancel your ticket and apply it to another flight within a year of the issue date, or cancel your ticket and request a refund.
But your question is primarily about how hard you should be working to get a perk. I don't think there can be a definitive answer to this, since everyone values their time differently. All I can really say is that it never hurts to ask. Even if an airline makes no guarantees when it comes to something like scheduling, it may still want to throw a perk your way in the name of good customer service.
What does everyone else think?
Photo: Mark Hudson Photos
---
Support The Billfold
The Billfold continues to exist thanks to support from our readers. Help us continue to do our work by making a monthly pledge on Patreon or a one-time-only contribution through PayPal.