Deciding to Buy Renters Insurance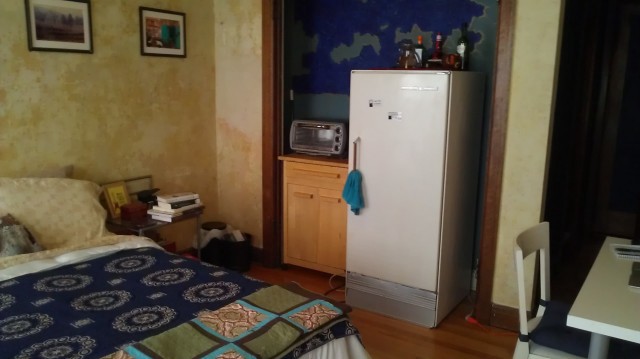 My actual apartment. The whole thing.
After I posted my 2015 budget, many of you suggested — and some of you strongly suggested — that I get renters insurance.
I argued back, to no avail, that my stuff has literally no value. The replacement cost of everything in my apartment might be:
— $1,000 for all non-electronic items (dishes, clothes, my $97.41 Sleep Master bedframe that is one step above a metal cot)
— $1,000 for all electronic items (Kindle, 11-inch MacBook Air, my HTC Evo phone that is currently dying but that I will use until it is properly dead).
Still, you said. Get renters insurance. What if you accidentally set your apartment on fire?
So today I am looking at various renters insurances.
I don't want to type "renters insurance" into Google because I'm nervous about getting a bunch of sleazy companies who have SEO'd their way to the top of the search results. Instead, I will start with the one name I know off the top of my head: Like a good neighbor, State Farm is there.
State Farm's website features Green Bay Packers quarterback Aaron Rodgers along with, bafflingly, Saturday Night Live's Hans and Franz. Apparently this is a thing. This is a thing that State Farm is doing to try to get people to buy insurance.
State Farm promises me they'll give me a renters insurance quote in "5–10 minutes." That feels like about 9 too many minutes, but I start answering the questions: name (why do they need my name?), date of birth, etc.
The second page of questions asks me for my SSN and the estimated value of everything in my apartment It also addresses me as "applicant," which is a bit like a guy calling me his girlfriend when we only went on one date. I'm just looking for a quote, State Farm. Just a quote, and a summary of your coverage.
Sorry, State Farm. Time to try another insurance company whose name I can remember off the top of my head. The Snoopy one. MetLife.
MetLife's renters insurance page contains plenty of footnotes, as if to remind us that there will always be fine print. If I want to get a quote from them, I need to call their number. Awwww, I don't want to call someone on the phone. The Internet was supposed to save me from this. I will procrastinate on calling MetLife forever.
Next. Um. Geico? 15 minutes can save me 15 percent on car insurance and also maybe renters insurance?
Geico does offer renters insurance. Instead of making me estimate the value of everything in my apartment, they offer me the option of choosing increments of $5,000, with $5,000 being the smallest amount. When they ask me what type of apartment I'm living in, one of the drop-down options is "dorm/student housing." Do kids get renters insurance on their dorm rooms these days?
The entire Geico quote process is hilarious. No, Geico, I do not own exotic animals or non-poisonous snakes. (They do not ask me if I own poisonous snakes.)
After about a minute of box-checking, Geico tells me they can give me renters insurance for $6.59 a month, to include:
— Up to $5,000 if there's a fire
— Up to $1,000 if something happens in my apartment and I need to stay in a hotel (this did happen to me once in a previous apartment situation, and the landlord paid for the hotel)
— $100,000 personal liability coverage, if someone enters my apartment and gets hurt
And so on. There are a lot of interesting coverages in this list. For example, did you know that if you "borrow your friend's expensive wine glasses and they break while in your care," Geico will in theory pay for their replacement?
So it looks like I might be interested in this renters insurance package, but I need to do my due diligence and check in with Team Billfold Tough Love commenters. Do any of you have Geico renters insurance? Should I at least try to find one other insurance company where I actually get a quote, so I can compare things?
Or should I push the button on Geico this afternoon, get renters insurance, and rest assured that my furniture, my electronics, my friend's expensive wineglasses, my seven poisonous snakes and I will be protected?
---
Support The Billfold
The Billfold continues to exist thanks to support from our readers. Help us continue to do our work by making a monthly pledge on Patreon or a one-time-only contribution through PayPal.