The Cost of Winter Running
by Jamey Bradbury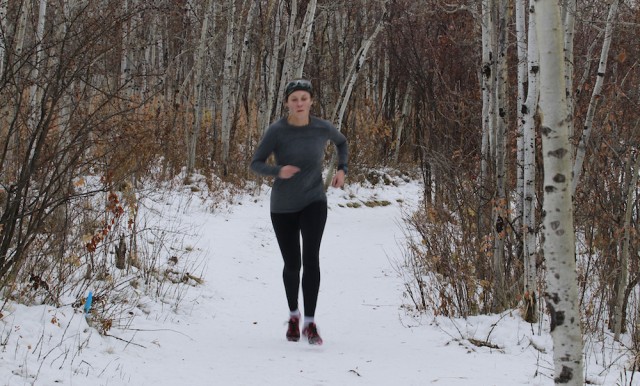 Gym fatigue, an old injury that makes running on a treadmill awkward, and a general preference for the great outdoors led me to cancel my Planet Fitness membership this year (making me $10 richer every month), which means I'll be doing all my running outside this winter. The catch here is that I live in Alaska, a place not exactly known for its mild winters, snow-free streets, or, you know, daylight.
It's not impossible to run on ice-covered sidewalks in fifteen-degree temperatures, but it does take an investment, especially when up until now my entire running wardrobe consisted of stretch capris from Target and "free" T-shirts that I've technically bought with race entry fees over the last couple years.
When you run in the summer, you can just throw on any old thing and hit the road. When you run in the winter, you realize your lightweight shoes possess exactly zero insulating properties. The snot dripping from your nose freezes to your face, and you're essentially invisible to UPS trucks doing forty through your neighborhood. You've got to plan a little more in the winter, is what I'm saying, and you've got to spend a little green before you hit the pavement.
REI Airflyte Tights, $64.50
One pair at 30% off ($45.15), one pair at full-price
I started the winter months (fun fact: in Alaska, September is a winter month) with a pair of thick, warm workout pants, but they were bulky and made me feel weirdly heavy when I ran. I scored a pair of tights on sale, but I realized too late how much I liked them and by the time I made it back to the store, the sale was over. Ask me if that stopped me from buying a second pair.
REI OXT Airflyte Running Jacket, $99.80 regular price, $69.86 at 30% off
I got this jacket on sale, too, but had I known what I was buying, I might have happily paid full price. This jacket is lightweight enough that I don't feel bulky, but warm enough that I don't freeze. Something called "eVent fabric" makes it breathe so I don't sweat like crazy and come home shivering. I can pair this with either a short- or long-sleeved technical shirt and stay pretty toasty.
Two Original Buffs
One at regular price, $20; One on sale, $13.95
A former roommate once told me you couldn't not own a Buff and still consider yourself an actual Alaskan. I had lived here nearly 13 years by then and had no idea what she was talking about. Do you know what a Buff is? It's basically a hollow tube of fabric. But you can origami this sucker into a hat, or a balaclava, or a facemask, which is what I typically use it for on sub-twenty-degree days to keep my lungs from turning into blocks of ice. I got the second Buff to wear as a lightweight hat or ear-warmer on those same days.
Smartwool Running Light Ultra socks, five pairs at $16.95 each
Seventeen bucks seems like a lot for a pair of socks. But I paid about that much for my lighter, summer-weather Darn Tough socks, and they've lived up to everything the sales guy told me about them (they never give me blisters, and they never seem to wear thin). I'm hoping the Smartwools are as durable. At any rate, they're warm.
Ice Trekkers Diamond Grip Traction System, $40
I actually bought these last year when an uncommonly icy winter had everyone in the city struggling to stay upright. But they've kept me on my feet while running this winter, too.
Studs in my old running shoes, FREE
The Trekkers are great on the ice, but they alter my gait enough that sometimes I switch to my old sneakers if all I'm dealing with is snow. The local running store will put (permanent) studs in your shoes for $10, or for free if your shoes were bought at the store.
Black Diamond Spot headlamp, $40
Here's what I don't understand about my fellow Anchorage runners: Easily 70 percent of the ones I encounter this time of year are not only decked out in black, but they're not wearing a single light, either. You'd think this city was populated entirely by ninjas. It's dark here this time of year. By the time I get off work, it's full-on nighttime. While I keep to the sidewalks and trails when I can, living in the middle of even a small city necessitates some street running, and I don't fancy being mowed down by someone's Subaru. Plus, how else would I spot all the moose gnawing on neighborhood shrubbery?
Nathan StrobeLight, $10
A cute little clip-on that emits either a steady or blinking red light. I affix it to the back of my headlamp so cars can see me coming and going.
Nathan Light Bender LED armband, FREE
Nite Ize SlapLit LED armband, FREE
A friend gave me both of these armbands, each red, each with steady and blinking settings. I alternate between the two — or, if I feel like streaking across town lit up like a Christmas tree, I wear them both.
Nathan Streak LED Vest, $26.99
Have I mentioned how much I don't want to be run over by a car?
Ibex Stretch Merino Glove Liners, $29
A bit spendy, but worth it, since these have proven to be warm enough without being too warm. (Also, full disclosure, these were bought at the pricey specialty running store in a fit of retail therapy.)
Mace Sport Pepper Spray, Jogger model, $20
Most streets and trails in Anchorage are decently lit, but my favorite stretch — the Tony Knowles Coastal Trail, which skirts the west edge of the city and offers pretty views of a glowing downtown in the evening — is completely dark. It's lined by thickets of trees and feels secluded enough that, as a woman often running alone, even if I never need the pepper spray, I feel safer carrying it. (For some reason, I never felt the need for it over the summer, possibly because in Anchorage we're awash in daylight from May to August, and things always feel creepier in the dark?)
Kleenex, eight travel packs for $2.39
I don't know how many of these bundles I've bought, but it's worth me taking a look at what a few shares of Kleenex stock would set me back because I'm fairly certain I'm keeping the entire company on its feet. Apparently my nose thinks that if I'm running this winter, it ought to be, too.
Total $464.20, plus whatever I spend on Kleenex by the end of this winter

Whew! At least I didn't drop the whole wad of cash all at once. But I'm no longer paying an admittedly small gym fee, plus I'm not constantly buying and downloading movies to watch while I log miles on the treadmill.
The benefits of deciding to run outside all winter don't sound on their surface like advantages: coming home pink-cheeked and exhausted from leaping over snow berms, knowing how long it takes for my eyelashes to freeze. But four or five nights every week, I've managed to get outside at a time of year when even a good number of supposedly rugged Alaskans decide to hibernate. I'd say it's well worth the cost.
Jamey Bradbury is a freelance writer who lives in Anchorage.
Photo: Dawn
---
Support The Billfold
The Billfold continues to exist thanks to support from our readers. Help us continue to do our work by making a monthly pledge on Patreon or a one-time-only contribution through PayPal.