The Cost of Things in Taylor Swift's 'Blank Space' Music Video
by Katherine Coplen
But at what cost does Swiftie's vision of true love and then true hate come? I needed to find out, so I took to the Internet. I priced out as many of Swift's 21 glorious outfits and accessories as I could (hat tip to tayswiftstyle.com for the hook up on the couture). For other, brand-non-specific items, I just went online window shopping. Here is my unsurprising conclusion: If you're looking to recreate Swift's whirlwind romance, you're going to need deep pockets.
Haven't seen it? Watch it right now. I'll wait. Okay, you're back? Let's do this.
Vintage AC Cobra: $175,000, at auction
Your Lover rolls up to your crib in this sweet, rare ride. But don't get too attached — you're going to destroy it later, to the absolute horror and shot of vintage car collectors. (Occurs at 0:06)
Renting the Oheka castle Olmstead Suite for one month: $32,850 at $1,095 per day
No better locale than Long Island's Oheka Castle for your relationship to flourish and then spectacularly crash and burn. I say reserve it for a month — that's about the time it takes for an epic romantic rise and fall, right? Ballrooms, libraries, gardens are open for toodling around. TripAdvisor says the sea bass is terrific. (0:07)
Altazurra for Target lace eye mask: $54
Sold out at Target, tragically. (0:07)
One Scottish fold kitten: $1,000
Looking up designer cat prices made me instantly sad, so allow me to break from my position as Video Calculator and tell you to adopt from your local shelter. I promise any kitten will be adorable. (0:09)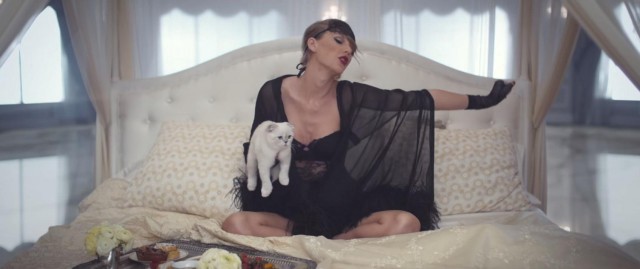 La Perla Tearose underwire bustier: $1,188
By far my favorite look in the entire video. Sleep off your nightmares dressed like a daydream. Wake up and stab a cake. (0:09)
Boarding and care for two white horses for one month: $2,000, at $1,000 per piece.
On the higher end of horse boarding, but not unreasonable for you and Your Lover's gorgeous white horses. And, hello, your horses deserve the best. (0:12)
Elie Saab black lace floor-length gown: price unknown
Part of her Fall 2014 Ready To Wear collection. I would be Ready To Wear this one anywhere. (0:16)
Jenny Peckam beaded gown: price unknown
The pretty pretty princess vibe of your formal dining outfit should portend massive amounts of crazy to come. (0:26)
Two Huffy Panama Jack cruisers: $378, at $189 per bike
For biking in circles in your library, natch. (0:36)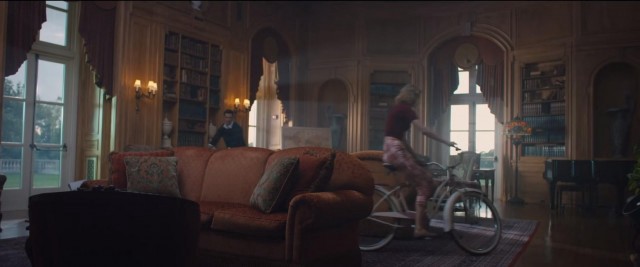 Grumbacher's Pre-tested Oil Paint, set of 10: $79
For painting a portrait of Your Lover. You are preternaturally talented at painting, a skill that you've thus far downplayed. (0:43)
19th century gold gilt regency style frame: $2,950, on eBay
For that gorgeous portrait you just painted of Your Lover. (0:46)
Three tubes Lime Crime Velvetine Matte Lipstick in Red Velvet: $60, at $20 per tube
Now, I know there's a lot of red lipstick options out there. But this Velvetine lippie by Lime Crime sticks to your lips and won't budge. Perfect for: smooching, sharing a picnic lunch, screaming, face-grabbing, running with golf club, general shenanigans. (worn throughout)
Three Doberman Pinschers: $3,600, at $1,200 a piece
The dogs appear, albeit briefly, being walked by Taylor and The Lover on the grounds while she wears another Elie Saab black gown. Yes, they're adorable, and the video should include much more of them. Adopt from your local shelter! (0:49)
Christian Louboutin Viveka platform sandal: $895
For walking your newly adopted shelter pups across the lawn (0:49)
Oscar de la Renta Lame Bow Embroidered Tulle Dress: $6,490
Hanging that gorgeous oil painting of Your Lover necessitates a de la Renta. (1:18)
Kate Ermillo Tailor Bow Shorts: $995
Carving you and Your Lover's names into a tree? First off, why are you destroying the tree? Think of the tree, you young, in-love fool. (1:24)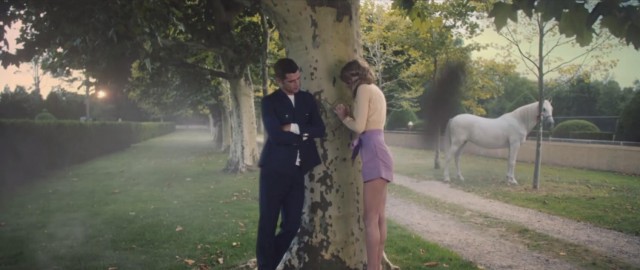 Picnic lunch, bottle of champagne: $50
I'm going to conservatively say you could hit up Trader Joe's and grab everything here for just a bit more than a cool fifty bucks. (1:34)
A goat: $10 per goat per day
Here is an amazing fact I just learned: There are tons of companies that will rent goats to you to clear your brush, briars and other various trash plants for a small fee per day. The Boston Globe, writing about this "small but growing cottage industry" says Goatscaping Co. will rent you a goat for $10 per day. Taylor just hangs out with one goat but for a moment, but for such a low goat rental price, why not get two or three? (2:18)
Ralph Lauren ankle strap heels: $995
I bet the goat likes these. (2:15)
Dolce & Gabbana leopard skirt: $1,295
Cry it out, girl. Cry it out looking so fabulous.(2:24)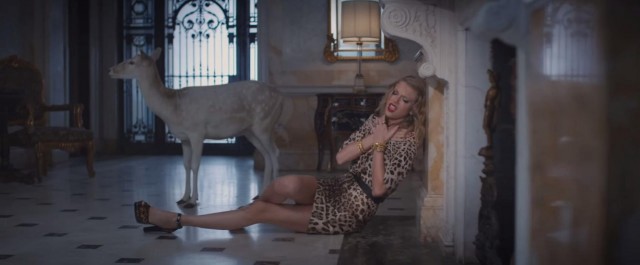 Maybelline Great Lash mascara: $6.40
For reapplying after you've cried it out. (2:26)
Shun Classic Ultimate Utility Knife: $119
For stabbing the gorgeous portrait you painted of Your Lover. (2:28)
Singer Comfort Craft Scissors: $5.69
For Regina Georging your ex-Lover's shirts. (2:32)
Two men's collared shirts: $59.90 per shirt, or 2 for $80
Two shirts (that you haven't Regina George'd) to throw over the balcony while you're in your George Chakra white square neck gown. I picked Kenneth Cole slim-fit french-cuff dress shirts, because I know nothing about men's clothing. And it just feels like that guy would shop at Macy's, doesn't it? (2:43)
Honeycrisp apple: $4.50/lb in New York
Channel those Snow White witch vibes. (2:53)
Ax: $35
For chopping down that tree you carved your names into and menacingly leaving in that portrait you painted of him. (2:59)
Taylor Made Titleist 915 D2 Driver: $449.99
For smashing that AC Cobra to bits, Elin Nordegren-style. And yes, I picked this entirely based on the name. (3:12)
Katie Ermilio crop top and spring mini skirt: $1,125
You're starting to get your groove back. Your groove is, apparently, smashing the beejezus out of a car with a golf club. (3:12)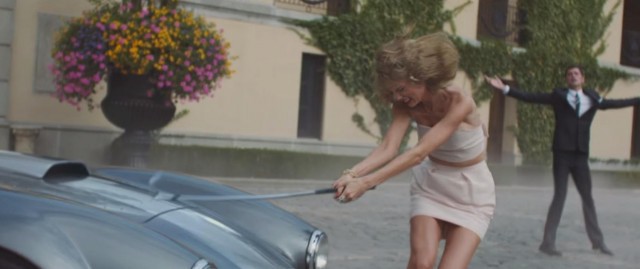 Marabou feather shrug: $224
On sale right now at Ann Taylor. Coincidence? I think not. (3:12)
Heart-shaped cake: $45
You're not going to eat your feelings, you're going to stab them. Here's where I'm going to plug my favorite Indianapolis bakery, Taylor Bakery, which turned 100 this year. (3:16)
Shun Classic Ultimate Utility Knife: $119
For stabbing your cake. You left your other knife in an oil painting somewhere. (3:21)
Shun Classic Ultimate Utility Knife: $119
For stabbing Your Lover. You left your other knife is a cake somewhere. (Brief aside: Is this what is happening in the video? That's what I automatically assumed, but it appears he drives away in his smashed up car at the end, so, again, not sure.) (3:25)
Ralph Lauren Palermo Hudson Twill Jodhpur: $99
So what if he's texting another girl? Get back on the horse. Maybe don't stand on it, though. That seems dangerous. (3:32)
Sergio Rossi side zipper detailed boots: $1,095.01
And do it in amazing boots that cost over a grand. (3:32)
Elizabeth & James Fairfax cat eye sunglasses: $185
To hide the rage in your eyes (and the streaky mascara). (3:33)
New Lover: priceless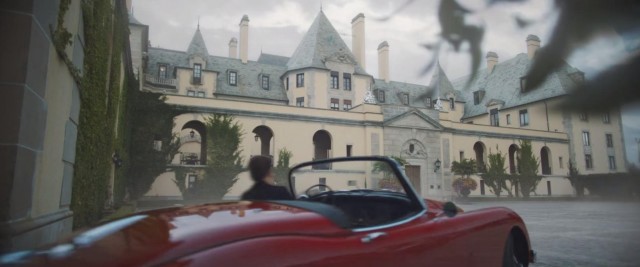 TOTAL: $240,400.59
Katherine Coplen lives in Indianapolis.
---
Support The Billfold
The Billfold continues to exist thanks to support from our readers. Help us continue to do our work by making a monthly pledge on Patreon or a one-time-only contribution through PayPal.