The Business of Creative Careers: Sara Benincasa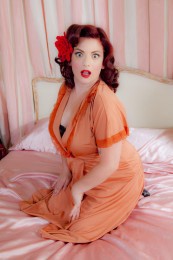 Sara Benincasa is a comedian and writer who has done everything from standup to radio to one-woman shows. She is the author of Agorafabulous! Dispatches From My Bedroom and Great as well as the host and producer of "Get In Bed" on Cosmo Radio and "Tub Talk With Sara B." on Nerve.com.
I sent Sara the same questions I sent Joseph Scrimshaw, because these are the questions I'm always curious about re: creative careers.
ND: When you decided to pursue a career in comedy, did you plan for the financial considerations of your career? Was it "do what you love and the money will follow," or "map out every potential expense and prospective income source in advance," or somewhere in between?
SB: Oh God, I didn't plan at all. I was in graduate school at Teachers College at Columbia, getting my masters degree in secondary school English education. Another student in my program noticed that I seemed unhappy as a teacher but loved to make people laugh, so she suggested I try stand-up comedy. She had just quit her job at Comedy Central in the talent department, and she took me around to meet John Mulaney, Nick Kroll, and folks like that. I fell in love with the underground comedy scene via a dive bar called Rififi back in 2006. I was hooked right away.
I had over-borrowed for graduate school in order to afford the kind of life I thought I wanted in New York City. I didn't live high on the hog, but I did buy too many unnecessary items like funky t-shirts and meals in non-diner sit-down restaurants (I'm of the opinion that diners are always okay and should be visited whenever one can — but then, I'm from Jersey). And when I finished graduate school, debt eventually came a-calling. It's still a-calling. I'm making up for the excesses of my twenties by paying down credit card and student loan debt. It's an ongoing process for me, as it is for so many of us. Sometimes I even find myself adding to that credit card debt during tight times.
I should add that mental health expenses have been significant throughout my life. At times they've been covered by insurance. At other times they haven't been covered by insurance. It can get very expensive. I'm prepping to go to a shrink today, and I don't know how much it'll cost, even if she works at a reduced rate for me. So that's always present. But if I don't buy the expensive medication and do the expensive therapy, I won't be able to do my work. I won't be able to do anything. Dealing with agoraphobia, depression, and anxiety has been a pricey adventure since I was 14.
What did you learn after you got started? What surprised you?
Get a good accountant. I work with an excellent one. They've built a business on working with entertainers, especially stand-up comedians. When you visit their Manhattan office, you see old headshots of so many well-known comics. It's pretty great. I've been with them for 7 years, I believe, and I really appreciate the work that they do. They know their business inside and out.
I wrote a piece for Medium called Real Artists Have Day Jobs. That was something I didn't realize when I started out — you can be a painter, a dancer, a singer, a comedian, and a secretary, an HR representative, a realtor, a schoolteacher, or whatever you like. One does not negate the other.
How much did you finance your career "out of pocket?" At what point did your career start to pay for itself, as if it were a small business? Are you able to earn a personal income on top of the cost of running this business?
Comedy paid some of the bills some of the time starting about two years after I fell in love with it. But I didn't become my own boss and begin working for myself full-time until about 2012, I'd say. It's been a couple years. And I do lots of different things to pay the bills. Right now I'm a full-time writer of books and articles and TV, plus a college speaker and an occasionally-paid performer. I don't do stand-up comedy anymore, but I do comedy in other ways.
Some of the people I've been interviewing are 100% solopreneurs and self-publishers, but you've worked with Cosmo, MTV, and Nerve, and your books are published by William Morrow. I'm assuming you were freelancing for Cosmo/MTV/Nerve, right? Would you recommend that other people who want to pursue creative careers seek out "recognizable" names and publishers through which to sell/promote/distribute their work?
I was a full-time producer and host at Sirius XM's Cosmo Radio, which no longer exists, from 2008 to 2010. I was a freelance reporter for MTV News covering the 2008 electoral race. And I freelanced for Nerve. I would certainly recommend working with established brands to the extent that it's possible or makes sense for your work. One of my favorite artists, Maxfield Parrish, did good work with Jell-O and various corporate clients. You have to pay your bills. And I enjoyed my work with those brands, for the most part.
Art isn't all about sitting in your light-filled studio, fingerpainting your dreams onto canvas. You've got to pay for the studio, the paint, and the canvas. And sometimes that means taking on assignments that you didn't invent, or that you did invent but that needed approval from a higher authority, like an editor.
I make my living full-time as an artist. And like many artists, I sometimes borrow money or accept money gifts to live that life. It's bullshit to pretend you're doing it all on your own when you're not doing it all on your own. I work six or seven days a week on a variety of projects. I'm always hustling, always looking for more work. And the other day I borrowed $300 to tide me over between freelance checks. When will I pay it back? Today, because one of those freelance checks came in. That's how this works. You know what I ask my family for when it comes to gifts? Money. And grocery store cards.
While I do have shame, I have zero self-pity. I chose this life. I could be laying brick for a living. I could be a lawyer. I could be a psychologist. I could have a tougher job or a job with a steadier income. But this is what I want, and this is what I have chosen at present. That's why I feel I have to hustle so hard. And I'm one of the lucky ones! I'm one of the rare few who gets to put "writer" down as her occupation. That's pretty cool.
There's so much shame associated with money. I have a lot of shame about it. I feel like a dumbass because I don't have a lot of retirement savings in my IRA, because I get a nice chunk of money sometimes and then nothing for awhile. I feel like a weirdo because I don't get a regular paycheck but rather a series of checks, some big, most rather small. It's not like I'm 21. I'm 34.
I have a financial planner who is somewhat baffled by my income and lifestyle, because he usually works with corporate clients. I must seem like the most bohemian creature in the world to him. But I know many folks who live like I do. He and I decided recently that a good baby step is for me to put away 10% of every check I get. Even if it's a $50 check, I can put that $5 away. That seems to be a smart move. I can grasp that concept. That much I can do.
What are your current income sources? Do you take the freelancer's perspective of "I work for many clients so if something happens to one gig, I'll still have these 10 other income streams?"
This month's clients include Bustle, Playboy, and the Guardian. In the past year, I've also written for Jezebel and Bust magazine, among other places. I'm working on a novel for Adaptive Books and a self-help book for William Morrow. I have a comedy pilot set up at a network with executive producers Diablo Cody and Ben Stiller's Red Hour TV. I speak at colleges on mental health awareness with Keppler Speakers Bureau. And I'm fortunate to have amazing podcast supporters via Patreon.
It's funny — some folks think writers are wealthy. I guess if you're Stephen King, you've damn well earned it. But most of us live paycheck to paycheck, at least the folks I know.
Can you reasonably predict your monthly income in advance? Can you predict your monthly business expenses?
Nope. Never. Because maybe at one publication, the editor who commissions me regularly is suddenly fired or leaves to work elsewhere. Maybe I got my book advance six months ago and I won't get the manuscript delivery fee for another six months. Maybe I signed a deal to write for TV but the lawyers are working out the contract, so I won't see any money for a few months. And if I get a deal to write a pilot, does that pilot actually get made? And if that pilot actually gets made, does it actually go to series? These are rare and beautiful things that don't happen very often! I never know for sure.
Has Patreon been a positive experience for you? Is that a workable model for funding creative work?
So far, it's been lovely. It's enabled me to keep the lights on at Benincasa HQ, so to speak. In practical terms, it's allowed me to purchase recording equipment and to cover travel and other expenses associated with interviewing guests. I think Patreon is a wonderful way for normal people like me to support other artists. I currently support two artists via Patreon and am looking to add more.
It's so important to me to be an artist who gives back to the community at large as well as to smaller communities of which I consider myself a part, so I make private donations where I can to various nonprofits. I wish I could do more, but I'm starting with what I've got. Every month, I make a private donation to a nonprofit in honor of my podcast supporters. Last month it went to the Ferguson Library in Ferguson, Missouri. I can't raise money for nonprofits through Patreon, but I can use some of my own income to support nonprofits.
I did a Kickstarter last year that raised $15,000 for a tour called This Tour is So Gay. The point was to travel to cities around the U.S. and Canada to do comedy and bookstore gigs and to raise awareness about LGBTQ youth issues. I've struggled a lot with mental illness throughout my life and have lost some good days, weeks, months and even years to it. LGBTQ kids are particularly vulnerable to mental health issues due to trauma and stress, so I want to help them out. And the teacher in me still cares a lot about teens. So basically, the Kickstarter funded my travel, and then I'd do a performance in each town. And in each town, I made a private donation from my own income to a local LGBTQ youth organization.
I've still got some places to hit next year, because I couldn't get to all the dates last year — right now I'm not traveling, because I'm on deadline for two books. This Tour Is So Gay is fun. I won't make a profit off it. It's just exciting and fun and it makes me feel good.
Are you in this for the long haul?
I love what I do. I want to create, write, produce and perhaps eventually direct television. You know why? Because television can be amazing. And also, it can pay you actual money. I'd say my main career role models are Diablo Cody and Jill Soloway. They both started out as writers in print and online and they've written films and television. Working with Diablo is a dream because I admire her so much. And Jill was just a guest on my podcast, which was super-cool.
I feel like I'm close. Maybe that's the delusion we all need to sustain ourselves — "I'm close. I'm almost there!" But where I am right now is where I wanted to be for so long. It seems like as soon as you reach "there," there's another "there" up in front of you. The journey doesn't stop, at least not in this lifetime. Nor should it.
I despise complacency. And my gratitude is my only religion. I am full of gratitude these days. People have been so generous to me in many ways. I want to pay it forward. And I just want to work with my friends and people I admire.
Previously: Joseph Scrimshaw
Photo credit: Iconic Pinups
---
Support The Billfold
The Billfold continues to exist thanks to support from our readers. Help us continue to do our work by making a monthly pledge on Patreon or a one-time-only contribution through PayPal.