My Tin-Roofed Outbuilding in Dar es Salaam
by Connor Wroe Southard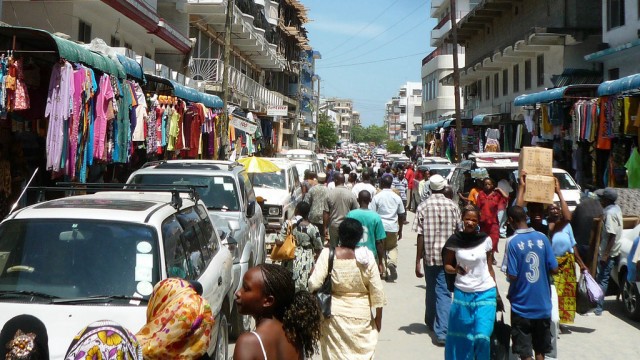 In Dar es Salaam, Tanzania's largest city and de facto capital, $500 a month will get you a little room in a tin-roofed outbuilding. You'll get above-average electricity, too. "Above average," because you can expect frequent blackouts in Dar — that's why most expats and well-off Tanzanians have standby generators. My studio doesn't have a standby generator, but it is hooked into the electrical system of nearby Muhimbilli National Hospital. I don't know how or why we get to siphon off their power, but the government does a pretty good job pumping watts into Muhimbilli. Even now, as the long dry season transitions into the short rains, and there's no water in the hydroelectric dams.
So I have a small, very lived-in place in an unfashionable neighborhood, and it's not all that cheap. That's just Dar. I'm here on a research Fulbright, which pays enough to live on but not a whole lot more. I've mostly lived in much cheaper towns, so I find myself counting my Tanzanian shillings when making small purchases in a way I never have before. Luckily, some things in the city are very inexpensive, like a bottle of Tusker beer (less than $1.50) or the produce sold under little umbrellas on the street (an orange for less than twenty cents). But expenses crop up in the most esoteric ways.
A few weeks ago, I was taking the pricey taxi ride to the airport to drop off a visiting friend. On the way there, a cop stopped us and confiscated our driver's license. The only reason for the seizure was grift — the cop wanted a "tip" of about $12 on the way back. Not likely, bub. I overpaid the driver for one way — my contribution to the bribe fund — even though we had planned on going both ways together. I got a different driver to take me back for more money than I had negotiated with the guy who brought me. Forgive me if I sound like the jumpy guy in a bad crime caper, but I'm not into talking to dirty cops.
My fairly un-dirty room is in a tin-roofed outbuilding in a compound that belongs to a Muslim family of South Asian descent. I don't know much more about them than that. I know their last names, but the only one I've dealt with is the youngest daughter, who just graduated from college in Canada. I met her father briefly, to change some dollars into shillings, but he didn't actually introduce himself. They gave me an exhaustive list of house rules, with many that made sense in context: "no alcohol" and "no pork products." A few made my eyebrows arch, like this one: "Do not discuss with other tenants rent payment amounts and the nature of their agreement with the landlord." Maybe the Norwegian girl who lives in a room in the bigger house has a less finicky shower than I do. Now I'll never know.
My landlords live two meters from my front door in a grand three-story house. I never see them unless they're driving out of the compound, or honking outside the steel gate for the servants to come let them in. Their servants sweep the fallen leaves and dust just outside my window several times a day. Sitting here, it feels like their brooms never fall completely silent. As is typical for anyone in Dar who can afford it, we have 24-hour security guards and a concrete wall topped with spikes and broken glass. I'm allowed to have the servants wash my clothes, but I've opted for doing it myself. A bunch of my T-shirts are dripping right now in the bathroom. Yesterday, after two and a half weeks of living here, I did finally let the fifteen-year-old girl who does most of the sweeping come in and clean my bathroom.
The air conditioning goes out a lot — even more often than the electricity — but at least I have it. Sleeping is a lot easier with AC, as is sitting alone with the curtains closed contemplating whether it's worth going outside and being melted by Dar. Even most Tanzanians I've spoken with agree that Dar's dry season temperatures are unfriendly. When you arrive in a new place with no set schedule, few contacts but enough grant cash to make things run fairly smoothly, just going outside and taking a taxi into the gridlocked, dusty city center takes a lot of willpower.
My place is in a quiet area, far from most of the things I'm involved in. The taxi bill alone is enough to prompt me to move very soon, into a much more expensive place that won't be as easy to narrativize. It'll likely be a lot more like home. The guilt-inducing fact is that I, like most expats, want to be able to choose when and how I feel like I'm in Tanzania.
A different version of this piece was kicking around in my head when I pitched it. I wanted to make more jokes about my place, but I realized that self-pityingly cracking wise about your housing situation in a very poor country is just lame. Expats whose major hobby is complaining and reiterating tired clichés about their adopted country are a thriving species in every less-developed or non-Western part of the earth. I've met these gin-and-tonic-guzzling miserabilists here and elsewhere. Like me, most of them are white, and they always make me a bit unhappier about my own skin color. I complain plenty, as some of my previous travel companions could tell you. But I've tried to keep perspective during this move. I can leave any time if I really dislike Tanzania. And after going on safari in the majestic Selous Game Reserve, I'm very happy to be in the country. Dar isn't my favorite part of it, but New York is far from my favorite place in the United States.
I've considered keeping my little outbuilding. I'd have a lot of money left every month for other pursuits, like more game-viewing. Lions trump a bigger bed, right? But I do want to be in a more convenient part of town. Aside from a semester in New York with my housing managed for me, I've never been a city dweller. Now I get why you folks are so into being in the right neighborhood. It would be nice to be closer to somewhere I can buy better cheese.
Then again, I'm going to miss my dudes at Susan Shop [sic] right down the way. They do a mean barbecued chicken with chips and that searing Tanzanian hot sauce. The manager has taken it upon himself to improve my Swahili. It's going slowly, but he's been a good sport about it. The Tusker lager is usually pretty warm, but it still strikes a soothing contrast with the evening heat.
Connor Wroe Southard is a writer living in Dar es Salaam, Tanzania.
Photo: Stefan Magdalinski
---
Support The Billfold
The Billfold continues to exist thanks to support from our readers. Help us continue to do our work by making a monthly pledge on Patreon or a one-time-only contribution through PayPal.